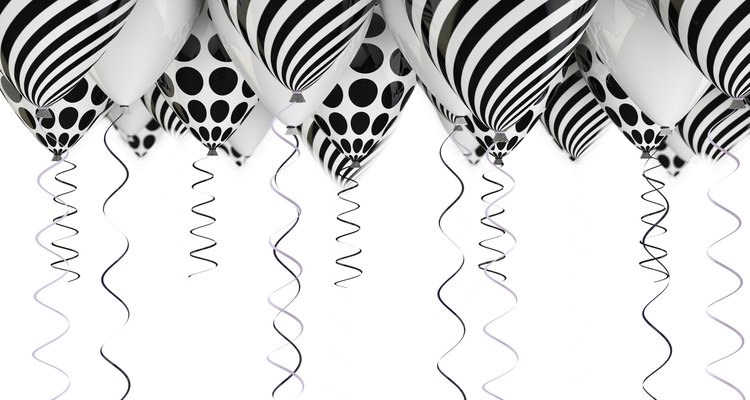 carloscastilla/iStock/Getty Images
A black-and-white party is a chic theme for a number of celebrations. You can decorate in these colors for a formal evening affair as well as a casual outdoor event. Use these colors in everything from wall decor to table settings and flowers to create a stylish and bold look for your next party.
The Space
Choose a venue with neutral-colored walls to make it easier to showcase the stark color scheme. Decorate plain walls with oversized black-and-white photographs or posters to incorporate the color scheme. If you host your party in a colorful room, you can use black-and-white fabric to create "walls" by draping the fabric from the ceiling to the floor, surrounding your party space. Attach the fabric by using hooks that have been screwed into the ceiling.
For an outdoor party, cover brightly colored lawn furniture with plain white sheets or white seat covers to keep with the color theme.
Balloon Bouquets
Use black and white balloons as an inexpensive way to introduce your theme colors. For added flair, blow up the balloons; then paint spatter them using the contrasting color. Dip a brush into black paint and flick it onto a white balloon; repeat this step using white paint spattered onto a black balloon. Let the balloons dry; then tie them with black-and-white patterned ribbon. Decorate your space by grouping the bunches of balloons throughout the room.
Table Settings
Dress your dining and buffet tables with black-and-white fabric. Use damask or satin fabrics for formal affairs or black-and-white polka dot or black-checkered cloths for more casual parties. For the place settings, use black plates on white chargers with black drinking glasses. Use napkins in a contrasting black-and-white pattern from your tablecloth.
Put flowers such as black tulips, black irises and black roses in white porcelain vases. Or, use black glass vases filled with white calla lilies and white roses. Fill small white bowls with white gravel to encase tiny black candles. Place the candles around the vases.
Complete your setting by putting placecards with guests' names into small black photo frames placed at each setting.
Outdoor Affair
You can bring black and white outdoors for a summer party. Create a whimsical black-and-white focal point by using umbrellas. Start with a plain white umbrella and use a rounded sponge brush to decorate the umbrella with polka dots. Dip the round end of a paintbrush into black paint and dot it on the umbrella fabric to create as many polka dots as you want. String white twinkle lights over the main party area; then hang the umbrellas upside-down from the strings over the main dining table instead of a chandelier. The umbrellas can also provide shade for your guests.
For another unusual touch, use black-and-white pinwheels in vases for centerpieces instead of flowers for an outdoor black-and-white party.
References
Writer Bio
Candi Canncel is a writer covering food and drinks, travel and lifestyle. Her work has appeared on Food and Wine Travel, Craft Gossip, Belltown Local and other publications. She also teaches cooking classes and hosts food/wine seminars.
Photo Credits
carloscastilla/iStock/Getty Images