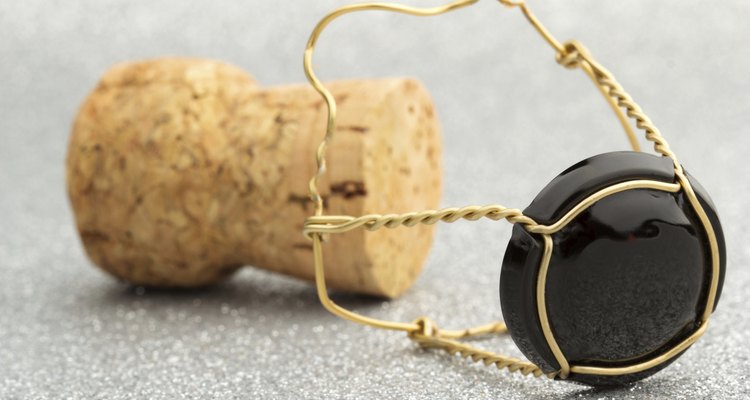 ClaudioVentrella/iStock/Getty Images
Black and silver is a sophisticated color combination that can create an elegant backdrop for a number of occasions. Whether you are planning a birthday, an anniversary, a wedding or an awards show party, these colors can be used on invitations, in the decor and in place settings; you can even incorporate them into the food that you serve.
Personalized Invites
Many pre-made invitations are available for purchase, but creating your own can add a personalized touch to your event. Take a piece of black-and-silver patterned wallpaper and cut it to the size of a piece of card stock. Attach the paper to the card using a glue stick. Using a computer and a decorative font, print out the details of your event on gray paper a few inches smaller than your card. Center this paper over your card and adhere it with the glue, leaving a black-and-silver wallpaper border. Place the invite in a silver-tinted envelope, and before sealing, fill it with a bit of black and silver confetti for a unexpected surprise for your guests.
Decadent Décor
Add drama to your space by grouping huge bunches of silver and black balloons and hanging them throughout the room. Dress your tables with black tablecloths and add a silver lame table runner down the center. Sprinkle black and silver confetti over the table runner for a festive touch. Top the tables with glass vases filled with silver and black Christmas ball ornaments. Vases can also be filled with flowers such as black tulips, black irises and silver-gray roses. Use black plates atop silver chargers as your place settings, along with black and silver napkins and flatware. To create elegant place markers, print guests' names on small cards and frame them in tiny silver frames. Place these at the place settings, then let guests take them home as party favors.
Fabulous Fare
Feature black caviar-topped tiny new potatoes as an appetizer for your black-and-silver affair. Boil the potatoes, leaving the skins on. Once the potatoes are cooked, lightly split open the tops. Add a dollop of crème fraiche and top with black caviar. Substitute chopped black olives for the caviar as a budget-friendly alternative that will still add a salty element to the dish. For the main course, serve black linguine -- a pasta that has been died with squid ink and is available at specialty grocery stores -- with shrimp in a white cream sauce. Or, serve the shrimp over wild black rice. For dessert, top rich chocolate cupcakes with white icing and decorate with silver nonpareils. Serve foil-wrapped chocolates, black jellybeans and black licorice to complete the sweet offerings.
Black Libations
Serve themed cocktails to add additional flair to your party. Use black vodka to create potent libations such as the black martini. In a cocktail shaker, combine four parts black vodka and one part raspberry liqueur. Shake the ingredients over ice and strain into a martini glass. Create a white chocolate martini by mixing vodka with clear chocolate liqueur in a cocktail shaker. Strain into a martini glass that has been dipped into black-and-silver cocktail rimming sugar.
References
Writer Bio
Candi Canncel is a writer covering food and drinks, travel and lifestyle. Her work has appeared on Food and Wine Travel, Craft Gossip, Belltown Local and other publications. She also teaches cooking classes and hosts food/wine seminars.
Photo Credits
ClaudioVentrella/iStock/Getty Images