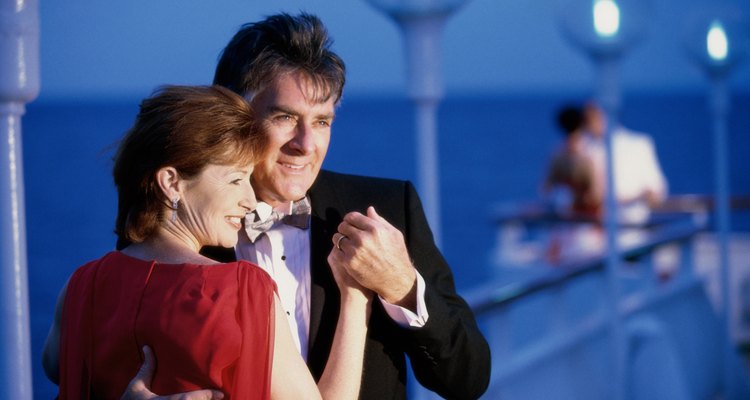 Purestock/Purestock/Getty Images
Dances are already romantic, but a dance on Valentine's Day is destined to send hearts aflutter. With decor that's as sweet as candy, rich food like red velvet cake and chocolate-covered strawberries and romantic music to bring couples together, Cupid's arrow is sure to hit your Valentine's Day dance.
Decor and Decorations
AlexPro9500/iStock/Getty Images
String twinkling white string lights around the room to create a romantic glow, and use votive candles on tables for additional romantic ambiance. For table centerpieces, keep it simple with a classic vase of red roses, or fill crystal bowls with pink daisies, baby's breath and Valentine's Day candy hearts. For an explosion of Valentine's Day color, use red tablecloths with pink or white napkins, or choose white tablecloths and incorporate color with pink or red ribbons tied around silverware. Put flower garlands or pink, red and white balloon arches over doorways. Make cupid cutouts and hearts out of construction paper as additional wall decorations.
Music Selections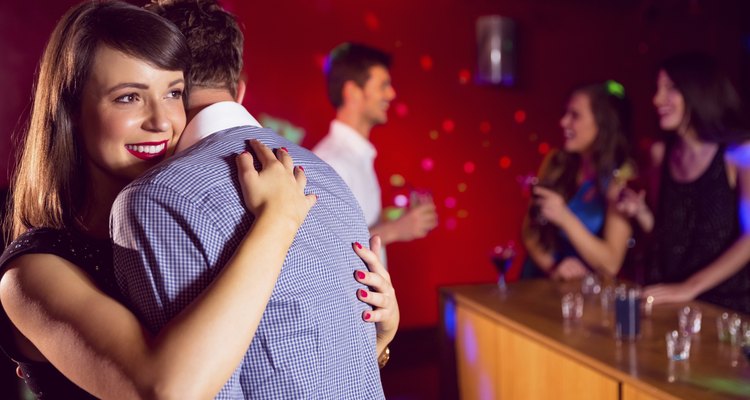 4774344sean/iStock/Getty Images
If your budget permits, hire a DJ or live band to play classic love songs. Or, make a playlist of tunes that will get all the sweethearts out on the dance floor. Choose compilation albums with a romantic theme, or make your own themed playlist, such as: "Love Songs From the Sixties," "Romantic Movie Soundtracks," or "Rock and Roll Romance." Alternatively, choose songs with the word "love" in the title, such as: "I Just Called to Say I Love You," by Stevie Wonder; "Love Song," by The Cure; and "Endless Love," by Diana Ross and Lionel Richie.
Food and Cake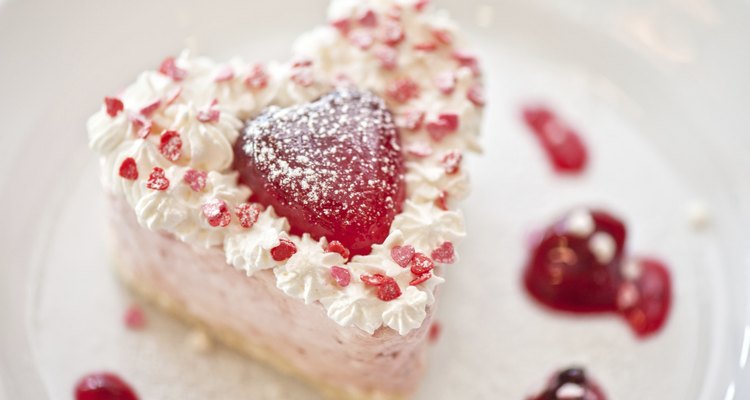 rusak/iStock/Getty Images
Include plenty of sweet treats, such as heart-shaped cookies, chocolate-covered strawberries, yogurt-covered pretzels and cupcakes topped with heart-shaped red hots. Fill martini glasses with Valentine's Day heart candies and red gumballs, and serve slices of red velvet cake. For party-goers without a sweet tooth, set out smoked Gouda cubes, fresh bread, shrimp skewers and individual heart-shaped pastries filled with cheese, spinach or meat. If you're planning to serve a full dinner at your dance, think rich, indulgent main courses like bacon-wrapped sirloin steaks, fettuccine Alfredo or blackened salmon.
Refreshments and Cocktails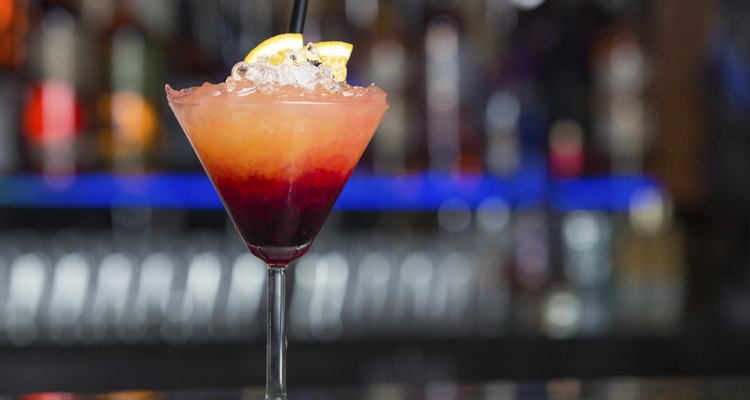 paulprescott72/iStock/Getty Images
Serve rich red cocktails like apple martinis or pomegranate juice and vodka, and give them names such as, "Sweetheart Sangria," "Lover's Liqueur" or "Romance in a Glass." Pour pink champagne or sparkling cider with a strawberry wedge on the rim of the glass. For a non-alcoholic option, make a punch with blood orange juice, pomegranate juice and fresh lime juice, and serve it in champagne flutes with a raspberry or cherry in each glass.
References
Writer Bio
Jessica Taylor has been writing professionally since 2007. She has contributed a number of articles online on topics ranging from fashion to technology to travel. She has a bachelor's degree in English literature from the University of South Florida.
Photo Credits
Purestock/Purestock/Getty Images