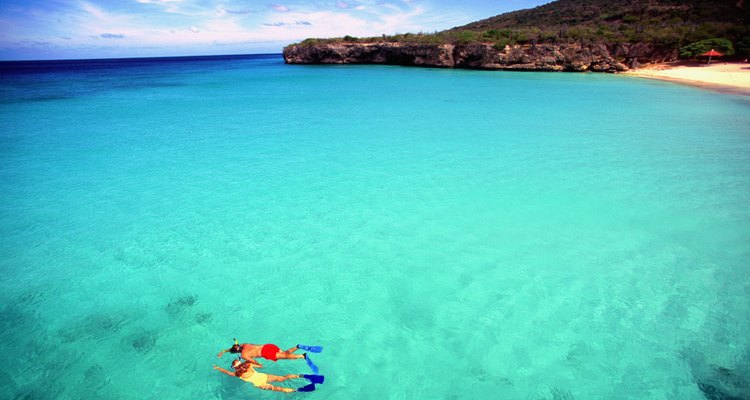 Medioimages/Photodisc/Photodisc/Getty Images
Caribbean-themed parties allow party-goers to celebrate the tropical atmosphere of islands like Jamaica, Puerto Rico and Trinidad. Regardless of whether it takes place inside or outside, these festive parties can feature brightly colored invitations and decorations, floral centerpieces, limbo contests, calypso and reggae music, and authentic food and drinks.
Caribbean Invitations
Send invitations that are decorated to resemble passports or postcards with the front of the card saying, "Welcome to the Caribbean!" or even, "Welcome to Paradise!" a pun on the tropical city Paradise, Jamaica. Use vivid, splashy colors and decorate the sides of the cards with festive pictures of trees and beaches. Alternatively, purchase bright, plastic green leaves and use these as invitations, with the party's theme written on the front and the time and directions written on the back.
Supplies and Decorations
Establish a floral theme by spreading a tablecloth covered with flowers on the central table, and at either end of the table, set up vases filled with water and hibiscus, oleander or plumeria blooms that grow on Caribbean islands. Use layers of crepe paper to create table centerpieces that resemble coconut trees, which grow in the Caribbean, or slice and mix various Caribbean fruits, such as mango, grapefruit, oranges, plums and pineapple, and place them in bowls in the center of the table. Provide each guest a bag of party favors that includes flip-flops, sunglasses and tiny rum bottles.
Food and Drinks
Treat your guests to authentic Caribbean dining with a variety of different fish and seafood such as shrimp, mackerel and tuna served with red peppers and cashews atop a steamy pile of rice. Accompany the main entrée with coconut chips and sweet, fruity salsa laid out on banana leaves, and allow guests to create their own drinks with a cocktail bar stocked with fruits, syrup and alcohol. Complete the meal by serving traditional Jamaican cake made with sugar and flour and topped with cinnamon, raisins and vanilla extract.
Music and Entertainment
Clear a space for dancing and create a Caribbean-themed party playlist including calypso and reggae music from Bob Marley and the Wailers, Pablo Carcamo, Sean Paul and Jimmy Cliff. Keep the guests entertained with treasure hunts, limbo contests and beach boules, a sandy variation on the popular European game of boules, a combination of horseshoes and soccer. Set up a makeshift stand and play "coconut shy," in which people compete against one another to throw balls and see how many coconuts they can knock off the stand and onto the floor.
References
Writer Bio
Boze Herrington is a writer and blogger who lives in Kansas City, Mo. His work has been featured in Cracked and "The Atlantic."
Photo Credits
Medioimages/Photodisc/Photodisc/Getty Images