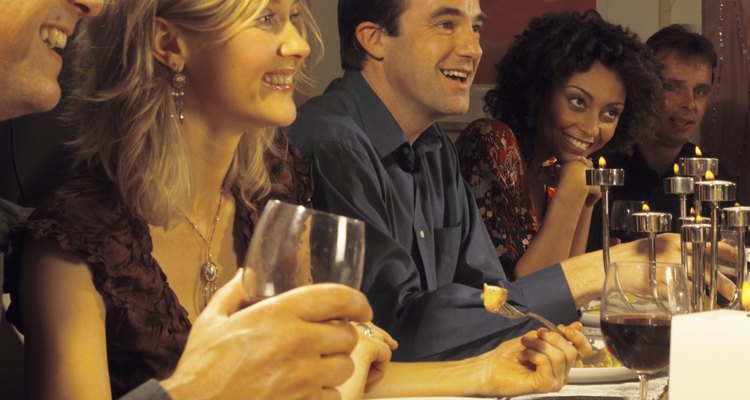 BananaStock/BananaStock/Getty Images
Toss out the boring chips and dips and banish meatballs from your next dinner party menu. Instead, make the evening a memorable one with a crazy menu that reflects your spirit of fun and adventure. Entertain your friends with food they will talk about long after they have digested the final morsel. Take inspiration from one of many different themes and create a crazy dinner party menu that is fun for you and your guests.
Eating Backward and Upside Down
In these days of diets, calorie counting and weight watching, it can be deliciously decadent to start a meal with dessert and work your way backward to the soup and salad course. Serve milkshakes or root beer floats along with servings of chocolate pieces, cake, cupcakes or pie. Place a tray of homemade cookies or brownies on the table and encourage your guests to indulge. Follow that up with the entree, soup, salad and possibly appetizers to end the meal. Add to the fun by placing the cups below the plates and the flatware in reverse order. Serve items like pie or cookies upside down. "Hide" the creamy dressing by pouring a serving amount into the bottom of each salad bowl and arranging the tossed salad on top. If your dinner party includes children, so much the better. They'll be more likely to feel included in such a topsy-turvy affair.
Man vs. Meal
If your friends are the brave and adventurous type, consider a meal of foods that range from weird to exotic to frightening. People have eaten the strangest things and some you may be able to serve up as part of a crazy dinner menu that just might leave your guests hungry. The authors of "Fierce Food," warn that some food, such as bats, tarantulas, fugu and clay could cause severe pain, disease or death. However, you might have better luck serving hot peppers, various insects and ants, tree bark, frog legs, jellyfish, monkey or calf brain or lichen. Accompany it with gelatin shots or honeysuckle. This menu probably is a bit too out there for a party that includes children, but you might be able to fine-tune it for a guest list that includes youngsters.
Around the World
Create a crazy dinner party menu that mixes cuisines and flavors from around the world. Set up stations in your home where guests can sample foods from different countries. Decorate each station with maps or pictures from that country. Consider stations featuring appetizers or small bites from Spain, India, Brazil, Ireland, Russia, Japan and Australia. You can even create placards that give the name of the dish in its native language or provide a menu in the shape of a world map.
Reading and Eating
Book clubs have grown in popularity as have the cookbooks that offer literary menus for bibliophile fare. Host a crazy dinner party with a menu inspired by such literary works as "Alice in Wonderland," "Gone with the Wind," "Harry Potter and the Sorcerer's Stone" or "The Princess Bride." For Alice in Wonderland, you can host a mad tea party where people must change plates and chairs every five minutes. Serve finger sandwiches with toothpicks flagged with "Eat Me" signs. For "Gone with the Wind," serve brunch with sweet tea, peach bread and Southern breakfast favorites. For "Harry Potter and the Sorcerer's Stone," serve traditional British foods and put drinks in mock potion bottles. For "The Princess Bride," serve a dish based on the characters in the book, such as Sicilian food for the Sicilian, Middle Eastern food for the Turk, butter biscuits for Buttercup and sangria for The Spaniard.
References
"Fierce Food"; Christa Weil; 2006
"I Like You: Hospitality Under the Influence"; Amy Sedaris; 2006
"Read It and Eat"; Sarah Gardner; 2005
Resources
"Food and Friends"; Simone Beck; 1991
"The Sex Life of Food"; Bunny Crumpacker; 2006
Writer Bio
As a professional writer since 1985, Bridgette Redman's career has included journalism, educational writing, book authoring and training. She's worked for daily newspapers, an educational publisher, websites, nonprofit associations and individuals. She is the author of two blogs, reviews live theater and has a weekly column in the "Lansing State Journal." She has a Bachelor of Arts in journalism from Michigan State University.
Photo Credits
BananaStock/BananaStock/Getty Images