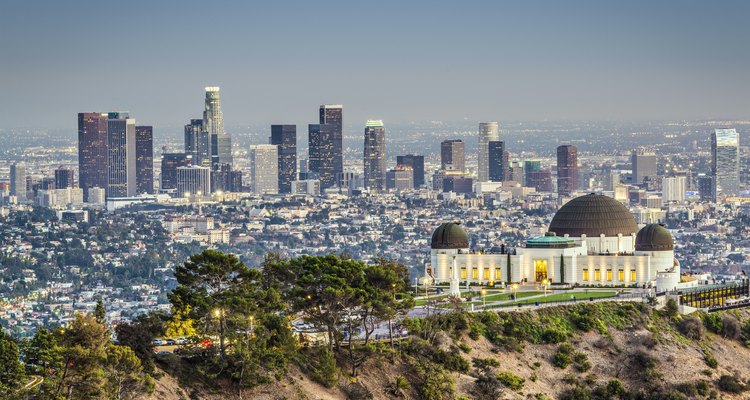 SeanPavonePhoto/iStock/GettyImages
Keeping the Family Entertained in Tinseltown
Hollywood may be the land of glitzy movie premieres and glamorous starlets, but there are still plenty of attractions that cater to a child's innocence and curiosity. In a city known for filmmaking, it should come as no surprise that you'll find plenty of family-friendly, movie-themed attractions, including museums, theme parks and historic movie palaces. Frequent sunshine and warm weather also mean kids get to enjoy outdoor activities practically year-round in Hollywood's rugged hills.
Fun at the Movies
Just watching a movie in Hollywood is sometimes an elaborate event, particularly at El Capitan Theater (6838 Hollywood Blvd., Los Angeles, CA), a lavish 1926 movie palace outfitted with an enormous balcony and ornate opera boxes. Owned by Disney, the theater screens movies exclusively from the Mouse's studio, offering a mixture of classics and new releases. Most screenings begin with a stage show featuring Disney characters and live music from an antique 1929 organ. Visit the basement and enjoy a behind-the-scenes glimpse of moviemaking magic with exhibits that typically showcase props, set pieces and costumes from the currently running film.
A View from Above
Snake your way through tranquil neighborhoods in the Hollywood Hills to cozy, 5-acre Lake Hollywood Park (3160 Canyon Lake Dr., Los Angeles, CA) where you'll enjoy sweeping views of the city and the Hollywood Reservoir below. But make sure you look up to see the real attraction—a panoramic and up-close view of the iconic Hollywood sign. Play catch or picnic on the wide open field, but understand you'll more than likely get interrupted by some of the numerous off-leash dogs roaming throughout the park. If your family prefers to experience the park sans dogs, stick to the gated-off area equipped with picnic tables and a playground, which is a dog-free zone.
Movie Making Adventures
Universal Studios Hollywood (100 Universal City Plz., Universal City, CA) is a working movie studio that doubles as one of Southern California's most popular theme parks. The famed one-hour tram ride combines a behind-the-scenes tour with special-effects entertainment, including an encounter with the shark from Jaws and a menacing King Kong. Older kids will enjoy a 3D ride with a Transformers theme, a Jurassic Park water ride and a high-speed dark ride that showcases The Mummy movie franchise. Hogsworth awaits in the Wizarding World of Harry Potter, an area of the park dedicated to the popular book and film series, where you can soar on the wings of a Hippogriff via a family-friendly coaster, walk the streets of Hogsmeade and drink butterbeer.
House of Wax
Pay a visit to Madame Tussauds Hollywood (6933 Hollywood Blvd., Hollywood, CA), the world-famous museum featuring wax figures of celebrities from such walks of life as filmmaking, music and politics. Take pictures alongside famous figures, from Taylor Swift and Lady Gaga, to Elvis Presley and Marilyn Monroe. Kids will love the Marvel-themed gallery as they pose with such superheroes as Iron Man, Captain America and Wolverine. For an added fee, hop aboard a 4D animated ride featuring Marvel superheroes.
Gazing at the Galaxies
Located atop Mount Hollywood in Griffith Park, the Griffith Observatory (2800 E. Observatory Rd., Los Angeles, CA) aims to educate children on all space-related topics. Hands-on exhibits let kids look through telescopes to view far-away planets, touch meteorites and weigh themselves on scales that determine their weight on other planets. The observatory's small theater showcases everything from short films about the solar system to in-person science experiments. The Samuel Oschin Planetarium also features popular shows that explain complex components of the universe using lasers and star projectors.
References
Writer Bio
A travel writer since 2002, Leah Rendon has written countless articles for online pop-culture magazines and various travel-related websites, including Eurobooking and World66. Gosford also has experience in copywriting, having developed a series of articles related to network marketing. She graduated from the University of California, Los Angeles with a degree in theater arts.