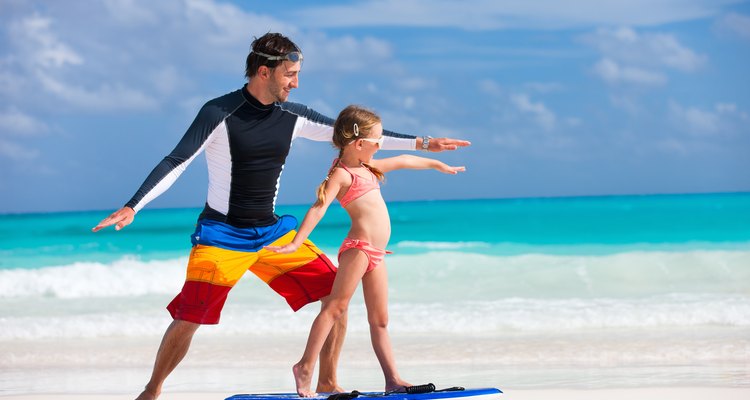 shalamov/iStock/GettyImages
Family Fun Reigns in This North Florida City
From the beach to downtown and everywhere in between, Jacksonville, Florida, offers families the best combination of entertainment. Activities range from building sand castles and hitting the hiking trails to studying art or taking in a major sporting event. Of course, trying to decide what to do could occupy an entire vacation, so, to get you started, check out these sights and attractions around Jacksonville.
Go a Little Wild
Named one of the top 20 zoos in the nation by TripAdvisor, the Jacksonville Zoo and Gardens (370 Zoo Parkway, Jacksonville, FL) welcomes families to explore its various animal habitats and learn more about the animals that live there. For instance, in "Wild Florida" see some of the animals native to the area, such as the American alligator, bald eagle and alligator snapping turtle. Guests also can tour several themed gardens featuring a variety of horticultural displays with flowering plants, foliage, water-edge plants and more. Other zoo activities include train and carousel rides, animal encounters, a 4-D theater and more, but these experiences may require additional fees.
Paddle Toward Fun
Take to the water with Kayak Amelia (13030 Heckscher Dr., Jacksonville, FL), and tour the marshes of the Intracoastal Waterway via kayak. Along the way, learn about the flora and fauna in the area, and see what wildlife you can spot living in the marshes. Plus, kayaking is a great way to keep kids active while having fun and learning. Tour the marsh, head out to Fort George Island or enjoy the sunset on the water; no matter which tour you choose, rest assured it will be an unforgettable experience for the entire family.
Make It Sweet
Most kids love candy, so indulge their sweet tooth at Sweet Pete's Candy Factory (400 N. Hogan St., Jacksonville, FL). Here, everyone can take a candy-making class to learn how to make gummy candies, chocolate truffles, taffy or more. There's a "toddler time" class for kids ages 2 to 4 that includes story time and a sweet treat (registration required). Another fun offering, sign the family up for the factory tour, in which a "candy expert" takes you behind the scenes of this Willy Wonka-style chocolate and candy factory in the heart of downtown. In addition to seeing how the various candies are made, every participant gets to create a custom candy bar (including 16 toppings!).
Surf's Up
Fulfill those dreams of hanging 10 on a giant wave with surfing lessons at the beach. Book a lesson with Jacksonville Surf and Paddle (222 First St., Neptune Beach, FL), and see which family member shows true talent for catching waves. Surf lessons are available for every age and every skill level from beginners to experienced surfers looking to expand their skills. If you visit during the spring or summer, consider signing up the kids (ages 6 to 16) for surf camp. The kids will have so much fun, they won't even realize how much exercise they are getting.
Tee Off for Fun
Enjoy golf in a whole new way at Topgolf Jacksonville (10531 Brightman Blvd., Jacksonville, FL). Here, families can compete to see who scores the most points per game. Head to the assigned bay and prepare to tee off using micro-chipped golf balls. The goal is to score points by hitting giant targets in the outfield. Other on-site activities include pool tables, giant Jenga, video games and more. It's a different way to bring kids and parents together where everyone can enjoy some friendly competition.
Making Your Plans
Jacksonville experiences some of the best weather all year, with an average of 221 sunny days and an average high temperature of 78 degrees F. Summertime is Jacksonville's rainy season, but it doesn't usually rain all day, so it's easy to get out and play when the sun is shining. Because it does host a number of major spectator sports, Jacksonville can get crowded when everyone comes to town for these events, so check the city's calendar when planning your vacation to avoid these busy times.
References
Writer Bio
Karon Warren has covered travel for nearly 20 years with numerous print and online publications. Her byline has appeared in USA Today, USA Today's 10 Best, WorkingMother.com, FamilyVacationCritic.com. and many others. She is a member of both the Society of American Travel Writers and the American Society of Journalists and Authors. In addition to her freelance work for other clients, she also writes for her own travel site, ThisGirlTravels.com