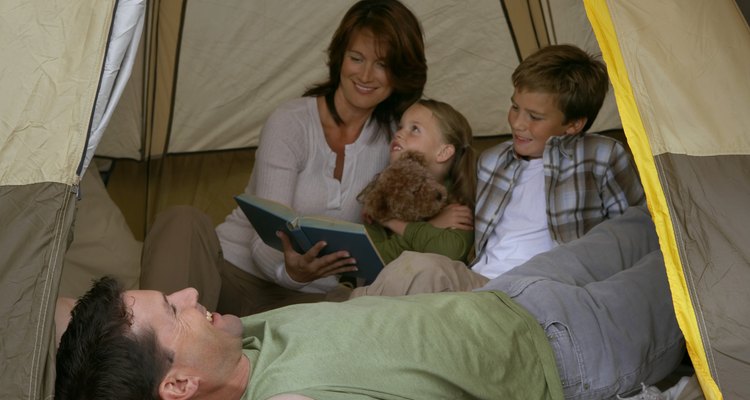 Noel Hendrickson/Photodisc/Getty Images
The Tri-Cities consists of three neighboring cities in the southeastern portion of Washington. In 2010, these cities, Richland, Kennewick and Pasco, were named by Kiplinger as one of the top 10 places to raise a family. Whether you live in this area or are planning to visit, you will find an assortment of fun stuff to do with your kids.
Park Activities
You can take your kids to some of the parks in the Tri-Cities for some fun. Visit Columbia Park (no website; 99336 Columbia Park Trail; 509-942-7529), where you'll find the family fishing pond with an assortment of warm-water fish such as bluegill, crappie and channel catfish. Children can make their way along the walking trail, identifying the fish and trying their luck at catching one for free. Next to the pond is the Playground of Dreams, a 12,000-square-foot playground with features representing local landmarks such as the Cable Bridge and a barn. During the summer, you can visit the Aquatic Splash Park, near the Playground of Dreams. Your kids can splash and play with water jets and interactive spray features. Hop on the J&S Dreamland Express, a colorful train-trolley, that takes you around the park.
Bowling and Roller-Skating
Take the kids to Spare Time Lanes and Arcade (freesparetime.com) for some entertainment. This bowling center features 24 bowling lanes with bumpers for the kids. It also has an arcade with more than 50 games, a soft play bounce house and a large redemption prize center. You can even grab a bite to eat while you're there at the snack bar or pizza kitchen. Or, you could take your children to Rollarena Skating Center (richlandskate.com). Public skating times are available and includes music from a state-of-the-art sound system, a computerized light show and family games and activities.
Outdoor Activities
Get your kids outside to enjoy nature. Plan a camping trip at Horn Rapids RV Resort (hornrapidsrvresort.com) in Richland. This campground features a game area with volleyball and shuffleboard, as well as a large playground area for the kids to play. A swimming pool and hot tub is right on the grounds. In Pasco, you can go visit the Sacajawea State Park (no website; 2503 Sacajawea Park Road, Pasco; 506-545-2361). This 284-acre park has 9,100 feet of freshwater shoreline, a children's playground and features the Sacajawea Interpretive Center. Inside, you'll find interactive displays that teach about the Lewis and Clark Expedition through the eyes of Sacajawea. Animals you might spot inside of the park include deer, elk, geese, rabbits and squirrels.
Indoor Activities
Take in a show at the Academy of Children's Theatre (academyofchildrenstheatre.org) with the kids. This theater presents rotating performances throughout the year. Examples of past shows include "Oliver and Rapunzel." Spend a day learning together at the Columbia River Exhibition (crehst.org). Exhibitions change regularly and might include those such as A View From Space or interactive, hands-on activities to teach kids about the history and geology of the Columbia River. You could also take the kids to one of the Open Gym times at Mid-Columbia Gymnastics Academy (mcga.org). Open Gym takes place in the indoor playground and is for children ages 6 and younger. Children can run, bounce and play with toys, balls and hoops.