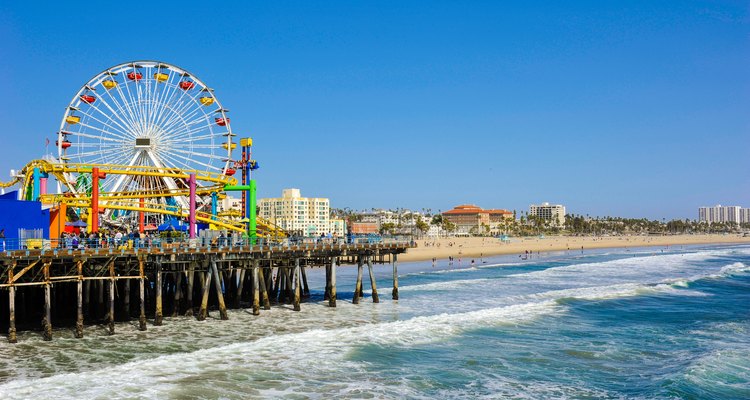 Zarnell/iStock/GettyImages
Attractions in the City of Angels that Entertain and Educate
Los Angeles offers a host of family-friendly activities as diverse as its people. It's practically free to soak up the region's varied natural landscapes as your kids hang 10 at the beach or explore the lush local mountains. While your littlest sports fans may prefer to spend their afternoon at the city's most iconic ballpark, and junior thrill-seekers will want to visit Los Angeles' famed theme parks, pint-size artists can explore their creative side at first-rate museums.
Adventures in the Park
Just steps from the lively streets of Los Angeles, Griffith Park (4730 Crystal Springs Drive, Los Angeles, CA) covers more than 4,200 acres in the Santa Monica Mountains and offers 53 miles of hiking trails. The park features a host of kid-friendly attractions, including a 1926 merry-go-round, pony rides around an oval track and two miniature train rides. Also located inside the park is the revered Los Angeles Zoo (5333 Zoo Drive, Los Angeles, CA), where Asian elephants stroll through massive pens, orangutans fly overhead and a habitat is filled with 60 species of amphibians, invertebrates and reptiles. Perched atop the park's Mount Hollywood, the beloved Griffith Observatory (4801 Griffith Park Drive, Los Angeles, CA) offers free admission, which includes access to interactive exhibits, sweeping views of the city and massive telescopes for gazing into the skies. There's a small fee to watch the observatory's planetarium shows.
A Day at the Beach
No Southern California trip is complete without a glimpse of the Pacific Ocean from the legendary Santa Monica Pier (200 Santa Monica, Pier A, Santa Monica, CA). Admission to the pier is free, but there are fees for individual attractions, such as Pacific Park, an amusement park outfitted with kiddie rides, roller coasters and the region's iconic Ferris wheel. The pier also features an arcade, midway carnival games and a beloved antique carousel. For a truly unique experience, sign up for a lesson at the trapeze school or visit the small aquarium tucked under the pier. Grab something to eat at one of the pier's sit-down restaurants and fast-food stands, or catch your own meal when you rent fishing gear from the bait and tackle shop. Rent bikes, beach chairs and umbrellas from the pier before making your way to the beach.
Touring Tinseltown
Enjoy a behind-the-scenes glimpse of moviemaking magic at Universal Studios Hollywood (100 Universal City Plaza, Universal City, CA). The theme park's famed tram ride takes you through the working studio's backlot while also transporting you into the high-speed world of The Fast and the Furious franchise and bringing you face-to-face with a towering King Kong. Test your nerves and stomach on the park's movie-themed water rides, roller coasters and motion simulators. Make sure you visit the Wizarding World of Harry Potter, a themed land where children can explore the magic of Hogwarts Castle, take a picture aboard the Hogwarts Express and drink butterbeer.
Nature and Science on Display
Science and nature come alive at the Natural History Museum of Los Angeles County (900 Exposition Blvd., Los Angeles, CA). Detailed dioramas depict animals from around the globe, including cheetahs, polar bears and bison, in their natural environment. Junior Jurassic lovers will enjoy Dinosaur Hall, an exhibit which features the fossils of a Tyrannosaurus rex, Triceratops and Stegosaurus. Learn everything you wanted to know about bugs in the insect zoo and touch precious gems, minerals and meteorites through hands-on exhibits. Embrace the great outdoors at the nature gardens, a lush setting complete with bird-watching platforms, hummingbird feeders, edible gardens and waterfalls.
It's a Beautiful Day for a Ballgame
Dubbed "Blue Heaven on Earth," Dodger Stadium (1000 Vin Scully Ave., Los Angeles, CA) sits high above the city in Elysian Park and has been home to the Los Angeles Dodgers Major League Baseball team since 1962. Dodger Stadium tours, available year-round, give kids the chance to sit in the dugout just like big leaguers. Depending on the schedule, tours may also include a peek inside the press box, clubhouse and bullpen. Cheer on the boys in blue and stuff yourself with Dodger dogs and peanuts when you take in a regular season game from April through September. Firework shows take place after every Friday night home game.
References
Writer Bio
A travel writer since 2002, Leah Rendon has written countless articles for online pop-culture magazines and various travel-related websites, including Eurobooking and World66. Gosford also has experience in copywriting, having developed a series of articles related to network marketing. She graduated from the University of California, Los Angeles with a degree in theater arts.