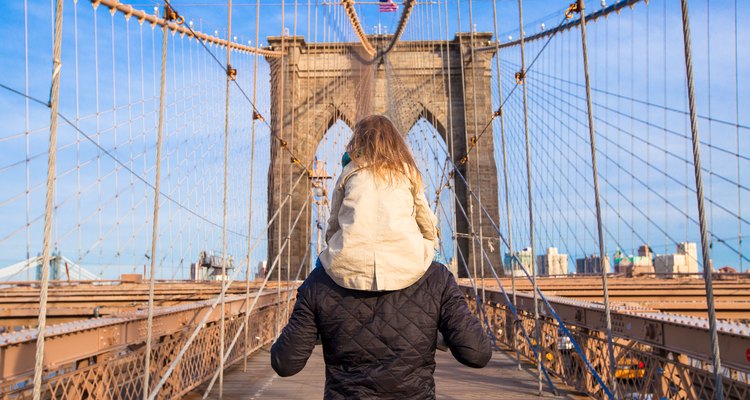 travnikovstudio/iStock/GettyImages
Finding Fun for the Family in the Big Apple
With jam-packed streets filled with honking taxis and throngs of hurried pedestrians, New York City may seem like a less-than-ideal location for a family vacation. But, surprisingly, the City That Never Sleeps actually caters to children, too, offering a combination of recreational activities and kid-friendly, culturally rich attractions. Whether your toddler runs wild through a world-famous park or your teen enjoys a first live theatrical performance, NYC satisfies the needs and interests of kids of all ages.
A Day in the Park
Enjoy a day filled with adventures in the 840-plus-acre Central Park, where you can go horseback riding, rent bikes or row a boat out on the lake. Tiny tots will want to take a spin on the vintage 1908 carousel or race remote-controlled boats on the pond. Set out for a picnic on the sprawling Great Lawn or take a stroll through the idyllic Shakespeare Garden on leisurely afternoons. Lace up your boots and skate across Wollman Rink during New York's cold winter months. The 6.5-acre Central Park Zoo is home to penguins, grizzly bears and snow leopards, and also features a petting zoo where kids play with sheep, goats and potbellied pigs.
Fun With Nature and Science
Pay a visit to the American Museum of Natural History (Central Park West & 79th St., New York, NY), where a 94-foot-long model of a blue whale hangs over your head, suspended from the ceiling. The museum is also home to famed dioramas showcasing wildlife in their natural habitats, including a variety of mammals, birds, reptiles and amphibians. Stop by the gallery showcasing the skeletons of extinct animals like mammoths, saber-tooth cats and Tyrannosaurus rex. In the Discovery Room, kids can learn about different cultures, touch real fossils and track real-time earthquakes. The Rose Center for Earth and Space includes a planetarium, moon rocks and scales to let your kids know how much they'd weigh on other planets.
Exploring the Arts
The Children's Museum of the Arts (103 Charlton St., New York, NY) aims to introduce families to the world of art. The museum's permanent collection houses more than 2,000 pieces created by kids from over 50 countries. Rotating exhibits showcase a variety of mediums, including ceramics, woodwork and quilts. Art classes and workshops are open to the whole family, where participants can create artworks using everything from clay, paints, pencils and animated videos.
Dramatic Kids
Expose your kids to the arts at the New Victory Theater (209 W. 42nd St., New York, NY). The theater stages a variety of live performances exclusively geared toward children, including plays, musicals, dance shows, concerts, opera and the circus. You'll find suggested age ranges for each show on the theater's website. The company also offers workshops to the public throughout the year, where little artists can try their hands at everything from shadow puppets to magic tricks to hip-hop dancing.
Hands-On Exhibits
Little ones enter a world of pretend and imagination at the Children's Museum of Manhattan (212 W. 83rd St., New York, NY). The museum covers a variety of topics, including a healthy living exhibit where kids crawl through a digestive tract and meet vegetable superheroes. In a gallery reserved for small children, tiny tots play musical instruments, pretend to drive a fire truck and join daily drop-in art workshops. The water-themed outdoor gallery includes water tables and the items needed to build miniature dams, aqueducts and waterfalls.
References
Writer Bio
A travel writer since 2002, Leah Rendon has written countless articles for online pop-culture magazines and various travel-related websites, including Eurobooking and World66. Gosford also has experience in copywriting, having developed a series of articles related to network marketing. She graduated from the University of California, Los Angeles with a degree in theater arts.