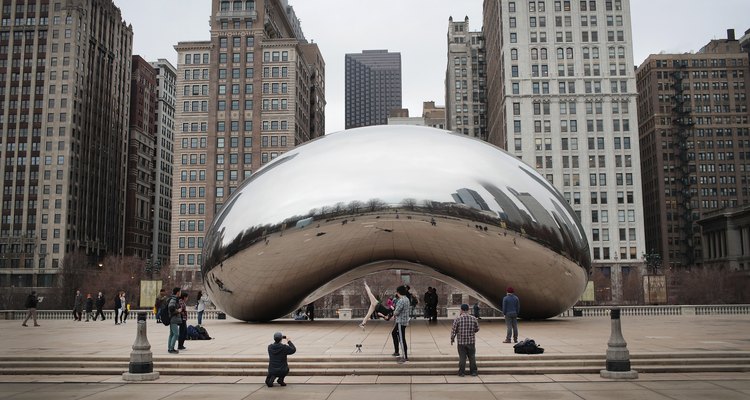 Scott Olson/Getty Images News/GettyImages
Five Great Budget-Ready And Family-Friendly Activities
Chicago has lots of memorable sites and activities, especially ones that are family-friendly. If you're traveling on a budget, you can find plenty to do and see for free, from the iconic Lincoln Park Zoo to the boardwalk of Navy Pier. It may be cold and windy during a wintertime visit, but your family won't forget the fun times had year-round.
See the Animals at the Lincoln Park Zoo
Chicago's Lincoln Park Zoo (2001 N. Clark St., Chicago, IL) is one of the only free zoos in the United States. It's also one of the oldest. Visit the zoo 365 days of the year, although the opening hours vary by the season. It houses hundreds of animals, from penguins to polar bears to lions, and offers daily activities for kids. Your young ones can stop by the Small Mammal-Reptile House daily at 11 a.m. to get up and close with a few of the inhabitants. Be sure to bundle up in the winter, and bring sunscreen in the summer.
Watch the Birds at the Montrose Point Bird Sanctuary
The Montrose Point Bird Sanctuary (4400 N. Simonds Dr., Chicago, IL) is one of Chicago's best kept secrets. The nature preserve is situated along the water where you can catch sight of over 300 different types of birds. Bring a pair of binoculars and a bird-watching guide, and make it into a game as you and your kids spot various birds, butterflies and planets. Stroll along the paths and enjoy the view of the Chicago skyline. The sanctuary is open all year, but you may want to plan your trip for summertime when more flowers will be blooming.
Snap a Selfie at Millennium Park
The giant reflective bean sculpture in Millennium Park (201 E. Randolph St., Chicago, IL) is one of Chicago's most iconic sites. You and the kids will love snapping photos in its distorted reflection before exploring the rest of the park's offerings. Take advantage of one of the free 45-minute tours, available May through October from the Randolph Lobby at the Chicago Cultural Center (77 E. Randolph St., Chicago, IL), to learn about the art and architecture, or bring a picnic to enjoy on the Great Lawn. There are free daily events for kids, like gardening sessions or science workshops, and it's the perfect outdoor spot during the spring and summer when the weather's fine.
Enjoy the Views at Navy Pier
Chicago's Navy Pier (600 E. Grand Ave., Chicago, IL) was built back in 1916. It's since become an iconic landmark in the city, housing 50 acres of sites and attractions, including a massive Ferris wheel. It's open all year regardless of weather and free to visit (although some attractions are ticketed at a cost). Enjoy shopping along the pier, with rotating art and cultural exhibitions and tons of restaurants that have plenty of options for picky eaters. The Chicago Children's Museum is also located in the area. Spend an hour or the whole day, and don't forget to snap a family photo with a view of Lake Michigan.
Play in Maggie Daley Park
You don't have to invest in an overcrowded tourist attraction to enjoy Chicago. Take your kids, especially the younger ones, and head to Maggie Daley Park (337 E. Randolph St., Chicago, IL), a 20-acre public park in the Loop area of the city. It's open every day and does not have an admission fee, making it perfect for a visit any time in any weather. There are playgrounds, picnic groves and paths to ride bikes and scooters, as well as a climbing wall and mini golf (both of which cost a fee). You won't worry about the lines and cost of things like the Sears Tower as you run and explore the park with your family.