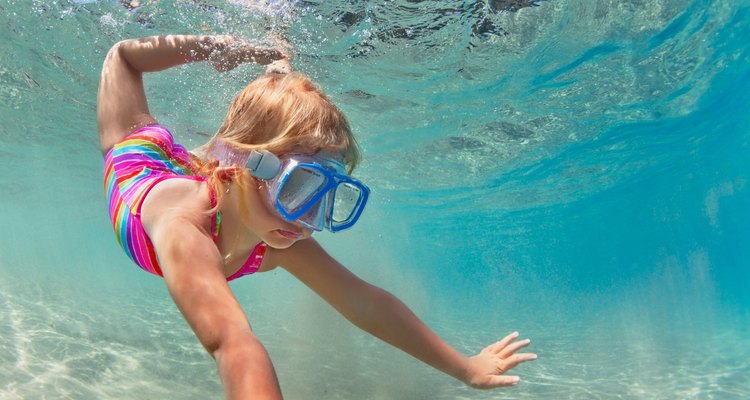 Denis Moskvinov/iStock/GettyImages
Five Hawaiian Locales to Consider for Your Next Trip
Every family dreams of the perfect Hawaiian vacation. Whether you're looking for the hustle of Honolulu or the serenity of a Big Island beach, the Aloha State has a lot to offer. It's great weather all year, especially in the spring and summer, so you'll always be able to spend time on the beach and under the sun. Hawaii can be expensive, particularly during high tourist season, so you'll need to be ready to splurge. But it will be worth it once you and your family sees the beach views. Here are five great resorts to consider for your next Hawaiian vacation.
Aulani
Aulani (92-1185 Ali'inui Dr., Kapolei, HI) is a bucket list resort for Disney enthusiasts. Located on the island of O'ahu along the beaches of Ko Olina, Aulani features 351 hotel rooms and suites and 481 vacation villas, as well as two restaurants and a Disney-themed spa. Your kids will enjoy hanging out at the Aunty's Beach Club kids club or in the many swimming pools. Disney characters will appear during the Waikolohe Pool parties, so you'll be sure to have an encounter with Mickey Mouse and friends. It's pricey, with rooms or villas starting around $500 per night, but it's an experience your family will remember for years to come.
Maui
Maui is Hawaii's second largest island and one of its most popular vacation spots, largely thanks to the massive volcanoes and white, sandy beaches. The coastal Grand Wailea Resort (3850 Wailea Alanui Dr., Kihei, HI) is known for catering to visitors of all ages. The hotel features The Rock, a mini-resort for kids where your young ones can play, learn to hula or build on a massive LEGO wall. There's a teen lounge for those 13 to17 years old, and daily poolside workshops where kids learn to craft puka shell necklaces or flower leis. The whole family will love the Wailea Canyon Activity Pool, which has everything from a whitewater rapids slide to waterfall caves. Rooms start at $500 per night.
While on Maui, be sure to visit Haleakalā National Park (30,000 Haleakala Hwy., Kula, HI), a vast wilderness area home to several dormant volcanoes.
Waikiki
Waikiki embodies the best of the beach and the city. Located in Honolulu, the area is known for its surf culture and proximity to tourist attractions. There's fun for the whole family at the Sheraton Waikiki Hotel (2255 Kalakaua Ave., Honolulu, HI), a resort in the center of Honolulu, walking distance from the area's many sites. If you're looking for some time alone with your significant other, the hotel offers a daycare center for kids three months to 12 years old (reservations should be made 24 hours in advance). Or gather up the family and head to the nearby Honolulu Zoo (151 Kapahulu Ave., Honolulu, HI), where you and the kids can experience tigers, elephants and sun bears. Older kids can learn to snorkel along the beach and you'll all love the resort's swimming pools. Rooms average $550 per night during the summer.
Hapuna Beach Prince Hotel
The Hapuna Beach Prince Hotel (62-100 Kauna'Oa Dr., Waimea, HI) is a high-end resort that makes kids feel welcome. Located on the Big Island, the hotel is nestled against Hapuna Beach, one of Hawaii's most beautiful beaches. It has its own coast-view golf course and the beach is the perfect place for swimming or snorkeling. Your kids will love the swimming pool and the kids' menu items available at the resort's restaurants. All of the rooms are water-facing and large enough that you won't feel overcrowded. It's more affordable than other Hawaii resorts, with rooms from $300 per night.
Kauai
If a relaxed getaway is more your speed, consider Kauai, a Hawaiian island nicknamed "the Garden Isle" thanks to its lush tropical vegetation. The extensive amenities at the Grand Hyatt Kauai Resort and Spa (1571 Poipu Rd., Koloa, HI) will make it the perfect destination for you and your family. The resort is located on the white sands of Poipu, along the southern side of the island. There are two freshwater pools connected with river pools and a huge saltwater lagoon, where you can soak or swim. Enjoy nearby hiking or biking, or reserve one of the tennis courts. There are daily resort activities like photo opportunities with parrots, live Hawaiian music and Koi fish feedings. All rooms have private patios or balconies, and there are numerous on-site restaurants that cater to eaters of all tastes. Rooms start at $500 per night.