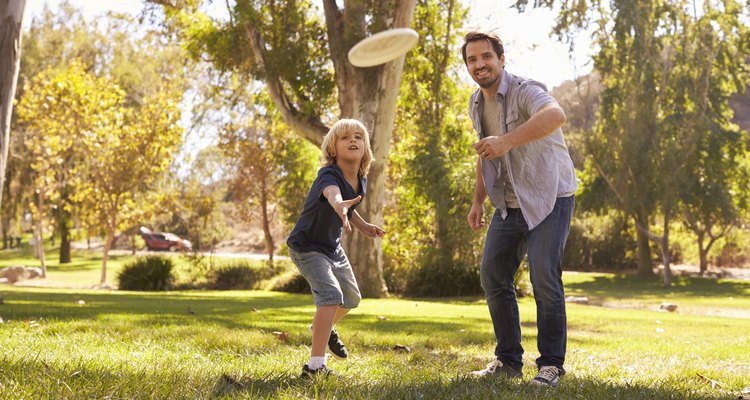 monkeybusinessimages/iStock/GettyImages
Enjoy Family Fun in Georgia's Capital City
Atlanta continues to grow and thrive with new attractions opening all the time. Parks, museums and historic sties are just a few of the free offerings available around the city. So check out the following, and start planning your family fun day today.
Play in the Park
Centennial Olympic Park (265 Park Ave. West NW, Atlanta) was originally constructed for the 1996 Summer Olympics held in Atlanta. But long after the athletes returned home, both Atlanta residents and visitors have enjoyed this spacious park in the heart of downtown. Enjoy a picnic on the grass or at one of the (few) picnic tables. Bring a Frisbee or ball to toss around, or try your hand at flying a kite. When the weather is hot, cool off in the Fountain of Rings, a zero-depth fountain where kids can splash and play. At one end of the park are two playgrounds with swings, climbing structures, monkey bars and more.
Be Scientific
At Fernbank Science Center (156 Heaton Park Dr., Atlanta), families will love delving into all things science, thanks to the center's free exhibits. For example, see the unmanned Apollo 6 Command Module launched on April 4, 1968, and learn how this test flight provided information for the Saturn V launch vehicle. There's also a live animal exhibit featuring snakes, poison dart frogs and more. In addition, the center hosts events throughout the year; some are open and free to families but may require registration before arrival.
Step Into History
Families with older children can learn more about Anne Frank at the "Anne Frank in the World: 1929-1945" exhibit (5920 Roswell Road, Suite A209, Sandy Springs, GA) in Sandy Springs. Recommended for children in fifth grade or higher, this free exhibit documents the life of Frank in more than 500 photographs. A self-guided tour takes families through the exhibit, where they will learn more about Frank, her life in World War II and her death resulting from the Holocaust. While a somber exhibit, it presents adults with a great opportunity to discuss this difficult event in world history and explain how Frank's spirit in such adversity has inspired millions around the world.
Make Outdoor Discoveries
Along the Atlanta BeltLine (Eastside Trail, Intersection of 10th St. and Monroe Dr., Atlanta), enjoy the outdoors to bike, walk or run on 33 miles of multi-use trails, or play in one of the seven parks that include skateparks, splash pads, green space and picnic areas. Along the way, take in the continuing and temporary exhibits of public art that include sculptures, murals, photography, music and more. A number of fitness classes, special events and tours also are hosted along the BeltLine, so check the website for a current calendar of events and location.
Get Back to Nature
Located on Dunwoody Park's 22 acres, the Dunwoody Nature Center (5343 Roberts Dr., Dunwoody, GA) invites visitors to explore nature through a variety of offerings. Hit one of the hiking trails, or check out the wetlands along the boardwalk. See how thousands of bees work together to build a honeycomb in one of the demonstration beehives, or look for salamanders and crayfish in Wildlife Creek. For a tamer activity, chill out in one of the hammocks or watch the kids burn some energy on the playground.
When to Go
For the most part, Atlanta experiences great weather year-round; however, the winter months can get quite cold. Summer, too, can be unpleasant when the city experiences high temperatures in tandem with high humidity levels. Therefore, for the most comfortable weather, plan to visit during spring or fall. Because the city is a popular destination, it is often the site for major events throughout the year, which can bring in larger than normal crowds. Therefore, check the city's calendar of events to avoid the busier times.
References
Writer Bio
Karon Warren has covered travel for nearly 20 years with numerous print and online publications. Her byline has appeared in USA Today, USA Today's 10 Best, WorkingMother.com, FamilyVacationCritic.com. and many others. She is a member of both the Society of American Travel Writers and the American Society of Journalists and Authors. In addition to her freelance work for other clients, she also writes for her own travel site, ThisGirlTravels.com