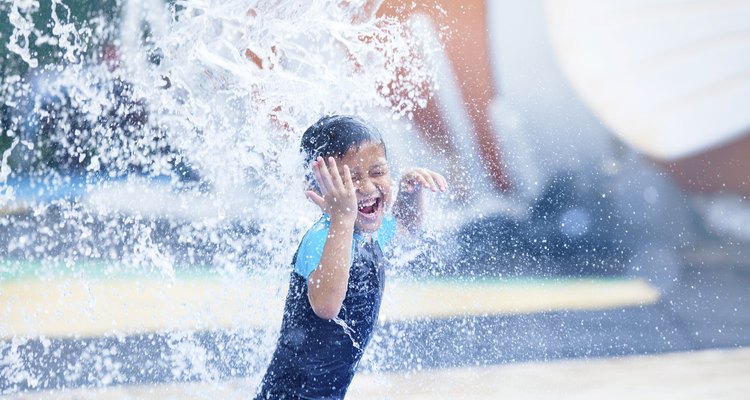 CreativaImages/iStock/GettyImages
Quality Time Without Spending a Dime
As Texas' cool, cosmopolitan capital, Austin is bursting with fun activities and attractions that visitors of all ages can't wait to discover. A jam-packed itinerary can easily bust your vacation budget, but Austin graciously gives families plenty of options for free things to do. Nature has provided ample outdoor treasures, plus a pleasant climate for enjoying them all year-round. And on those rare inclement days, the city offers some great indoor places with complimentary admission as well.
The Mount Bonnell Overlook
Mount Bonnell is the highest point in Austin, but, at only 775 feet in elevation, it's a relatively easy ascent for visitors of all ages. Access the free parking available on Mount Bonnell Road, then climb 102 steps to reach the overlook and pavilion at the flat summit. The reward is unmatched views over downtown Austin and Lake Austin—part of the Colorado River.
Splash Pads and Swimming Holes
With 300 days of sunshine a year and long, hot summers, Austin's dozen free splash pads are ideal places for kids to cool down and play. Rosewood Park (1182 Pleasant Valley, Austin, TX) has a free swimming pool and pirate ship-themed playground along with its splash pad. Champion Park (3830 Brushy Creek Road, Austin, TX) has a small splash pad but a huge sandbox with hidden dinosaur bones and digging equipment. If you have little kids in tow, take them to Bartholomew Park (5200 Berkman Drive, Austin, TX) for one of the best splash pads. It has a shady tots' playground and two larger playgrounds along with its water features. Most of the city's splash pads operate from May to September, but some are open year-round.
Barton Springs, a popular spring-fed, warm-water swimming hole, usually charges a small entrance fee, but you can swim and splash for free from 5 to 8 a.m. and from 9 to 10 p.m. Floating down the Comal River is also free if you have your own inner tube. Tube rentals and shuttle services are available for a fee.
Texas State Capitol Tours
History, architecture and government-in-action all come together at the Texas State Capitol (1100 Congress Ave., Austin, TX). Start your exploration of the Austin landmark inside the adjacent visitor center, where exhibitions display information and interesting artifacts detailing the Capitol's history back to its circa-1839 log cabin predecessor. Learn how the monumental, dome-capped limestone building was called an "architectural monstrosity" soon after it was built in 1853, and see a timeline of Texas history. Guided tours of the Capitol are available seven days a week, all year-round except for major holidays. You can also take a self-guided tour.
Congress Avenue Bridge Bats
Every evening in Austin between April and October, around 1.5 million Mexican free-tailed bats fly out en masse from their daytime roosts underneath the Congress Avenue Bridge (Congress Ave., Austin, TX). This incredible spectacle of nature is one of the most popular tourist attractions in the city. Head toward the bridge around dusk—you'll see gathering crowds all around the vicinity—or stand on the pedestrian sidewalk on the bridge and wait for the bats to make their eerie-but-awesome appearance.
Austin Nature and Science Center
The free-admission, city-run Austin Nature and Science Center (2389 Stratford Dr., Austin, TX) in Zilker Park is a great attraction for curious and nature-loving children as well as their parents. It includes outdoor trails lined with flowers and trees, an indoor visitor center with fascinating exhibits and live rescue animals including bobcats, porcupines, foxes and owls. There's also the Dino Pit where kids can play paleontologist, uncovering fossils under the sand. At the Naturalist Workshop inside the center, kids can use microscopes and magnifying glasses to examine natural artifacts like shells, bones and animal pelts.
References
Writer Bio
A writer of diverse interests, Joanne Thomas has penned pieces about road trips for Hyundai, children's craft projects for Disney and wine cocktails for Robert Mondavi. She has lived on three continents and currently resides in Los Angeles, where she is co-owner and editor of a weekly newspaper. Thomas holds a BSc in politics from the University of Bristol, England.