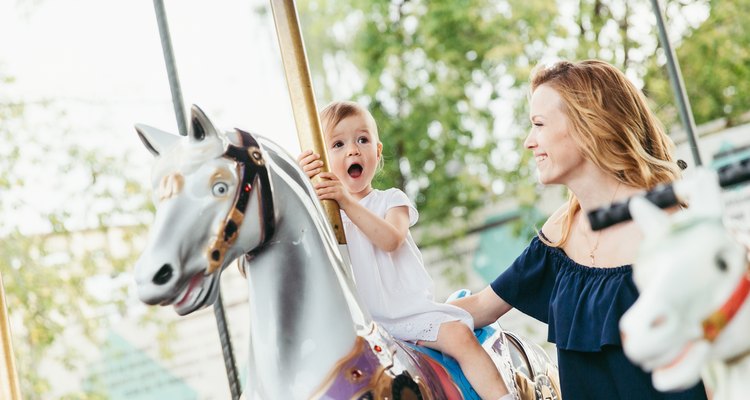 Krem-Soda/iStock/GettyImages
Five Family-Friendly Attractions in "The Fun Center of Ohio"
Located between Columbus and Cleveland in northeast Ohio, it's easy to overlook the city of Mansfield in favor of its larger, better-known neighbors. But don't_—_Mansfield is a delightful destination for a family vacation, offering plenty of attractions that appeal to kids of all ages as well as their parents. It earned its nickname, "The Fun Center of Ohio," for good reason, as you will discover by visiting these five family-friendly Mansfield attractions.
Richland Carrousel Park
Richland Carrousel Park (75 N. Main St., Mansfield, OH) in the Historic Carrousel District of downtown Mansfield is home to a nostalgic treasure that's actually not as old as it appears. The centerpiece of the park is a hand-carved carousel inspired by the classic amusement rides of the early 1900s, with 30 horses and a menagerie of bears, ostriches, cats, rabbits and more, hand-painted panels depicting local Mansfield landmarks, and a band organ for that quintessential carousel sound. When the ride opened in 1991, it was the first of its kind to do so in the United States since the 1930s. Richland Carrousel Park is open year-round, and the carousel is housed inside a pavilion so you can enjoy a ride in any weather. Tickets are $1 per ride, with discounted rates for multiple rides.
Malabar Farm State Park
Malabar Farm State Park (4050 Bromfield Rd., Lucas, OH) covers more than 875 acres just outside Mansfield. It comprises a working farm, farming exhibits, hiking trails and a 32-room mansion known as the Big House. The property was built in 1939 by Louis Bromfield, a Pulitzer Prize-winning author and a pioneer of sustainable agriculture. Guided tours of the farm and the house are available, and you can also explore the property on foot via trails that lead you by fields of wildflowers (in spring and summer), grazing pastures, a waterfall and scenic rock outcroppings. In winter, some of the trails are available for cross-country skiing. The park is open to the public free of charge, all year-round, but house and farm tours cost $3 to $5 for ages 6 and up.
The Ohio State Reformatory
The Ohio State Reformatory (100 Reformatory Rd., Mansfield, OH), an expansive, impressive Gothic structure, was built around the late 19th century and operated as a prison until 1990, when it was preserved as a tourist attraction. Self-guided and guided tours of the prison reveal its former occupants' nefarious stories, a plethora of paranormal claims and numerous Hollywood connections (you might recognize it as the set for the 1994 movie "The Shawshank Redemption"). Several guided tours are available: History Meets Hollywood; Behind the Scenes, which gives you access to the yard, attic and basement; and the Inmate Tour, led by a guide who was an inmate during the 1960s. Self-guided tours give your family the option to go at its own pace. Know that all ages are welcome, but this attraction is recommended for children 7 years and older.
Tours are available daily in summer (April 1 to September 3), and on Fridays, Saturdays and Sundays in winter (February 3 to March 31) and the holiday season (November 24 to December 17). Tickets for guided tours are $17 for adults and $15 for children ages 7 to 17; for self-guided tours, adult tickets are $12, and children's tickets are $10, plus a $5 fee for an audio wand.
Little Buckeye Children's Museum
The Little Buckeye Children's Museum (44 W. 4th St., Mansfield, OH) has more than 25 exhibits designed for hands-on learning and fun, imaginative play. The indoor attraction is a great option for days when the weather outside isn't ideal. On the first floor, kids can build at the construction site, uncover fossils at a dino dig, be as noisy as they like on musical pipes, splash at the water table, make discoveries at the science table, and play at being an adult at the little market, bank and post office. Up on the second floor, they can play Goldilocks at the Three Little Bears' House, rev some engines at the auto shop, and get ready to go at the little airport or train room. The museum also features a special 2-and-under area.
The Little Buckeye Children's Museum is open daily in summer and on Wednesdays through Sundays in winter (Labor Day to Memorial Day). Admission is $8 for all visitors ages 2 and older.
Gorman Nature Center
Get out and about in the great outdoors with a family visit to the Gorman Nature Center (2295 Lexington Ave., Mansfield, OH). The 150-acre reserve has 5 miles of hiking trails through its scenic landscapes of deciduous forests and prairies and alongside ponds and streams teeming with wildlife. See displays about the local flora and fauna inside the nature center; then head out in search of frogs, turtles and birds. The nature center also features a picnic area, covered bridge and wildlife watchtower. Check the schedule for weekly programs led by naturalists. Admission to Gorman Nature Center is free, and it's open year-round.
References
Writer Bio
A writer of diverse interests, Joanne Thomas has penned pieces about road trips for Hyundai, children's craft projects for Disney and wine cocktails for Robert Mondavi. She has lived on three continents and currently resides in Los Angeles, where she is co-owner and editor of a weekly newspaper. Thomas holds a BSc in politics from the University of Bristol, England.