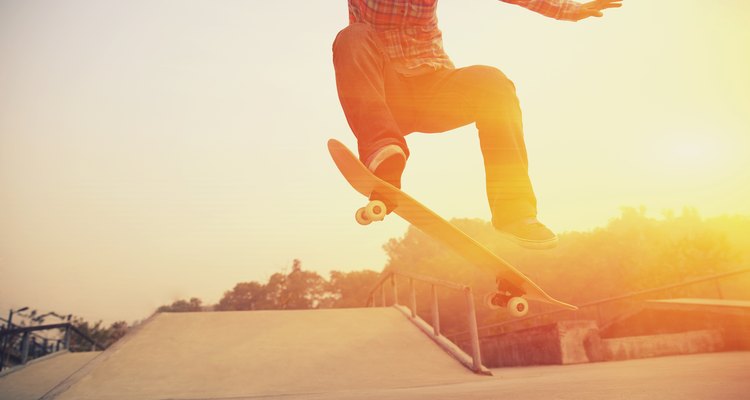 Save Money While Having Fun in OKC
Rural living meets urban sprawl as cowboys in 10-gallon hats walk the skyscraper-filled streets of Oklahoma City. These contrasting worlds combine to offer vacationing families a variety of diverse attractions, many free. Take advantage of Oklahoma City's more than 250 days of annual sunshine and, at no cost, explore its landscape dotted with gardens, parks and natural preserves. You can also spend your days visiting the city's bustling arts and culture scene, including museums and libraries that won't charge a dime.
Connect with Nature
Get lost in the wilderness of the 140-acre Martin Park Nature Center (5000 W. Memorial Rd., Oklahoma City, OK), free to the public. Start your visit with a trip to the nature center where kids will learn about wildlife in Oklahoma through exhibits and live animals, including a variety of reptiles and amphibians. Set out on one of the three easy hiking trails as you travel through dense woods and wildflower-filled meadows, pausing to cool off in the Spring Creek. Keep an eye out for such wildlife as foxes, deer and beavers or use the tower and observation wall for excellent bird watching conditions. Children will gravitate toward the forest-themed playground outfitted with animal motifs and apparatus built into fake trees.
Explore the Culture of Native People
Expose your children to other cultures at the Red Earth Art Center (6 Santa Fe Plz., Oklahoma City, OK). This quaint museum offers free admission and celebrates the culture of various Native American tribes by highlighting artwork, including paintings, sculptures and carvings, created by American Indians. Fun activities will keep help your little one entertained during your visit. For instance, download a scavenger hunt sheet from the museum's website and your child will peruse the galleries in search of specific features in the artwork.
Catch Some Air
For families with pint-sized or teenage daredevils, Mat Hoffman Action Sports Park (1700 S. Robinson Ave., Oklahoma City, OK) is the ideal facility for free high-flying adventures. This massive skate park measures more than 26,000 square feet and is designed exclusively for skateboards, inline skates and BMX bikes. Drop into bowls and half-pipes, teeter on the edge of ledges and fly down handrails for the ultimate thrill ride. There is no supervision on-site, so skaters must ride at their own risk and wear plenty of safety gear.
Bookish Hobbies
The little bookworm in your life will enjoy a trip to Oklahoma City's Downtown Library (300 Park Ave., Oklahoma City, OK), the largest branch in the city's system. The enormous library features a children's room with free activities for visitors ranging from newborns to teens. Weekly programming for tiny tots includes art workshops, music classes and storytime, while older kids are offered everything from craft lessons to LEGO building sessions. Family-friendly, afternoon concerts take place at the library once a week.
Garden Fun
Explore the 30 lush acres at the Will Rogers Park and Horticultural Gardens (3400 N.W. 36th St., Oklahoma City, OK). Roam throughout the rose garden, pausing to smell some of the nearly 1,000 bushes scattered across the grounds. Soak up the vibrant colors of native plants, trees and perennial flowers, as they dot a landscape featuring quaint bridges, small lakes and decorative fountains. Kids will delight at such special free events as garden fairy hunts and summer festivals with face painting, food trucks and craft activities.
References
Writer Bio
A travel writer since 2002, Leah Rendon has written countless articles for online pop-culture magazines and various travel-related websites, including Eurobooking and World66. Gosford also has experience in copywriting, having developed a series of articles related to network marketing. She graduated from the University of California, Los Angeles with a degree in theater arts.