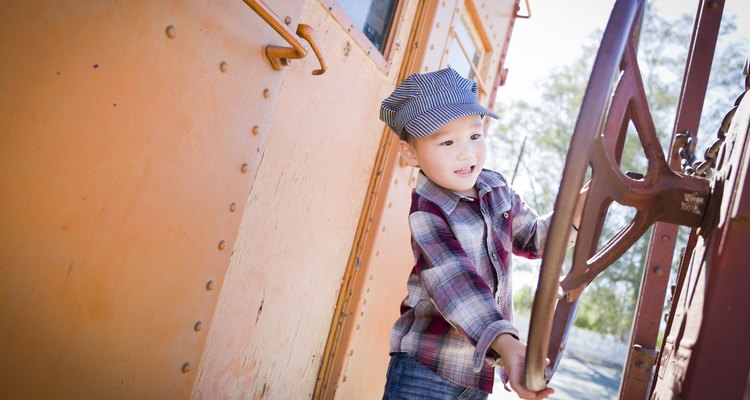 Feverpitched/iStock/GettyImages
Keep the Kids Entertained Without Breaking the Bank
Los Angeles is a city of glitz and glamour, where gourmet restaurants and trendy boutiques come with a hefty price tag. But look beyond the City of Angels' high-end lifestyle and you'll find plenty of kid-friendly attractions that won't cost a cent. From world-renowned museums tucked high in the Santa Monica Mountains to bustling urban malls, LA's diverse landscape serves as a surprisingly cost-efficient playground for vacationing families.
Explore the World of Science
Expose your little scientist to a world of wonder at the California Science Center (700 Exposition Park Dr., Los Angeles, CA) where permanent exhibits are always free. Come face-to-face with nature via touch tanks filled with sea urchins and limpets or watch as snakes slither and spiders crawl through exhibits. Take in a live show where scientists demonstrate chemical reactions, watch as divers plunge into a massive kelp forest or marvel at the inner workings of the human digestive tract. Children who dream of traveling throughout the galaxy will marvel at the museum's collection of telescopes, modules and spacesuits.
Train Time in Travel Town
Engineer some fun at the Travel Town Museum (5200 Zoo Dr., Los Angeles, CA), a 9-acre space dedicated to trains and tucked away amid the lush landscape of Griffith Park. There's nothing stuffy about this museum where kids enjoy free rein to explore yards filled with antique freight cars, passenger cars and locomotives. Head to the inside exhibit space to see a model train snake its way through the building or join docents on select days for the chance to climb inside historic passenger cars. For a small fee, the museum also offers a miniature train ride throughout the grounds.
Family Fun Meets High Culture
While you have to pay for parking at the hilltop Getty Center (1200 Getty Center Dr., Los Angeles, CA), admission to the world-renowned museum is free. The Getty's permanent collection ranges from 19th-century European paintings to contemporary sculptures. Tour the exhibits via the GettyGuide Family Tour, an audio guide complete with music and storytelling. Kids can decorate book covers or playfully examine works of art through nearly 70 peepholes in the Getty's popular Family Room. Take a walk through the center's colorful gardens, pausing along lookouts for sweeping panoramas of the Pacific Ocean and downtown Los Angeles. On select weekends, the gardens host family-friendly events, including concerts, craft workshops, theatrical performances and games.
Reaching for the Stars
Perched high atop Mt. Hollywood in Griffith Park, the Griffith Observatory (2800 E. Observatory Rd., Los Angeles, CA) offers sweeping views of the city down below and the skies up above. All of the exhibits, with the exception of shows inside the Samuel Oschin Planetarium, are free of charge. Learn all about our galaxy and beyond through educational exhibits complete with animated illustrations of planets, massive timelines that detail the history of Earth and meteorites that kids can actually touch. Step inside the observatory's intimate theater for a series of short films, lectures and science demonstrations. One Saturday a month, the Griffith Observatory also hosts star parties, where the public is encouraged to examine the skies with various telescopes.
Trolley Rides and Dancing Water: Playtime at the Mall
Anyone can walk through a mall but The Grove (189 The Grove Dr., Los Angeles, CA), LA's bustling high-end mall, lets you ride free of charge down the outdoor promenade on an old-fashioned trolley with an upper deck. Embark on a bit of window shopping throughout this elegant mall dotted with twinkling lights, brick pathways and a bridge-covered lake. Every hour the tiny lake hosts a dancing water and music show, with jetted streams reaching heights up to 60 feet. Grab one of the complimentary blankets at the nearby kiosk and use it to relax on the mall's cozy green space.
References
Writer Bio
A travel writer since 2002, Leah Rendon has written countless articles for online pop-culture magazines and various travel-related websites, including Eurobooking and World66. Gosford also has experience in copywriting, having developed a series of articles related to network marketing. She graduated from the University of California, Los Angeles with a degree in theater arts.