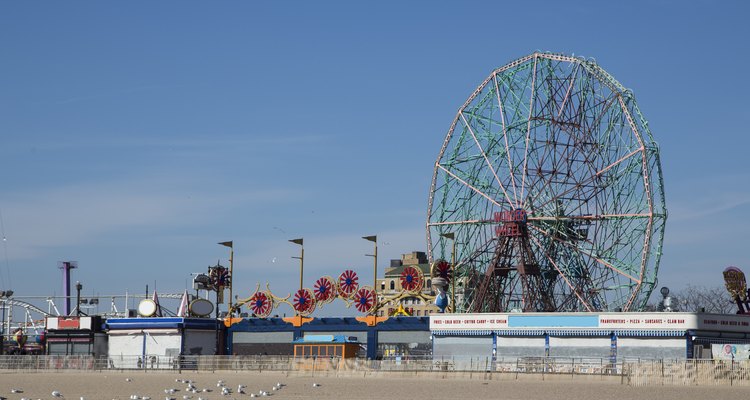 ManuKro/iStock/GettyImages
Fun, Family-Friendly Long Island Activities
Long Island, which stretches 118 miles from New York Harbor into the Atlantic Ocean, is the longest, largest and most populous island in the Lower 48. It's known for its natural beauty, scenic state parks, sandy beaches and great concentration of monuments and museums. It's no surprise then, that visitors have a huge number of attractions to consider, whether it's in the NYC boroughs of Brooklyn and Queens in the west or Nassau and Suffolk counties in the east. A handful of these destinations stand out as ideal if you're visiting Long Island with kids. Here are five of them:
Coney Island's Nostalgic Amusements
In its turn-of-the-century heyday, Coney Island was one of the most famous resort towns in the United States, home to the era's largest amusement park and packed with all the paraphernalia of a sunny beach escape—from hot-dog stands to sunbathing beachgoers to children giddy with excitement. Visit today and you'll find an experience still quite similar. Coney Island's major present-day amusement park, Luna Park (1000 Surf Ave., Brooklyn, NY), greets you with an iconic grinning "funny face" at its entrance, which is modeled after that of the circa-1903 Luna Park in a nod to its nostalgia. Also still there is the historic wooden Cyclone roller coaster, which has taken riders soaring at up to 60 mph since it debuted in 1927. It's one of 19 rides at Luna Park, among them thrill rides, family rides and kiddie rides.
Luna Park is generally open from April through October, with exact opening dates and hours subject to the weather. There is no fee to enter the park, but its amusements require credit on a Luna Card (starting at $1), or wristbands for unlimited rides all day. Wristbands start at $29 for children under 48 inches and $49 for visitors 48 inches and taller.
Prospect Park's Children's Corner
The green and sprawling Prospect Park in Brooklyn welcomes younger visitors with an array of attractions at its Children's Corner. They include a historic carousel featuring 53 handcarved horses (for $2 per ride) and Lefferts Historic House, the centerpiece of a recreated 18th-century farming village. Also in the Children's Corner is Prospect Park Zoo (450 Flatbush Ave., Brooklyn, NY), which is home to around 400 animals. The zoo is open 365 days a year, and admission is $5 for children ages 3 to 12 and $8 for adults. At no cost are seven different playgrounds, the newest of which is the Zucker Natural Exploration Area with play structures created from storm-damaged trees and other natural materials. Other options for family fun in Prospect Park include iceskating in winter and renting boats or kayaks to take out on the lake in summer.
Brooklyn Children's Museum
Brooklyn Children's Museum (145 Brooklyn Ave., Brooklyn, NY), founded in 1899, is notable as the first museum in the world designed just for children. While it's an ideal indoor destination for a cold or rainy day, the museum's permanent and visiting exhibits are fun for kids and parents year-round. The exhibits are intended to teach toddlers through 10-year-olds about culture through experimentation and exploration. They can build and discover engineering skills in the Brooklyn Block Lab and learn about life sciences through diorama habitats, a cork garden, greenhouse and live animals in the Neighborhood Nature exhibit. World Brooklyn invites children to play shopkeeper, builder, designer and other real-world roles inspired by the diverse communities of Brooklyn. And for visitors ages 5 and under, Totally Tots offers art-making in addition to sensory play with water, sand and music. Brooklyn Children's Museum is open Tuesdays through Sundays year-round. Admission is $11 per person aged 12 months and older.
Summer Fun at Rockaway Beach
Rockaway Beach is a long, wide stretch of over 170 acres of sand on Queens' Rockaway Peninsula. It's widely considered to be one of the best beaches in the New York area, and with seven playgrounds, it's especially great for kids. Your family can lounge on the beach and swim in the water when the weather's warm, watch surfers ride the waves at one of the region's only surf spots and get ice cream and other treats at many local cafes and concession stands. Also on the Rockaway Peninsula are Fort Tilden Beach, where nature trails are lined with the remnants of early 20th-century fortifications, and Jacob Riis Park Beach, another beach popular with families.
Long Island Game Farm
Long Island Game Farm (489 Chapman Blvd., Manorville, NY) is a 25-acre wildlife park and children's zoo that also features amusement rides suitable for young children, such as spinning teacups and a carousel. Unlike most larger zoos, Long Island Game Farm encourages interactive experiences such as hand-feeding giraffes and camels, walking through a deer forest to hand-feed deer and watching daily presentations such as Red Fox Puppy Playtime and Lemur Circle Feeding Time. Pony rides are available too.
Long Island Game Farm is open spring through fall (exact dates depend on the weather). A springtime visit is a special treat because there are baby animals to meet, feed and hold in the nursery, including baby goats, chicks, ducklings and bunnies. Admission is $18.95 (plus tax) for adults and $16.95 (plus tax) for children ages 3 to 12.
References
Writer Bio
A writer of diverse interests, Joanne Thomas has penned pieces about road trips for Hyundai, children's craft projects for Disney and wine cocktails for Robert Mondavi. She has lived on three continents and currently resides in Los Angeles, where she is co-owner and editor of a weekly newspaper. Thomas holds a BSc in politics from the University of Bristol, England.