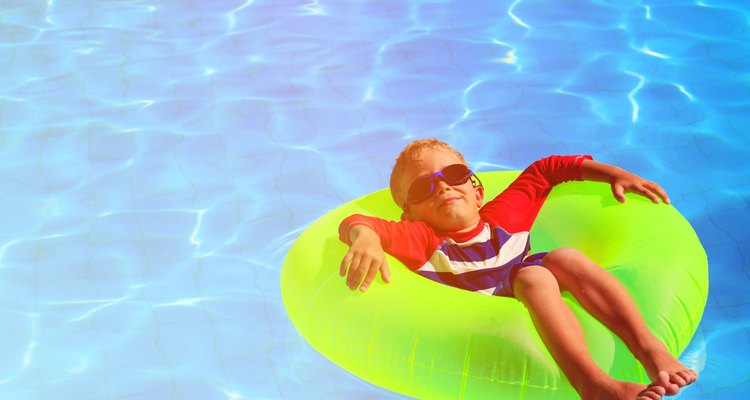 Nadezhda1906/iStock/GettyImages
Engage in Family Fun at These Macon Attractions
Located in Central Georgia, Macon is a thriving city filled with activities families will enjoy. From sports and outdoor recreation to historical and cultural attractions to everything in between, there's not much Macon doesn't offer. Create an itinerary everyone will love with these five activities.
Spend Time in the Water
Kids of every age love hanging out by the pool, splashing in the water and soaking up the sun. Therefore, make plans to go to Sandy Beach Water Park (6880 Moseley Dixon Rd., Macon, GA) at Lake Tobesofkee Park. At this seasonal water park, spend the day floating along the lazy river, riding the waves in the wave pool or racing down the water slides. For the youngest kids, the Adventurous Kid Splash Play Pad provides plenty of water fun, while older kids can take laps in the junior Olympic lap pool. Life jackets are available for children. Please note all visitors must pay the parking/gate admission into Lake Tobesofkee Park in addition to admission to Sandy Beach Water Park.
Step Back in History
Take the kids to Hay House (934 Georgia Ave., Macon, GA), and show them how well-to-do families lived in the mid-1800s. Built from 1855 to 1859, this historic home epitomizes the Italian Renaissance Revival style of architecture. See three floors of the home, from the opulent main floor with its parlors, dining room and art gallery to the basement, which included the servants' work spaces. During the tour, be sure to point out to the kids the various works of art, including sculptures, paintings, pottery and more.
Relax and Park It
Macon's first public park, Central City Park (115 Willie Smokie Glover Dr., Macon, GA) is a multi-use park made for families. Facilities include playgrounds for the kids, a skate park, plenty of green space to run around, and picnic areas. The park also is home to many local festivals, including Macon's Cherry Blossom Festival held each spring. The park is open daily from sunrise to sunset, and is completely free except on festival days.
Have a Cultural Experience
At the Tubman Museum (310 Cherry St., Macon, GA), kids of all ages can learn about the art, history and culture of African Americans through a number of exhibits and artwork. The museum's signature piece is an acrylic and oil mural that chronicles the lives and history of African Americans. Another exhibit spotlights African American inventors, with yet another exhibit documenting local history in Macon and Georgia.
Be a Sports Fanatic
Brush up on your sports knowledge at the Georgia Sports Hall of Fame and Museum (301 Cherry St., Macon, GA), which honors members of prep, college, amateur and professional sports. The 43,000-square-foot facility contains more than 3,000 artifacts, ranging from one of NASCAR driver Bill Elliott's race cars and Atlanta Braves memorabilia to a variety of collectibles representing Georgia's many collegiate sports.
When to Go
Thanks to its Central Georgia location, Macon maintains a moderate climate year-round. Like many Southern destinations, the warmest months are July and August, with average highs around 92 degrees F. January and February usually are the coldest months, with average highs around 60 degrees F. Occasionally, colder winter weather blows through, bringing some snow or ice, although it doesn't last long. The spring is one of the best times to visit Macon, but it's also one of the busiest due to the influx of visitors for the Cherry Blossom Festival. The city also is home to five colleges and universities, so the population can spike during back-to-school weeks, sporting events and for graduations.
References
Writer Bio
Karon Warren has covered travel for nearly 20 years with numerous print and online publications. Her byline has appeared in USA Today, USA Today's 10 Best, WorkingMother.com, FamilyVacationCritic.com. and many others. She is a member of both the Society of American Travel Writers and the American Society of Journalists and Authors. In addition to her freelance work for other clients, she also writes for her own travel site, ThisGirlTravels.com