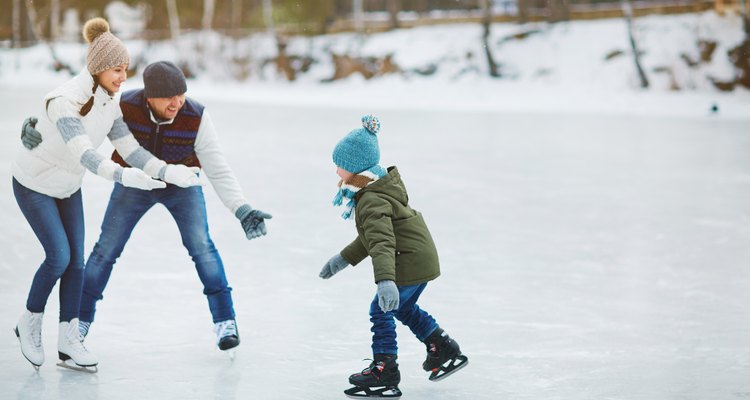 shironosov/iStock/GettyImages
With a UNESCO-designated historic quarter, which, to small eyes, may seem plucked from a movie set, Québec City has a decidedly Old World feel. It is chock-full, however, with attractions—a fabulous aquarium, a sprawling urban park and an innovative toy store, to name a few—that beckon to the young. The capital of its namesake Canadian province, Québec City is a place where families can hike to a waterfall in the morning and learn about aboriginal culture in the afternoon. With so much to do, time and energy are the only limits.
Enjoy Time in the Sun at Battlefields Park
Free ice skating in the winter and invigorating hiking the rest of the year are just two of the reasons why Québec's 250-acre Battlefields Park is a kid-friendly outing regardless of the season. A must-see is the Joan of Arc Garden, which features more than 150 species of plants. The park, as its name suggests, was the site of military clashes in the 18th century between French and British troops, one of the most decisive of which took place in an area known as the Plains of Abraham. To learn more about those battles, peruse the exhibit called "Battles 1759-1760" at the Plains of Abraham Museum (835 Wilfrid-Laurier Ave., Québec City), which also offers a gift shop. During the summer months, the museum is the starting point for both a bus and walking tour of the park.
Go on a Shopping Binge at Benjo
When it comes to family activities in Québec, it's hard to argue with Benjo (550 Blvd. Charest E., Québec City), a toy store that offers more than just shopping. The kids will be delighted to enter through a small VIP door, ride an electric train around the store, and pose for photos with a life-size robot called Monsieur Bidule and the store's mascot, a frog named—you guessed it—Benjo. For a souvenir, pick up a book, stuffed animal or any of the other toys on sale. Or better yet, let the kids paint a ceramic figurine in the store's craft workshop as a keepsake. Should tummies start rumbling, there's an on-site restaurant.
Wave at a Walrus at the Aquarium du Québec
Polar bears and walruses are the headliners at the Aquarium du Québec (1675 Ave. des Hôtels, Québec City), home to more than 10,000 marine animals that dwell in a variety of indoor and outdoor exhibits. You'll find plenty of fish, of course, as well as amphibians and reptiles. Be sure to stop by the touch tank, where children will get a kick out of interacting with sting rays. During the summer, children of all ages can cool off in a play area with water jets and canons, while those between the ages of 6 and 12 can navigate a suspended ropes course. The aquarium has several eateries where you can buy lunch, a snack or ice cream, and there's plenty of space for a scenic picnic overlooking one of the city's most important geographical features, the St. Lawrence River.
Ride and Hike at Montmorency Falls
Whether rushing at full force at the height of summer or frozen solid in the dead of winter, the Montmorency Falls (5300 Blvd. Sainte-Anne, Québec), just a few minutes from Old Québec, are a sight to behold year-round. From late spring through early fall, you can see the cascade—which, at 272 feet, is taller than the more famous Niagara Falls—from a cable car. During the warmer months, an adventurous child also has the opportunity to ride an exhilarating double zip line over the falls with an adult. Parc de la Chute-Montmorency offers hiking trails that are open for snowshoeing in the wintertime. Feeling hungry from all that exercise? Stop by Manoir Montmorency, an on-site villa that has a restaurant with a kids' menu and exhibits that explain the history of the park. While admission to the park is free, fees are required for the cable car and the zip line.
Revisit Eras Past at the Museum of Civilization
For an engaging crash course on the history of Québec, spend a few hours at the Musée de la Civilisation (85 Rue Dalhousie, Ville de Québec), one of the city's most celebrated museums. The permanent "People of Québec, Now and Then" exhibit summarizes 400 years of local history through artifacts and interactive displays, while the "This Is Our Story" installation highlights the culture and traditions of contemporary issues faced by the region's 11 First Nations. Regardless of when you visit, you'll also find temporary exhibitions to explore. Admission to the museum is free for children ages 11 and under, making it a budget-friendly outing.
References
Writer Bio
Since beginning her career as a professional journalist in 2007, Nathalie Alonso has covered a myriad of topics, including arts, culture and travel, for newspapers and magazines in New York City. She holds a B.A. in American Studies from Columbia University and lives in Queens with her two cats.