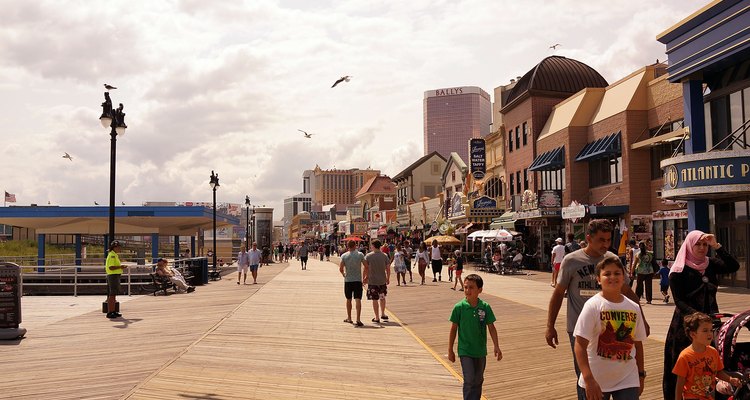 Spencer Platt/Getty Images News/GettyImages
The Boardwalk and Beyond: Finding Fun in the Beachfront City
While massive hotels with lively casinos dominate its skyline, Atlantic City is still considered a kid-friendly destination for vacationing families with little ones in tow. In fact, one of the city's biggest draws remains its historic boardwalk where old-fashioned fun comes in the form of sunny beaches, midway games, carnival rides and sugary candy. Step away from the hustle and bustle of the boardwalk as you visit educational aquariums or head out for a boating adventure on the region's surrounding waterways.
Fun at the Boardwalk and Beach
Hit the 4-mile long Atlantic City Boardwalk and you'll discover a host of activities for the whole family. The Boardwalk is open to bikes daily between 6 and 10 a.m. and rentals are available on-site. If you prefer to take it easy, enjoy a ride in one of the boardwalk's famed rolling chairs or stop at one of the numerous miniature golf courses, video game arcades or taffy shops that line the buzzing thoroughfare. Beaches run alongside the length of the Boardwalk and are bustling with activity throughout the summer. Spend your days swimming, lounging in the sand or playing beach volleyball. Surfing gear rental and lessons are also available at the Downtown, Crystal and Delaware Beaches. The Boardwalk is also a popular spot for kayaking, windsurfing and fishing.
Carnival Rides and Games
Located on the Boardwalk and open from April through October, Steel Pier (1000 Boardwalk, Atlantic City, NJ) extends 1,000 feet into the ocean. The historic 1898 pier is now home to an amusement park, complete with carnival games, food stands and more than 25 rides. Take a spin on the double-decker carousel, soar to new heights on the Ferris wheel and plunge down a towering free fall. Kiddie rides are also on hand for tiny tots. For a slower pace, spend your time playing for prizes on the midway games or chowing down on pizza, cotton candy and funnel cakes.
Aquatic Adventures
Open year-round, the Atlantic City Aquarium (800 N. New Hampshire Ave., Atlantic City, NJ) offers a variety of exhibits, including a 25,000-gallon tank featuring mid-Atlantic aquatic life such as gray snappers and loggerhead turtles. Other tanks showcase everything from moon jellies and piranhas, to clownfish and puffers. Interactive exhibits let children touch tropical sharks and stingrays. Take in the daily exotic animal show, a 20-minute presentation where handlers offer up-close encounters with such unique critters as boas, bearded dragon lizards and tarantulas, while also discussing their habitats, traits and natural instincts.
Historic Landmarks
Opened in 1857, the Absecon Lighthouse (31 S. Rhode Island Ave., Atlantic City, NJ) is New Jersey's tallest lighthouse at 171 feet. Visitors can enter the historic structure year-round and climb the 228 steps for an up-close view of the original Fresnel Lens and panoramic views of the city and water. While the lighthouse hasn't been operational since 1933, the lens is still lit every evening. It's free to enter the keeper's home, which now houses exhibits on the lighthouse, but there is a fee to climb to the top of the lighthouse.
Cruising Time
Atlantic City Cruises (800 N. New Hampshire Ave., Atlantic City, NJ) offers one-hour cruises along the waterfront, traveling through inlets and bays. The cruises provide views of the skyline and feature a narrated tour of the region's history. Special two-hour cruises head out into the Atlantic Ocean where you might see bottlenose dolphins while a marine naturalist provides educational commentary. All cruises run from May through October.
References
Writer Bio
A travel writer since 2002, Leah Rendon has written countless articles for online pop-culture magazines and various travel-related websites, including Eurobooking and World66. Gosford also has experience in copywriting, having developed a series of articles related to network marketing. She graduated from the University of California, Los Angeles with a degree in theater arts.