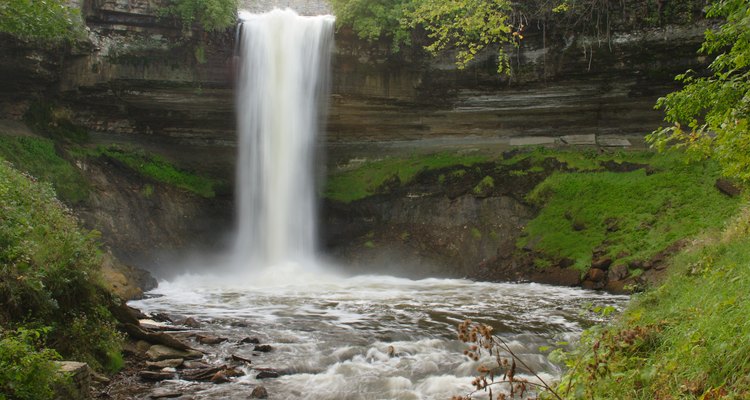 John_Brueske/iStock/GettyImages
Five Fun (and Free) Minneapolis Attractions for the Whole Family
With its natural treasures, vibrant downtown, top-notch museums and cultural institutions, beautiful parks and famous shopping destinations, Minneapolis is a fine destination for a fun-filled family vacation. All that fun doesn't necessarily have to stretch your budget to its limits, though, as there are many attractions in the city that don't cost a dime to enjoy. A little research will reveal free admission days to museums, free concerts and movies in the parks, and plenty of pleasant outdoor spaces to explore gratis. These five attractions are among the best of the city's free, and family-friendly, things to do.
Minneapolis Sculpture Garden
Minneapolis Sculpture Garden (726 Vineland Place, Minneapolis, MN) is an outdoor showcase of 40-plus works of art, most on a large enough scale to catch the attention of even the smallest visitors. The most famous sculpture in the garden, "Spoonbridge and Cherry," is a bold icon of the city and a mandatory family photo backdrop—a bridge-sized bent spoon with an enormous red cherry balanced on its tip. Another favorite is the enormous, bright blue rooster, "Hahn/Cock." You can download an interactive self-guided tour to your phone to learn more about the works of art. Children might be more interested in the seasonal kids' puppet theater in the park. The Minneapolis Sculpture Garden is open every day of the year.
Minnehaha Falls Regional Park
Minnehaha Falls Regional Park (4801 S. Minnehaha Drive, Minneapolis, MN) is a spectacle of nature hidden in the heart of the city. The 53-foot waterfall, the centerpiece of a 193-acre park, is at its mightiest after heavy rains, but in winter it freezes solid, making an even more unforgettable sight. Steps lead to the pool at the bottom of the falls. Continue along a trail to stop at a summer swimming hole, or stroll along Minnehaha Creek.
Como Park Zoo and Conservatory
Como Park Zoo and Conservatory (1225 Estabrook Drive, St. Paul, MN) includes a compact zoo and an indoor garden complex, both of which offer free admission. The zoo is small enough for young children to thoroughly enjoy, yet big enough to boast many and varied creatures from Arctic fox to zebras. For a small fee you can feed romaine lettuce to the giraffes or ride an antique carousel. The gardens are mostly indoors, making the conservatory a great destination when the weather is unpleasant. See flowering displays of exotic plants, spend some time in the butterfly garden or feel like you're in a rainforest in the warm and misty fern room.
Chain of Lakes Regional Park
Chain of Lakes Regional Park (4801 S. Minnehaha Park Drive, Minneapolis, MN), part of the Grand Rounds Scenic Byway, is the most popular park in Minneapolis, and for good reason. It features five lakes and their shorelines: Brownie Lake, Cedar lake, Lake of the Isles, Lake Calhoun and Lake Harriet, as well as Lyndale Park and many miles of trails. At no cost you can hit the beaches, hiking/biking trails, fishing piers, gardens, picnic areas and playgrounds. For a fee you can rent canoes, kayaks, bikes, boats and paddleboards. In summer the lakes are warm enough for swimming and there are free concerts in the band shell at Lake Harriet. In winter ice rinks open up along with sledding and tubing areas, and the trails are used for cross-country skiing.
Minnesota State Capitol Tour
The Minnesota State Capitol (75 Rev. Martin Luther King Jr. Blvd., St. Paul, MN) is open to the public daily, all year around, except for most major holidays. Self-guided and guided tours are both available free of charge throughout the day, although a donation is suggested. Either type of tour will reveal the history, dating back to 1896, and present-day significance of the building, which is considered an architectural marvel. A tour also gives young visitors a chance to see government in action, when in session. A highlight, if the weather permits, is a walk out to the "Quadriga" statue, a golden horse-drawn chariot on the roof of the building, just below a marble dome that's notable as the second-largest of its kind in the world.
References
Writer Bio
A writer of diverse interests, Joanne Thomas has penned pieces about road trips for Hyundai, children's craft projects for Disney and wine cocktails for Robert Mondavi. She has lived on three continents and currently resides in Los Angeles, where she is co-owner and editor of a weekly newspaper. Thomas holds a BSc in politics from the University of Bristol, England.