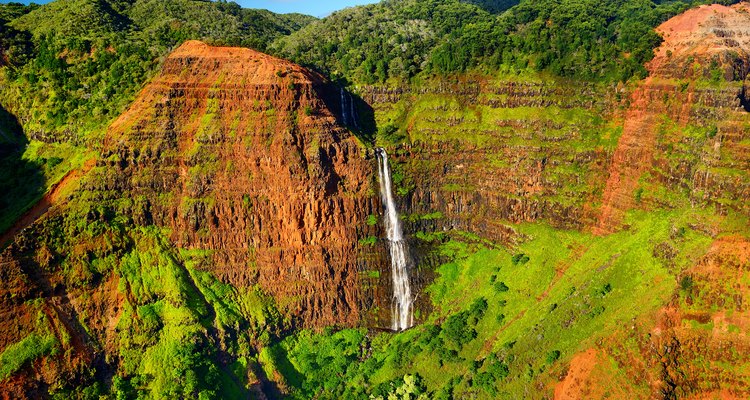 maximkabb/iStock/GettyImages
Kauai with Keiki: Five Family-Friendly Activities on Hawaii's Garden Isle
Verdant and scenic, Kauai might be the oldest of the Hawaiian Islands, but it caters to the young with natural wonders that include a diverse assortment of seabirds and tropical plants, idyllic beaches and jaw-dropping geological formations. No matter how you opt to combine these attractions, you'll find options that cater to keiki—Hawaiian for children—including safe stretches of shore for swimming, hikes manageable for little feet and family-friendly luaus.
Bird-Watch at Kilauea Point National Wildlife Refuge and Lighthouse
The funny name of the red-footed booby alone should be enough to excite kids for a visit to the Kilauea Point National Wildlife Refuge and Lighthouse, home to a plethora of seabirds. Borrow binoculars from the visitor center to help you spot them. Keep an eye out not only for the booby but also for the endangered Hawaiian goose, known to locals as the nene. If all members of your family are 44 inches or taller, consider visiting on a Wednesday or Saturday so that you can also take a free tour of one of the refuge's main attractions, the Daniel K. Inouye Kilauea Point Lighthouse Station (3500 Kilauea Road, Kilauea, HI), which is more than 100 years old and on the National Register of Historic Places. The refuge is open Tuesday through Saturday. Visitors ages 16 and older pay a $5 admission. Younger kids and teens get in for free. Only cash and traveler's checks are accepted.
Swim and Snorkel in Tranquil Beach Waters
It's not a true Hawaiian vacation without some beach time. You'll be happy to know that access to all of Hawaii's beaches is free and that several of Kauai's 70 beaches are safe for kids. They include Anini Beach Park on the North Shore, where a fringing reef creates a serene lagoon for beginner swimmers and snorkelers of any age. To the east, a good bet for families is Lydgate Beach Park, which offers calm waters as well as a playground with a massive wooden jungle gym and a stroller-friendly walking path. On the South Shore, look no further than Poipu Beach Park, with a natural wading pool where the tiniest beachgoers can dip their toes into the Pacific Ocean. If you're lucky, you might catch a glimpse of the endangered monk seal.
Enter a World of Fantasy at the Na 'Aina Kai Botanical Gardens
It's wise to make reservations ahead of time to explore Kauai's Na 'Aina Kai Botanical Gardens (4101 Wailapa Road, Kilauea, HI), a veritable wonderland of sculptures and flora. The effort will be worth your while. Children under 13 are only allowed on the two-hour Family Tour, which costs $20 for children and $35 for adults. The guided tour begins in the Formal Garden, where the kids can have a blast feeding koi fish and exploring a hedge maze. The tour culminates in the Children's Garden, where the youngest visitors can splash around in a wading pool with a 16-foot-tall sculpture of "Jack and the Bean Stalk" giant in the center, navigate a maze shaped like a gecko and run around a jungle gym and tree house. When creating your itinerary, note that the Na 'Aina Kai Botanical Gardens are open only Tuesday through Friday.
Explore the Forests of Kokee State Park
Dubbed the "Grand Canyon of the Pacific" on account of its reddish coloring, Waimea Canyon is one of Kauai's marvels, and neither young nor old should leave without seeing it. One of the best and most accessible spots to peer into this vast gorge is the Kalalau Lookout inside Kokee State Park (Kokee Road, Highway 550, Kekaha, HI). Kokee is itself a fun family attraction. For an easy and enlightening hike, take the mile-long nature walk beginning at the Kokee Natural History Museum. The museum itself is worth perusing for its wealth of information about the park's plant life. Pack light jackets or sweaters for everyone in your travel party; Kokee State Park's elevation means it is typically chillier here than elsewhere on the island.
Take a Train Tour of the Kilohana Plantation
A railroad tour of a working farm and a theater-style luau make the Kilohana Plantation (3-2087 Kaumualii Highway, Lihue, HI), once part of a larger sugar plantation, a winning option for a family outing. A 40-minute narrated tour aboard the Kauai Plantation Railway is a highlight; children will relish the stop to feed wild pigs, goats and sheep. Train tickets are $18 and $14 for kids. On Tuesdays and Fridays, you can combine the train ride with the Lu'au Kalamaku, which features torch lighting, hula dancing, knife dancing and Polynesian cuisine. The Train and Luau package costs $122 for adults, $88 for teens ages 13 through 17 and $54 for kids 3 to 12. Infants are free.
References
Writer Bio
Since beginning her career as a professional journalist in 2007, Nathalie Alonso has covered a myriad of topics, including arts, culture and travel, for newspapers and magazines in New York City. She holds a B.A. in American Studies from Columbia University and lives in Queens with her two cats.