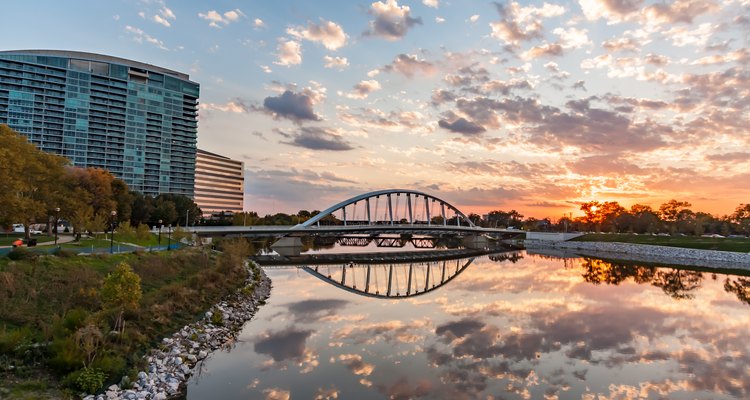 Long_Strange_Trip_01/iStock/GettyImages
Five Fun, Free Activities for Your Family in Columbus, Ohio
Ohio's capital and largest city, Columbus, has the nickname "The Biggest Small Town in America," which perfectly reflects its welcoming, family-friendly atmosphere along with its abundance of attractions. Columbus has so many great family destinations that you could easily bust your vacation budget trying to fit them all in, so instead pack your itinerary with some of the city's top free things to see and do.
Ohio State Capitol Tour
If you're exploring downtown Columbus, you can't miss the monumental Capitol Square, a 10-acre complex with the Ohio Statehouse (1 Capitol Square, Columbus, OH), Senate Building and Atrium. The Statehouse offers free guided tours every day lasting approximately 45 to 60 minutes, and self-guided audio tours via cell phone. Both options show you the rotunda, map room, senate and house chambers, Governor's office and museum gallery. Visit the museum on the ground floor for interactive exhibits about the workings of state government, citizen participation and Ohio's constitution. Kids can enjoy the touchscreen virtual timeline of Ohio's history and send clear tubes full of money shooting across the room as they figure out how to balance the state budget. They can also step into the Governor's shoes to deliver a State of the State address. The Statehouse is open year-round and is a great option for a rainy day.
Columbus Commons
Columbus Commons (160 S. High St., Columbus, OH), an expansive public park in the heart of downtown, is a delightful outdoor destination in any season, as long as the weather is dry. Its 12 gardens, created by the city's Franklin Park Conservatory, are designed with four seasons in mind to ensure there's something to see year-round. The park is at its most appealing, though, in summer, when it hosts Open Play (June to October) with toys, arts and crafts supplies, bocce ball, soft play equipment and an outdoor reading room with books and other materials provided by the library. There is also an electronic playground with 10 interactive games combining exercise and electronic play equipment. In addition, the summer schedule includes free concerts, movie nights and performances by the Columbus Symphony Orchestra, and the Commons for Kids program which brings to the park a water slide, live music, visits from zoo animals and more.
The Scioto Mile
The Scioto Mile comprises seven riverfront parks, trails and the Promenade, a wide, paved pathway lined with gardens, benches and shaded swings. Highlights include the 120-acre Scioto Audubon (395 W. Whittier St., Columbus, OH) which attracts thousands of migratory birds; Battelle Riverfront Park (25 Marconi Blvd., Columbus, OH) with its many monuments and memorials; the Scioto Greenway Trail for hiking and biking; and Bicentennial Park (233 Civic Center Dr., Columbus, OH), which features a performing arts stage used for free music and theater performances, plus a 15,000-square-foot interactive fountain. On a hot day, head to the fountain to let the kids play amid over 1,000 spraying jets.
Actors' Theatre of Columbus
On weekends from Memorial Day through Labor Day, the Actors' Theatre of Columbus (1000 City Park Ave., Columbus, OH) presents free outdoor performances in Schiller Park (1069 Jaeger St., Columbus, OH). For over 35 years, locals and visitors have enjoyed these free live theater shows, which have included most of Shakespeare's major works, classic plays and musicals such as Oliver! and My Fair Lady. Most shows are family-friendly, but the experience is suitable only for children who are old enough to pay attention and sit still throughout a performance.
Schiller Park is in the heart of German Village, an attractive Columbus destination in its own right. At any time of year, head to the neighborhood to stroll around and admire its mid-1800s European-style brick buildings, streets and sidewalks.
Topiary Park
Topiary Park (480 East Town St., Columbus, OH), a free public park, is a true Columbus original. Its living sculptures recreate the scene and characters of the famous George Seurat painting A Sunday Afternoon on the Isle of La Grande Jatte. You can print a self-guided tour map in advance, which shows you the best viewing spots and explains the heritage of the park. The curious re-imagining of the painting is the work of Columbus native James Mason, a professional sculptor and art teacher who created the topiaries to celebrate the city's quincentenary in 1992.
References
Writer Bio
A writer of diverse interests, Joanne Thomas has penned pieces about road trips for Hyundai, children's craft projects for Disney and wine cocktails for Robert Mondavi. She has lived on three continents and currently resides in Los Angeles, where she is co-owner and editor of a weekly newspaper. Thomas holds a BSc in politics from the University of Bristol, England.