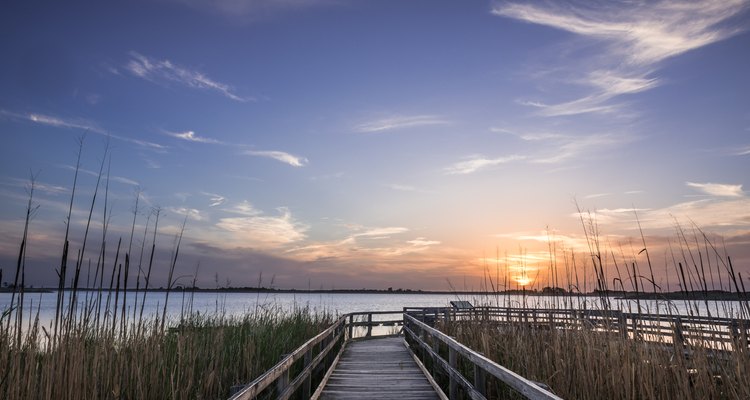 lovingav/iStock/Getty Images
West Virginia may be a land-locked and mountainous state known for its scenic beauty, but enjoying the beauty of the beach is not difficult to those who live in or who are traveling from the state. Virginia has plenty of oceanfront beaches not far from the Mountaineer state. Virginia's beaches are great for swimming, surfing, fishing, ocean kayaking or just relaxing. Here are a few of them.
Colonial Beach
The closest true beach town to West Virginia is Colonial Beach, the second largest beach in the state. The town of Martinsburg, West Virginia, is about a two hour and 45 minute drive from Colonial Beach, and it is about three hours from the town of Romney, which is close to the state boundaries. Colonial Beach has been ravaged by a series of hurricanes over the years, but there are still plenty of restaurants, hotels and shops in the area. The town also has a series of marinas easily accessible by boat. Nearby are the birthplaces of U.S. presidents George Washington and James Monroe.
Chippokes Plantation State Park
Four and a half hours from the West Virginia border town of Moorefield lies Chippokes Plantation State Park, which is a mecca for fishermen. The park maintains two miles of beach head for sport fishing. The catch is unique in the tributary in that it contains both freshwater and saltwater fish. The fully restored plantation on site is also a working farm and there is camping and hiking, as well as formal gardens. There are events running throughout the year, including an arts and crafts fair. There is also a swimming pool on site for swimmers.
Virginia Beach
A bit over six hours from Beckley is Virginia Beach, the state's largest and most active summer hot spot. From lighthouses to aquariums to parks to shops, Virginia Beach has many things to offer West Virginians. First Landing State Park is an ideal place to hike or bike, while Back Bay National Wildlife Refuge is a haven for animal lovers. And there is, of course, the ocean. Not only is there fishing and prime surfing here, but there are also water adventure sports such as para-sailing. A three-mile boardwalk on the oceanfront is strewn with hotels, shops and eating establishments. Rental vendors offering umbrellas, boogie boards and chairs can be found in abundance, all under the watchful eye of summer lifeguards.
Buckroe Beach
A slightly shorter and just as entertaining option to Virginia Beach for westerners can be found just north outside of Hampton, in Buckroe Beach. About an hour shorter drive from Buckley, Buckroe has plenty of activities for the ocean-loving mountaineer. Paddlecrafting and kayaking are big in Buckroe, and there are lifeguards on duty to watch the kids. Buckroe is easily accessible via Interstate 64, and there are plenty of hotels and shopping in the area. Buckroe also has great hiking and biking trails nearby.
Virginia's Eastern Shore
A bit further drive over the Chesapeake Bay Bridge-Tunnel, a sight to behold in itself, are the beaches and parks of Virginia's Eastern Shore. Cape Charles Beach lies to the south and is perfect for West Virginians with children, as the waves are nonexistent and the water is shallow. Chincoteague is known for its wild ponies and birds and lies just outside of its sister beach, Assateague. Here you can find great ocean swimming and wooden walkways that adjoin nature trails. Kiptopeke State Park is also a great spot for bird watching, and there is a festival for avian lovers every October.
References
Writer Bio
Jason Tyson has spent the last 13 years working as a writer and editor in various forms of the publishing world, holding positions at major newspapers, magazines and journals. Tyson worked for six years at two different North Carolina newspapers, the Winston-Salem Journal and Wilmington Star-News. He also spent three years in New York City, with Martha Stewart Living Magazine and Law Journal Press.
Photo Credits
lovingav/iStock/Getty Images