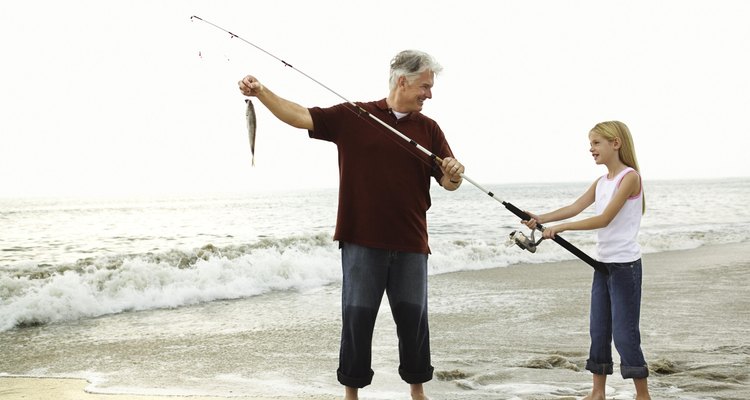 Thinkstock/Stockbyte/Getty Images
Known as "America's Hometown," Fayetteville's historic downtown dates to the early 1700s, lying in the interior of the state among the mountains. When you long for the sound of ocean waves crashing on shore and soft sand between your toes, you'll find some of the state's best beaches within a two-hour drive of the city.
Best Place to Be Very Amused
Whether you are looking for soft sand in which to relax and soak up the sun or an action-packed boardwalk to amuse your kids for hours, you'll find it at Carolina Beach 100 miles southeast of Fayetteville. Relax in the sunshine at the city beach or at the neighboring 761-acre Carolina Beach State Park. The park has walk-in and car camping sites tucked away in tall pines with nature and hiking trails. Carolina Beach Boardwalk is heralded as one of Food and Wine Magazine's best boardwalks for its old-fahioned food stands and homemade treats coupled with the carnival atmosphere. The boardwalk is open nightly seven days per week. Enjoy homemade treats, watch the sun set from the old-fashioned Ferris wheel or dance into the night to live music.
Best Remote Beach -- Turtle Speed Ahead
Relax on a beach in Fort Fisher State Park Recreation Area just over two hours from Fayetteville. The park's beach is part of the North Carolina National Estuarine Research Reserve and is home to endangered species including nesting loggerhead sea turtles. Get that "away from it all" feel wandering along isolated sand dunes, salt marshes and tidal flats, or soak up the sun along 6 miles of beach. A boardwalk provides easy access to the beach from the visitor parking lot, and special beach wheelchairs make the water's edge accessible to everyone.
Best Place for an Island Beach Campout
Take a ferry or your own boat to Hammocks Beach State Park. The park incorporates three barrier islands off the coast near Swansboro. The ferry lands on Bear Island, where you can walk to the other side of the narrow island to the swimming beach or rent a canoe or kayak to visit the other two islands. Primitive campsites overlook beach areas, but you'll find flush restrooms and showers where you can rinse off the salt spray near the main beach. The ferry runs during the warm months, but access is permitted with your own boat during the off season.
Best Beaches Along Quaint Island Villages
Topsail Island lies 125 miles east of Fayetteville, with three small beachside communities found along the southern part of the 26-mile island. Topsail is accessible by road, and you'll find many sites with public parking in Surf City, Topsail Beach and North Topsail Beach. Three handicapped accessible beaches are found on 9th Street, Kinston Avenue and Roland Avenue in Surf City, at North Topsail Beach Town Park and Onslow County Beach. Beach wheelchairs and a beach walker are available to borrow from the North Topsail Beach police department.
References
Writer Bio
Indulging her passion for healthy living and fitness through the written word on a full-time basis since 2010, former health coach, fitness instructor and world-class athlete Jodi Thornton-O'Connell guides readers to discover fun and delicious ways to physically connect to their surroundings.
Photo Credits
Thinkstock/Stockbyte/Getty Images