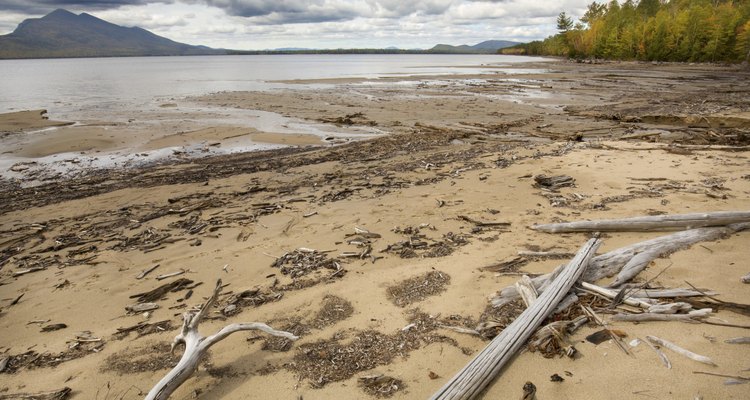 Holcy/iStock/Getty Images
Maine's coastline, a ribbon of white sand unspooling over the course of its 5,500 miles, hosts a long list of activities: surfing, strolling, sun-worshipping and sandcastle-building among them. If your idea of an active afternoon on the beach includes a long shoreline ramble, consider motivating your explorations with a treasure hunt: specifically, for colorful, softly radiant bits of sea glass. Maine's beaches are a great place to look.
Not Trash Any Longer
All pieces of sea glass, no matter how commonplace or rare and valuable, have one thing in common: Technically, they're trash. While serious collectors are most interested in the precious detritus of cargo lost in long-ago shipwrecks, most sea glass on shores like Maine's originated from plain-and-simple garbage. Washed from coastal landfills, discarded by a long toss from land or dumped by boats on the open sea, much garbage glass ends up on the shore in the broken, well-worn form we have come to identify as "sea glass." From there, collectors snatch it up for display or for crafting into jewelry and other art.
Harder to Find
Before the advent of plastic, most household products were packaged in glass. Sea glass is especially prevalent on the east coast, where glass-using humans have lived since the time of early European settlement, so aficionados prefer to go to coasts like Maine's to search (as opposed to the western American coast, where the stuff is much rarer). Experts in the art of sea-glass-spotting note that, while the glass is quickly becoming more difficult to find, plenty remains if you know where to look, when to look, and what you're looking for. Seasoned hikers have a special advantage, as the best glass tends to be much farther out along the beach than it once was.
Maine's Sea Glass Hotspots
Maine's in-the-know sea glass collectors head for Bailey Island, close to the fishing marina. Other reportedly productive collection spots are Lubec, Eastport, Beals Island, Jonesport Beach, Peaks Island and Treasure Beach. Bar Island, a tidal island in the town of Bar Harbor, is a sandy, damp isthmus that joins Acadia National Park to Bar Island. Glass collects at the high tide line on the island. For the best pickings, walk across the isthmus at low tide. Wherever you go, experts suggest beating the crowds by arriving to hunt in the very early season -- preferably, right after snowmelt -- and right after the lowest point of the tide.
An Active Pursuit
While sea-glass collecting doesn't count as serious cardio, some of Maine's best beaches for the pursuit are a solid hike from the parking lot. Wear sturdy shoes to protect your ankles -- especially on Maine's often-slippery, rocky coastline. Don't forget to bring water and healthy snacks, as your downward-gazing wanderings may take you inconveniently far from the local corner stores.
References
Writer Bio
Annette O'Neil is an air sports athlete, digital nomad, full-time traveler and yogini. A writer for more than a decade, O'Neil has written copy, content and editorial articles for hundreds of clients and publications, including Blue Skies Magazine and Whole Life Times.
Photo Credits
Holcy/iStock/Getty Images