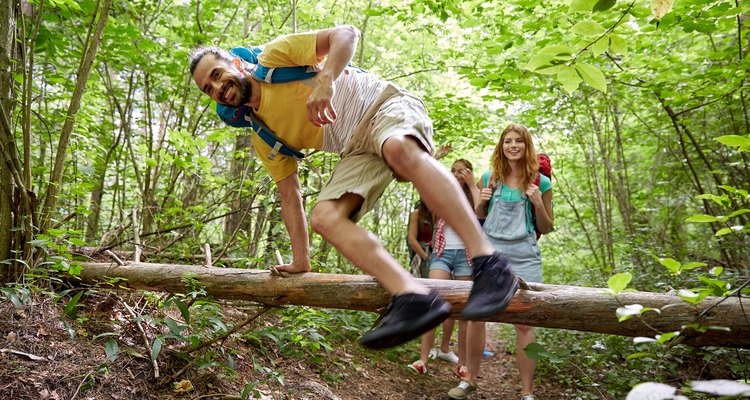 dolgachov/iStock/GettyImages
Exploring the Riches of North Carolina
North Carolina has much to recommend it as a family vacation destination. Aside from natural wonders like mountains and beaches, the state also has artistic, cultural and historic sites in abundance. No matter which region you visit, choose some of these great activities:
1) Take a Hike
There are many different types of terrain in North Carolina, so it's easy to find a kid-friendly hike that makes the most of the place you're visiting.
Western North Carolina. This is the most mountainous region, but there's plenty of hiking that's not too strenuous for kids. A ticket to the Biltmore Estate (1 Lodge St., Asheville, NC), provides access to 22 miles of trails that are easy to walk through meadows and along the French Broad River. For mountain hiking, check out the trails in the national parks and all along the Blue Ridge Parkway. Summer heat in this part of the state can easily climb into the 90s, so visiting in the spring or fall might be preferable, especially with little ones who are sensitive to the heat. These seasons are very beautiful, with flowers blooming in the spring and leaves bursting into color in the fall.
Central North Carolina. This area of the state is more cosmopolitan, but still affords tons of opportunities to get outside and hike. It's pleasant to hike with kids at Eno River State Park (6101 Cole Mill Rd., Durham, NC), where river hikes carry travelers alongside rough and smooth waters, and even over a suspension bridge.
Eastern North Carolina. This part of the state is bordered by the Atlantic coast, which lends itself to long and scenic walks. Summer is a great time to visit this region, because temperatures are lower than inland, and ocean breezes keep it pleasant. If walking on the beach doesn't satisfy your crew's yen for hiking, Carolina Beach State Park (1010 State Park Rd., Carolina Beach, NC) offers trails with views of lime sink ponds, tidal marshes and carnivorous plants.
2) Enjoy a Natural Water Feature
North Carolina has beaches, waterfalls, and lakes and rivers throughout the state. Finding water in North Carolina is easy, just choose how you want to enjoy it. One great way to explore the state's waterways is in a kayak or a tube.
In the mountains, try tubing or kayaking down the Ocanaluftee River. Rent gear at a local outfitter and float down a cool and refreshing waterway, with stops along the way to enjoy swimming holes and a rope swing. This is an especially good respite from the hot, humid summer days.
In central NC, access to the Dan River can be gained at Hanging Rock State Park (1790 Hanging Rock Park Rd,. Danbury, NC). Rent a tube, raft or kayak from an outside vendor before you get to the park.
Of course there's kayaking at the beach, but why not do something unique? Near Wilmington, visitors can kayak through the world's oldest cypress swamp.Three Sisters Swamp is a place of wild and ancient beauty, with giant cypress trees believed to be as old as 2,000 years.

3) Engage With the Arts
Asheville is known as a center for the arts.

Visit the River Arts District, where over 200 artists work in studios along a one-mile stretch of the French Broad River. Visitors can stroll, eat, look at art, shop or interact with artists. Asheville is also home to the Asheville Symphony ( 87 Haywood St., Asheville, NC ), several live theater venues, a free drum circle downtown between April and October, and many more opportunities for cultural enrichment. The Brevard Music Center (349 Andante Lane, Brevard, NC) hosts a 10-week music festival each summer that entertains guests with symphony, opera, pops, chamber, country, bluegrass and jazz.
Raleigh: Check out the North Carolina Museum of Art (2110 Blue Ridge Rd., Raleigh, NC). The NCMA is a great place to visit on a budget, because admission is free, both to the museum and the NCMA Park. The museum holds a permanent collection of art from around the world, and the NCMA Park provides a place for families to release some energy outdoors while interacting with art installations.
Outer Banks. On the coast, take in a historical drama on the Lost Colony (1409 National Park Dr., Manteo, NC), an outdoor theatrical depiction of a settlement gone awry in the 1500s; it's been running since 1937.
4) Explore History
Cherokee is the ancestral home of the Cherokee people.Visitors can learn about their culture and history at the Museum of the Cherokee Indian (589 Tsali Blvd., Cherokee, NC), visit Oconaluftee Indian Village (218 Drama Rd., Cherokee, NC), a working village replicating life in the 1760s, and watch Unto These Hills, a live historical drama that's been running since the 1950s.
Biltmore Estate (1 Lodge St., Asheville, NC) is a 250-room chateau on 8,000 acres, built by George Vanderbilt in 1895. Today, visitors can take a tour of the house and gardens, or stay in lodgings onsite. It's a little bit pricey, but is an interesting place to spend an entire day.
The Wright Brothers National Memorial (1000 North Croatan Hwy., Kill Devil Hills, NC) offers a look at the place where the brothers first took flight. See reproductions of their 1903 camp buildings, a monument commemorating their achievements and other educational resources on flight. It's a great place to take the family if you're on a budget, because kids 15 and under are free.
5) Experience Something Breathtaking
On Ocracoke Island, visitors watch wild ponies run, the descendants of the survivors of a 16th-century shipwreck. On Grandfather Mountain (2050 Blowing Rock Hwy., Linville, NC) there's a mile-high swinging bridge and wild animals, like cougars, bears and otters. There are so many wonders in North Carolina, it's hard to guess which will be the one your family talks about for years.
References
Writer Bio
Amy Curtis has been writing her entire life and professionally for the past decade. Her work has been featured on sites like Wayvs.com, 10Best.com and WorkingMother.com. A vagabond at heart, Curtis has lived all over the U.S. and Europe. She loves a good road trip, and has traveled extensively for business, pleasure, mission trips and as a military wife. She's currently busy working on a novel and planning her next big trip to Lake Powell, Utah.