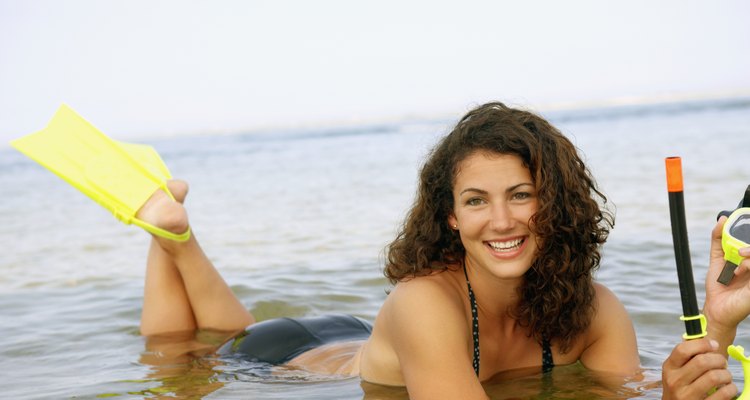 Jack Hollingsworth/Blend Images/Getty Images
Snorkeling enthusiasts will find many fascinating places to view the underwater world of Florida's Gulf Coast. The west coast is lined with beaches and barrier islands in the relatively calm waters of the Gulf of Mexico. And from St. Petersburg to Naples there are numerous snorkeling sites where you can swim over limestone formations, dive for ancient fossils, explore a sunken military fort and even visit a shallow-water shipwreck.
This Fort is Sunk
You can dive the ruins of Fort Dade, a sunken Spanish American War-era fort at Egmont Key at the mouth of Tampa Bay southwest of St. Petersburg. Erosion has actually moved part of the fort's foundation 150 feet offshore, where it now sits in 15 feet of water. The island and dive site can only be reached by boat, but a shuttle leaves from Fort Desoto twice a day, and for an extra fee it will take you for an hour of snorkeling among the ruins. Look for sergeant majors, snappers and other reef fish while exploring sunken Fort Dade. But remember, there are no services on the island, so you need to bring food and water.
Give Me Some Sugar
No more than 200 feet offshore from Bradenton Beach at Seventh Street on Anna Maria Island is the wreck of Regina, a converted tanker that was returning from Cuba with a cargo of molasses when she sank during a storm in 1940. Now you can find her in 12 feet to 20 feet of water (depending on the tide) with pieces of her barnacle-encrusted bow and stern sections jutting from the sand. Regina, also known as Sugar Wreck, is a Florida Underwater Archaeological Preserve. She's marked with a white buoy, and you can find her underwater plaque near the stern of the ship's boiler.
What is the Point of Rocks?
South of Sarasota is Siesta Key, a barrier island famous for white quartz sand beaches. At the southern tip of the island, just off Crescent Beach, is Point of Rocks, a series of rippling underwater limestone formations covered with coral and sponges and filled with sea life, particularly hermit crabs and other crustaceans. This is a beach-entry snorkeling site. The closest beach access to Point of Rocks is Access 13 off Point of Rocks Road, and there's a small parking lot at nearby Access 12. The best underwater visibility at Point of Rocks is achieved first thing in the morning, before the wind and surf kicks up.
The Tooth Fairy Would Have a Heart Attack
Sharks have been in oceans since dinosaurs roamed. Their fossilized remains -- particularly teeth -- are found in shallow waters and on beaches up and down the east coast. But the shark tooth capital of the world is Venice Public Beach north of Fort Myers. There, with just a mask and snorkel, you can find a wealth of fossilized shark teeth washing in from the reef a quarter mile offshore. In the shallows just off the beach, snorkelers find half-inch black shark teeth. But further out, in depths of 15 feet to 18 feet, some are up to 4 inches. The search is worth it, since the bottom is rocky and covered with colorful sea life. And since this is a public beach, parking is plentiful.
References
Writer Bio
David "Davy" Knoles is an award-winning journalist and artist. He began his career as a wartime photojournalist for the U.S. Air Force. Knoles later served as a staff writer and editor for various L.A. newspapers and magazines, including "The Beach Reporter" and "The Palos Verdes Peninsula News," winning awards from the California Newspaper Publishers Association and the California Newspaper Advertising Executives Association.
Photo Credits
Jack Hollingsworth/Blend Images/Getty Images