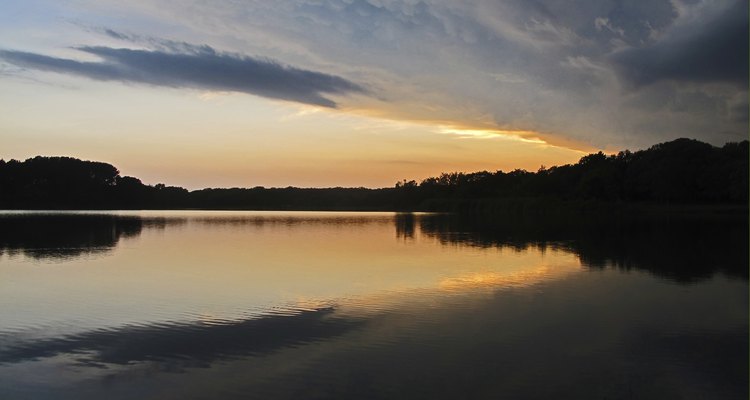 Lunnderboy/iStock/Getty Images
Large lakes may not be the first thing people think about when they think of Texas, but there are several large man-made lakes within the Lone Star State. Most of them are located in the eastern part of the state between Dallas and Houston. However, some straddle the border between Texas and other states. Some Texas lakes are popular vacation spots for camping, hiking, and photography enthusiasts and might just be the best kept secret in a state made famous by cowboys and football.
Toledo Bend Reservoir
The Toledo Bend Reservoir, a man-made lake on the border of Texas and Louisiana, is the largest lake in Texas. It is located within the borders of four Texas counties and two Louisiana parishes, and has a surface area of 185,000 acres. The lake's shoreline stretches for 1,200 miles and is a popular local destination for camping, hunting, hiking and freshwater fishing. The reservoir also has a dam which provides electrical power, and is located within Newton County, Texas.
Sam Rayburn Reservoir
Located near Beamont in the Southeastern part of the state, the Sam Rayburn Reservoir has a surface area of 114,500 acres. It is the largest lake located completely within the state of Texas. Construction of the reservoir was completed in 1965, primarily for flood control and for generating hydroelectric power. Nevertheless, this man-made lake, which is operated by the United States Army Corps of Engineers, is also a popular destination for boating and fishing. Numerous bass fishing tournaments have been held here over the years.
Lake Livingston
Lake Livingston is the second-largest lake located completely within the state of Texas. It is a popular destination for recreational activities, such as boating and camping, and sits roughly between the Houston and Dallas metropolitan areas. With a surface area of 93,000 acres, Lake Livingston boasts over 5,000 campsites and is within the boundaries of four Texas counties, as well as Wolf Creek Park, Tiger Park, and Lake Livingstone State Park. Despite its size, Lake Livingston has an average depth of about 23 feet.
Lake Texoma
Lake Texoma has a surface area of 89,000 acres and is located on the border of Texas and Oklahoma. Featuring a dam, numerous small islands, two state parks and hundreds of campgrounds, Lake Texoma is an extremely popular destination. It is also about an hour North of the Dallas metro area, and a popular Spring Break and Summer destination for college students. Furthermore, Lake Texoma is teeming with various species of bass and catfish, though most of the area available for fishing lies within Oklahoma.
Richland-Chambers Reservoir
Richland-Chambers Reservoir is located in East Texas, within Navarro and Freestone counties. Of all the inland reservoirs completely within the state of Texas, only Sam Rayburn Reservoir and Lake Livingston have a greater surface area than Richland-Chambers Reservoir. The process of building the reservoir and its dam took up much of the 1980s, but was finally finished in 1989. The Richland-Chambers Reservoir has a surface area of 41,356 acres and can be accessed via U.S. Route 287. Though swimming, fishing, and hiking are popular, the main purpose of the reservoir is to sell water wholesale to neighboring Texas counties.
References
Writer Bio
Michael Francisco is a former high school and college newspaper writer, a diehard Atlanta Braves fan, and an avid music and film buff. He holds a Bachelor of Arts degree in film and television from the Savannah College of Art & Design, where he wrote for the student newspaper and was assistant program director of SCAD Radio.
Photo Credits
Lunnderboy/iStock/Getty Images