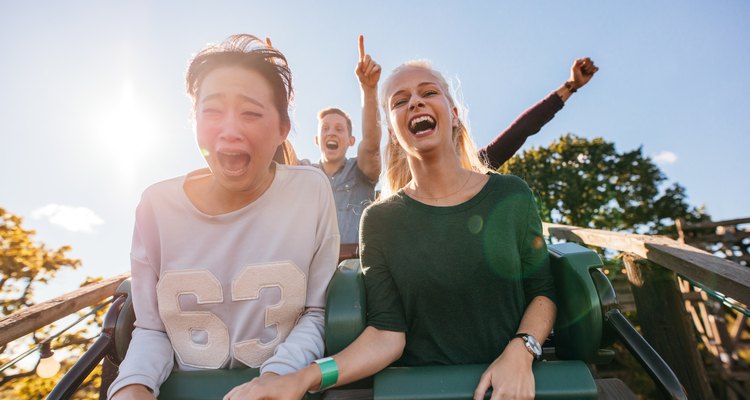 Jacob Ammentorp Lund/iStock/GettyImages
Relax and Chill or Enjoy High-Speed Thrills at These Family Hot Spots
Ohio offers just about everything you could want in a family vacation, from roller coasters and water slides to a week experiencing nature. Explore one of two award-winning amusement parks for some fast-past thrills, or spend a winter afternoon unwinding summer-style in a massive indoor water park resort.
Ride a Roller Coaster (or 12) at Cedar Point
Cedar Point (1 Cedar Point Dr., Sandusky, OH), an iconic amusement park on a peninsula in Lake Erie, continually ranks in the top three amusement parks in the world, according to "Amusement Today"'s Golden Ticket Awards, a site dedicated to amusement parks around the world. Cedar Point has an excellent assortment of steel and wooden roller coasters, as well as its share of children and family rides ,such as bumper cars. Take a break by riding the train through Frontier Town to check out the humorous views of an old-fashioned mining town, inhabited by animatronic skeletons.
Cedar Point also has a well-kept beach with Jet Ski rentals and parasailing services, plus its own water park, Cedar Point Shores (which requires a separate admission fee).
Cedar Point's on-site lodging, Hotel Breakers, also ranked sixth out of the Top 25 Hotels for Families in 2017 TripAdvisor reader poll.
Go Wild for Water Rides and Adventure at Kalahari Resorts & Conventions
African-themed Kalahari Resorts & Conventions (7000 Kalahari Dr., Sandusky, OH) hosts the largest indoor water park in the U.S. at a whopping 173,000 square feet, plus it also has a huge outdoor water park, animal safari park and zipline/adventure area.
As its name implies, Kalahari Resorts & Conventions offers lodging with everything from standard hotel-style rooms to suites with three bedrooms, bathrooms and patios.
Kalahari is a great option for cold-weather months when you long for summer days so the kids can swim, run and play freely, but it's just as much fun during great weather, too.
Enjoy a Relaxing Vacation on Kelleys Island
Kelleys Island, the largest island in the United States side of Lake Erie, is also the perfect close-to-home getaway for families in Ohio or Michigan. Pack the car and take a ferry to the island from Marblehead, a triup of approximately 20 minutes. The car ferry also allows boat and Jet-Ski trailers so you can bring your own water-based fun to the island, or you can ride bikes and leave the car in a parking area instead.
Kelleys Island has its own campground, beach, restaurants, marinas and plenty of rental cottages, some equipped with kitchens and outdoor grills for a great family week or weekend getaway. Rent bikes or golf carts and cruise around, island style, for some relaxing family fun.
Be sure to visit the historic Glacial Grooves area to see limestone carved by glaciers eons ago—and it's just across the street from the popular beach and state park areas.
Enjoy the Outdoors at Hocking Hills State Park
Hocking Hills State Park (19852 State Route 664 S., Logan, OH) is the ideal place to appreciate nature as a family. This massive area has just about everything you could wish for when it comes to spending time in a natural environment: wooded areas, waterfalls, caves, trails, campgrounds, archery and fishing areas and picnic tables. The nearby Hocking State forest also offers rock climbing and rappelling for thrill-seeking adventurists.
Hiking boots are a must if you're planning to tackle the trails, especially if you will be hiking inclines or in muddy conditions. Several hiking paths are near cliffs so aren't best suited to young children.
The area surrounding the state park offers plenty of other family activities that don't require boots, such as swimming, canoeing, horseback riding and zip-line adventures.
Lodging options are plentiful in Hocking Hills, too. The state park offers fully equipped two-bedroom cabins, campers and campsites. Hotels and inns are also available nearby.
Cater to the Kids at Kings Island
Kings Island (6300 Kings Island Dr., Mason, OH), like Cedar Point, rules when it comes to amusement parks that offer a lot for the younger set. For 16 years straight, this family fun spot has won "Best Kids' Area in the World" in Amusement Today's Golden Ticket Awards for its Planet Snoopy area. Planet Snoopy has the usual kiddie and family rides, themed with a Peanuts slant, plus four coasters geared specifically toward the kiddos. Peanuts characters stroll the grounds, much to the delight of children.
Older kids and adults will appreciate Kings Island, too. Its wooden roller coaster, The Beast, is the longest of its type in the world and is consistently ranked by Amusement Today among the Top 10 wooden coasters. Kings Island also has its own water park, Soak City, for when it's time to cool off. (Admission is included with ticket to Kings Island.)
References
Writer Bio
Kathy Adams is an award-winning journalist and freelance writer who traveled the world handling numerous duties for music artists. She writes travel and budgeting tips and destination guides for USA Today, Travelocity and ForRent, among others. She enjoys exploring foreign locales and hiking off the beaten path stateside, snapping pics of wildlife and nature instead of selfies.