california coast image by MAXFX from <a href='http://www.fotolia.com'>Fotolia.com</a>
California is one of the most beautiful states in the country because of its huge range of terrain. Desert, forest, mountain ranges and beaches grace the shores of California, but just as the terrain differs drastically, so do the social and economic areas of the state. The living conditions of California vary as much as the landscape. Choosing the right place to raise your family is imperative to you and your children's well-being.
Beverly Hills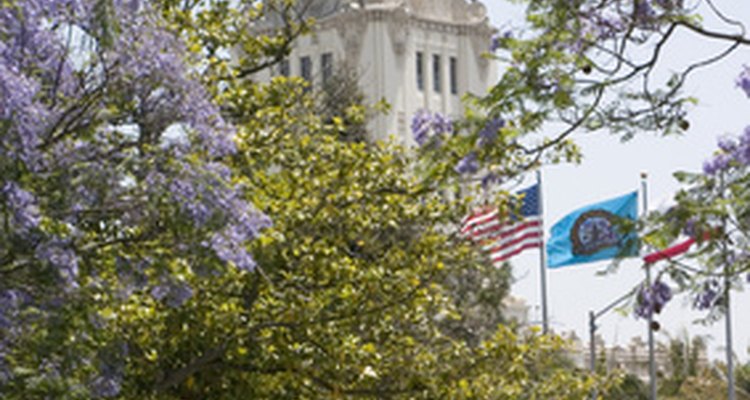 beverly hills in spring image by jc from <a href='http://www.fotolia.com'>Fotolia.com</a>
Beverly Hills is one of the most famous areas of California. A separate city of its own accord, it is located west of Los Angeles proper and east of Santa Monica. Beverly Hills is home to some of the most affluent and prestigious families in California and is one of the most desirable areas to live in the world.
Beverly Hills has several private schools and the public school system is one of the highest rated in the country. The weather is warm, remaining within the range of 64 to 85 degrees Fahrenheit year round. The terrain is hilly and tropical, filled with palm trees, rose bushes and beautiful plants. There are a variety of attractions in Beverly Hills including museums, gardens, art galleries, famous shops, parks and restaurants. Protected by the Beverly Hills Police Department and neighborhood watch groups, the city of Beverly Hills has a low crime rate and is very safe for families and children.
Its sunny, easy-going atmosphere, high profile residents, safety and cleanliness make Beverly Hills one of the most desirable places to live in California. If you like the feel of a small town, but also like having a large city not far away, Beverly Hills could be perfect for you.
Chino Hills
Two horses on green mountainside image by wildman from <a href='http://www.fotolia.com'>Fotolia.com</a>
Chino Hills is a spacious rural suburb in the southwestern part of San Bernadino County, California. It borders Los Angeles, Orange County and Riverside County.
Chino Hills is a wonderful place to raise children because of its clean spacious atmosphere and high quality of life. It offers 3000 acres of open, publicly-owned land, 39 miles of trails, 40 parks and several community buildings. Chino Hills also has one of the highest income rates in the country, was ranked the 13th safest city to live in the United States by the FBI and was rated one of the best places to live by Money Magazine.
The school systems of Chino Hills have led the country in API results and have received numerous distinctions for academic achievement in elementary, middle and high school. Nearly half of the adult population in Chino Hills has a bachelor's degree or higher and are working as professionals or managers in their field. The population of Chino Hills is less than 100,000.
If you and your family enjoy rural beauty, open spaces, nature and a high quality of life away from the city rush, Chino Hills could be the perfect place for you.
San Diego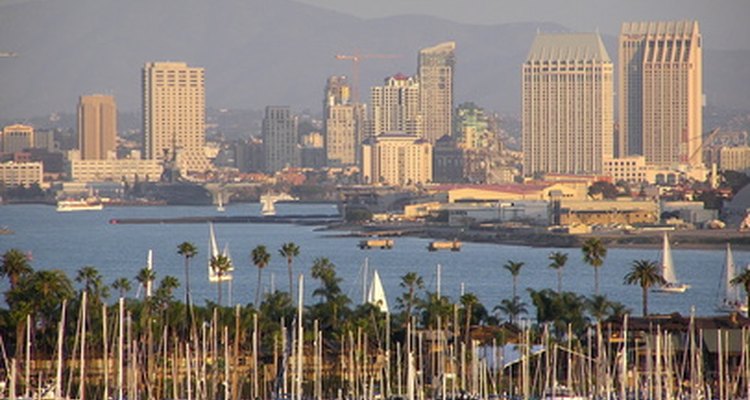 san diego skyline and marina image by Janet Wall from <a href='http://www.fotolia.com'>Fotolia.com</a>
San Diego is the fifth wealthiest city in the United States and the ninth safest city in the country. It is on the cutting edge of technology and innovation with strong industries in agriculture, biotechnology, tourism, finance, defense and ship manufacturing, computer science and electronics. Surrounded by beaches on hillside canyons and mesas with nearby forests and parks, San Diego offers a vast variety of terrain to experience with the family. The urban parts of San Diego are culturally rich with a variety of museums, art venues and sporting venues while the natural gardens and forests are reserve habitats for many of the worlds endangered plant and animal species.
San Diego offers many different public, private, charter and alternate schools and is ranked as the ninth most educated city in the United States.
San Diego is the perfect place to raise children if you prefer to live in a large safe metropolitan city on the cutting edge of innovation with wild nature in your back yard.
References
Writer Bio
Jen Oda has been writing since 1999. Her stories and poetry have been published in Fordham University's newspaper "The Observer" and in "My Sister's Voices," a collection by Iris Jacob. Oda holds a Bachlor of Arts in theater performance from Fordham University.
Photo Credits