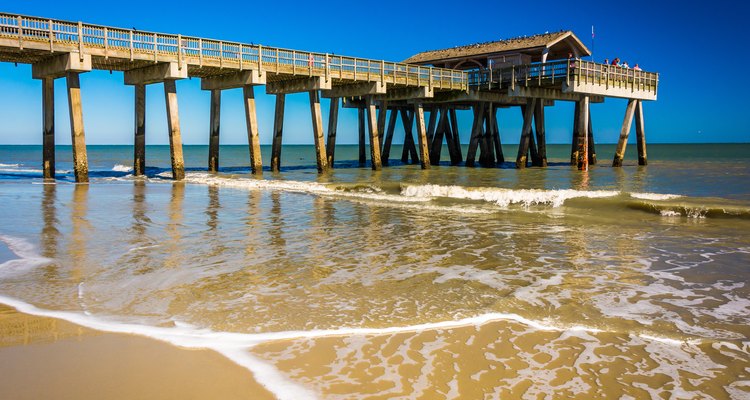 AppalachianViews/iStock/GettyImages
Just Don't Forget to Go Back
There's a lot to do in Savannah, but only so much of it will keep the kids entertained. House museums and art galleries can hold a child's attention for a little while, if you're lucky. At some point, though, a day trip may be in order. Thankfully, many islands are a short drive away. Some even have beaches. All have something to offer to make them worth the drive—and worth leaving a beautiful city for.
Tybee Island
Only 20 minutes from downtown, Tybee Island (or simply Tybee, as locals say), is Savannah's closest playground on the ocean. The island is also its own city—the quintessential old-school, low-rise beach town. No giant condo buildings or amusement parks, just 3.5 miles of beach, dunes and surf, along with plenty of dining options. The major beach action takes place around the pier and pavilion on the middle part of the island, including fireworks and live music for the summer holidays. For spectacular coastal views, climb to the top of the historic lighthouse on the lesser-trafficked north end of the island.
Skidaway Island
Skidaway Island isn't on the ocean but in the marshland and on the tidal waterways, which have their own quiet allure. It's also home to a popular state park named after the island. Only 25 minutes from downtown, Skidaway Island State Park is an oasis in the maritime forest and salt flats by the water. An observation platform and boardwalk trail provides great marsh views and wildlife viewing opportunities; waterfowl, deer and fiddler crabs are commonly seen in the park. There are 6 miles of trails in all, plus three playgrounds for the kids.
Hilton Head Island
For a more resort-style day trip, head to Hilton Head Island over the border in South Carolina, 40 minutes away from downtown Savannah. Unlike Tybee, tennis courts and golf courses are abundant on larger Hilton Head. The beach is much longer and wider also, so it's easier to find seclusion on the sands. While some courts and courses are part of private clubs, many public tennis and golf facilities exist as well, as do public access points to the beach.
The Penn Center
For an eye-opening and educational side trip, head to the Penn Center on St. Helena Island in South Carolina, an hour north of Savannah. Founded in 1862 as the first school for freed slaves in the South, Penn Center became a haven for African-Americans in the ensuing decades and a preserver of the vanishing Gullah culture of the low country region. Rev. Martin Luther King Jr. spent a good deal of time here in the 1960s writing and thinking. It's said he penned an early draft of his "I Have a Dream" speech in one of the cabins on the grounds. Beyond that human history, the 50-acre grounds, now a National Monument with a museum, are worth a visit for their Spanish-moss-draped beauty in the heart of the low country.
Cruise the Golden Isles by Car
Just south of Savannah, more islands beckon. Part of the Golden Isles, St. Simons and Jekyll islands are each accessible by car (unlike most of Georgia's barrier islands) and make for an easy, scenic day drive. Get out of the car to explore Driftwood Beach on Jekyll Island, one of the more photogenic spots along the coast with its large driftwood embedded in the sands. On St. Simons, some old oaks have limbs stretching out wider than the height of the tree. For the best effect, rent bikes for a couple of hours and go cruising on miles of winding, paved bike paths.
References
Writer Bio
Blake Guthrie covers travel, entertainment and outdoor recreation for many outlets, including the Atlanta Journal-Constitution, where he is a regular contributor. With years of experience as a professional cook, Guthrie also relishes writing about food and beverage topics. He earned a Bachelor of Arts in mass communications from Auburn University.