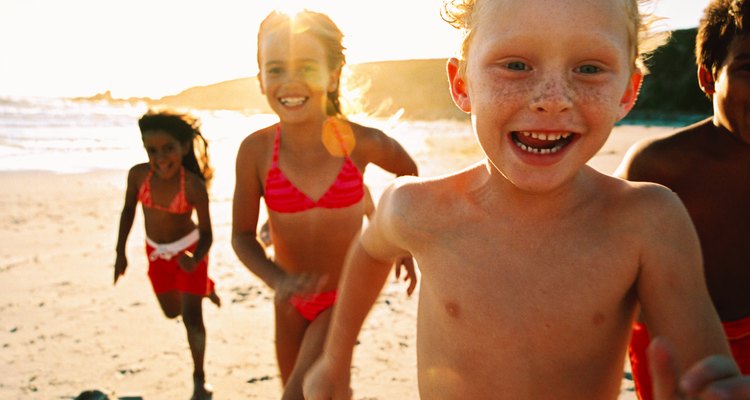 Stockbyte/DigitalVision/GettyImages
Immerse Your Family in New Hampshire's Natural Beauty
As one of the smallest states in the country, New Hampshire is easy to travel around during a family trip. In this relatively small space, you can see mountains, forests, beaches, rivers, lakes, cities, small towns and more. There's a lot to do across this scenic New England state, including plenty of free destinations, attractions and activities to please your whole crew.
Hampton Beach
New Hampshire might not have a lot of coastline—there are only 18 miles of it—but what little it has is worth visiting. The beautiful, exciting and popular Hampton Beach is at the south end of the state's coast, and it offers lots of free fun for the entire family.
There's the beach itself, with its soft white sand, as well as Hampton Beach State Park (160 Ocean Blvd., Hampton, NH). The Hampton Beach Playground on Ocean Boulevard dates back to the 1920s and still delights kids, and there are lots of shops, places to eat and arcades along the boardwalk. The Hampton Beach Village District arranges a variety of family-friendly free entertainment, particularly during the summer months. This includes free nightly concerts at the Seashell Stage, movie screenings on the beach, festivals, public competitions and more.
Obviously, summer is peak beach season anywhere in New England, and Hampton Beach draws significant numbers of tourists and locals alike. Even with some crowds, though, it's an excellent place to unwind and be entertained with the kids—often without even spending a dime.
Great Bay Discovery Center
Up at the north end of New Hampshire's small stretch of coastline, the Great Bay is formed to the west of Portsmouth. It's a scenic area with wildlife preserves and a number of nature- and conservation-oriented research facilities. At the south end of the bay, you'll find the Great Bay Discovery Center (89 Depot Rd., Greenland, NH).
This fun, educational, free-entry attraction is part of the Great Bay National Estuarine Research Reserve. Interactive exhibits inform about the local ecosystem and its wildlife. There's a hands-on tank experience with horseshoe crabs, mud snails, oysters and other indigenous critters found in the bay, which is always a highlight for kids.
The Great Bay Discovery Center grounds are open year-round, but the center itself is closed November through April and only open from 10 a.m. to 4 p.m. on weekends in October. From May through September, it's open those same hours, Wednesday through Sunday. It gets cold there on the water in the fall, so put on some extra layers that you can shed if you get too warm exploring the natural scenery.
Lake Massabesic
Lake Massabesic covers about 4 square miles, and it's one of the most stunning natural areas in New Hampshire. It lies within the city of Manchester and the town of Auburn, and it's an idyllic place for some outdoor family fun and bonding, all at the unbeatable low price of free.
This is a prime location for birding and boating. And if you fancy some fishing, the lake is teeming with smallmouth and largemouth bass, yellow and white perch, horned pout, pickerel and occasional stocks of trout. If you're bringing a small watercraft that fits on the roof of your vehicle, use the Deer Neck Bridge boat launch.
The Lake Massabesic Trail isn't strenuous or hazardous, so it's great for hiking with kids (or if you're not too practiced an outdoor adventurer yourself). It's a 4-mile loop lined with lots of wildlife, and it's widely used from April through December.
Amoskeag Fishways Learning and Visitors Center
The Merrimack River runs through Manchester, New Hampshire's largest city. And many species of fish, like Atlantic salmon, river herring, American shad and sea lamprey, swim up this river to spawn. The Amoskeag Fishways Learning and Visitors Center (4 Fletcher St., Manchester, NH) is an environmental center and fun family attraction on the river, dedicated to educating about its ecosystem and aquatic life.
You and the kids can see live turtles, frogs and other animals, plus there's an array of interactive exhibits and educational games. If you visit during fish season—that's the start of May through mid-June—you'll also likely get to view migrating fish on their way to spawn.
Fish season is undoubtedly the best time to go, but there's still plenty to see and do at other times, and the center is open year-round. It's open from 9 a.m. to 5 p.m. Monday through Saturday but also opens for the same hours on Sundays during fish season. There's no cost for admission, but donations are welcome.
Albacore Park
Submarines are cool. Head to Albacore Park (600 Market St., Portsmouth, NH) and give your kids the rare opportunity to go in one while you're exploring New Hampshire. The USS Albacore, a U.S. Navy submarine decommissioned in 1972, is preserved and open to the public at the park. Walk through it and learn all about it via an audio tour that includes tales of life aboard the vessel told by former crew members.
There's also a visitor center and museum with historic photos and artifacts pertaining to submarines. Adjoining the visitor center is Memorial Garden, a scenic and tranquil place with a large dolphin sculpture and memorials to submarines and their crews lost during World War II and the Cold War.
It's a unique and memorable experience for your family vacation, and it's free too. If you go any time from Memorial Day through Columbus Day, the hours are 9:30 a.m. to 5 p.m. daily; from March 4 to Memorial Day, it closes an hour earlier, and it's only open on weekends during the remaining time in winter.
References
Writer Bio
Eric Mohrman has been a freelance writer since 2007, focusing on travel, food and lifestyle stories. His creative writing is also widely published. He lives in Orlando, Florida.