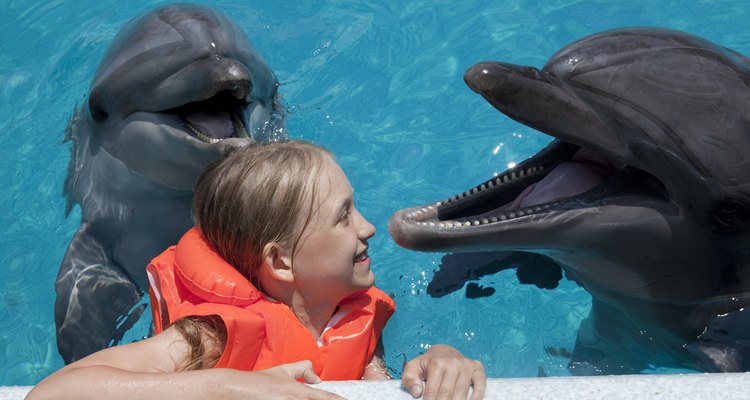 AlexanderNovikov/iStock/GettyImages
Exploring Nature with the Kids in the Keys
The Florida Keys, FL, don't always come to mind when planning a kid friendly vacation. Key West can get a little rowdy, some of the beaches aren't gentle on the feet, and your toddler probably isn't into deep sea fishing, Ernest Hemingway or snorkeling. Not to worry! There's plenty to keep kids of any age occupied in the Keys.
Here are five things do do with your kids in the Keys.
Commune with Butterflies
The Key West Butterfly and Nature Conservancy (1316 Duval St., Key West, FL) offers an up-close look at butterflies. Start the visit in the learning center where a film introduces visitors to key facts about butterflies. Then move on to the conservatory, where 50 to 60 species of butterflies thrive in a tropical paradise where you can stroll among them.
Learn About Turtles
The Turtle Hospital (2396 Overseas Hwy., Marathon, FL) is the world's only veterinary hospital specifically for turtles. Visitors can take a guided tour of the sea turtle rehabilitation center and hospital. The tour consists of an educational presentation, a look at the hospital's receiving and x-ray and operating rooms, and an opportunity to meet the turtles staying in the tanks and salt water pool. This venue is ideal for any child interested in animals or the environment.
Note: Reservations are recommended for the tour.
Take the Kids to the Beach
Sandspurs don't typically make for a pleasant beach visit, but Sandspur Beach (36850 Overseas Hwy., Big Pine Key, FL) is perfect for little kids. The beach has a gradual slope, and the waves are gentle enough for even the smallest of beachgoers.
Swim With Dolphins
For visitors who crave unusual animal interaction, Theater of the Sea (84721 Overseas Hwy., Islamorada, FL) is the place to be. Here, visitors can swim with dolphins and sea lions, interact with sea turtles and lorikeets and so much more.
Explore History and Nature
Crane Point Hammock (5550 Overseas Hwy., Marathon, FL) is the site of the restored homestead of a Bahamian immigrant and his family. Call ahead to reserve tours of the historic buildings and gardens, but Crane Point offers much more than that. Trails and wooden walkways meander through lush vegetation and past sweeping views of the bay, and families can visit the Marathon Wild Bird Center, where pelicans, cormorants, egrets and other birds are rehabilitated. There's also the Museum of Natural History where you can learn about diverse topics ranging from the life cycle of the sea turtle to Native American history. Outside, a wooden pirate ship allows for imaginative and active play, while an interactive touch tank provides a hands-on way to learn more about some of the Keys' creatures.
Weather and Seasons
There's not much of a change of seasons in the Keys, as the weather is basically just hot and then a little bit cooler, with highs in the upper 80s in summer and lows in the mid-60s in winter. At any time of year, it's important to wear sunscreen and probably a hat with a brim. The spring may be the best time to visit, when temperatures are typically in the 80s, and the high season crowds have gone.
Budget Considerations
One option for budget-conscious families traveling to the Keys is to camp in one of the state parks on the islands. This is very doable in spring, though in summer the heat is pretty unbearable. Inexpensive lodging can be found, often through sites like AirBnb, VRBO or Travelzoo. Many of the great things to see and do in the Keys are free or almost free, such as going to the beach and Crane Point Hammock. Make the most of simple pleasures, choosing one or two pricey excursions, and filling the rest of your time with nature and family time.
References
Writer Bio
Amy Curtis has been writing her entire life and professionally for the past decade. Her work has been featured on sites like Wayvs.com, 10Best.com and WorkingMother.com. A vagabond at heart, Curtis has lived all over the U.S. and Europe. She loves a good road trip, and has traveled extensively for business, pleasure, mission trips and as a military wife. She's currently busy working on a novel and planning her next big trip to Lake Powell, Utah.