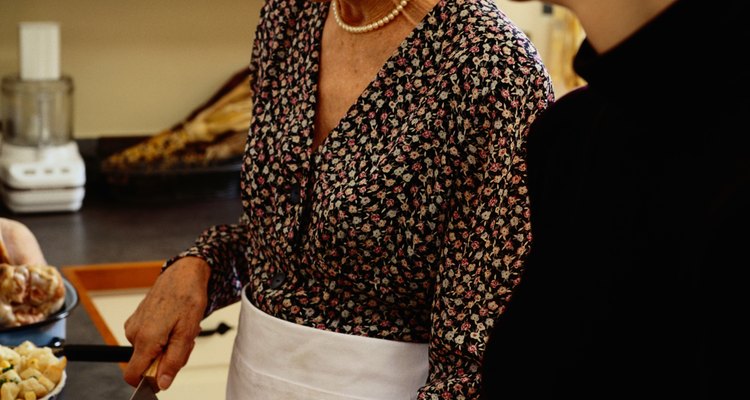 Ryan McVay/Stockbyte/Getty Images
Holiday dinners give dating couples the opportunity to introduce their boyfriend or girlfriend to the rest of their family. If you will be accompanying your boyfriend to Thanksgiving dinner this year, you'll want to leave a positive impression on his most important family member, his mother. Bringing the right hostess gift will show her your gratitude for the dinner invitation.
Meal Contributions
Your boyfriend's mother will probably be slaving over the stove all morning to prepare the evening's dinner. Volunteer to bring a couple of food items to dinner. She'll appreciate your kind gestures that will allow her to cook a few less dishes. Bake or cook items relevant to your family or culture that will also serve as conversation starters with his mom and other family members. Prepare a secret casserole or dessert recipe taught to you by your own mother or grandmother or bring an ethnic dish that pertains to your heritage.
Festive Adornments
The rich colors and scents of the autumn season can be used as inspiration for home decor gift ideas for your boyfriend's mother. A bouquet of warmly colored fresh yellow sunflowers, orange tiger lilies and burgundy roses will bring a smile to her face and be a fitting table centerpiece for the dinner table. Consider giving her a pumpkin or cinnamon scented candle to bring a pleasant scent throughout her home or to light up a dim room as you eat. A gift of autumn placemats will make her table festive before everyone seats down to eat.
Spa Products
Your boyfriend's mother will appreciate some time to herself to relax after all her guests leave. Show her your gratitude for her hard work with gifts that will encourage relaxation. Arrange a basket with scented bubble bath, facial scrubs and a neck pillow to help her have a calming bath. A manicure set with assorted nail polish and hand lotion will allow her to soothe her tired hands after a day of cooking and washing dishes. Compile a relaxation CD as a gift for her with nature sounds that will offer her stress relief from the hectic day.
Edible Treats
There will likely be a plethora of leftover food but your boyfriend's mother will enjoy her own personal treat she can have at a later time. Give her a box of gourmet chocolate candies or cookies and a bottle of sparkling apple cider that she can save for a romantic night at home with her husband. As a different idea, prepare hot chocolate in a jar to enable her to have a warm drink on a cold fall night. Simply layer dry ingredients in the jar and place the lid on top and secure with a festive ribbon. Tie printed instructions on how to make the drink on the side.
References
Writer Bio
Wannikki Taylor is a professional writer with a Bachelors of Arts in journalism from Temple University. She serves as a children's columnist and covers family entertainment for several print and online publications. She specializes in games, crafts and party planning ideas for kids and their families.
Photo Credits
Ryan McVay/Stockbyte/Getty Images