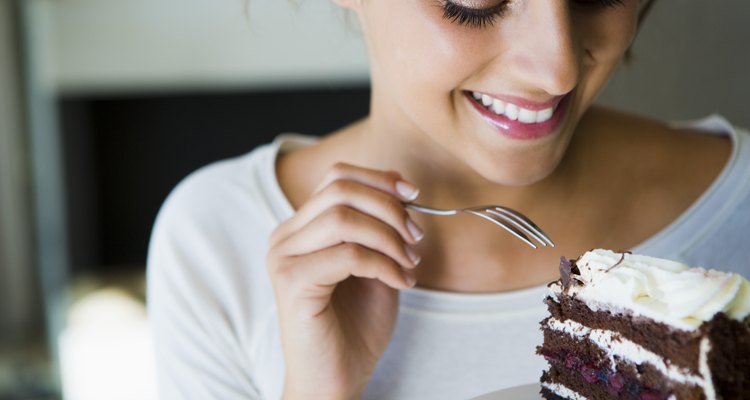 Pixland/Pixland/Getty Images
The love of your life has an upcoming birthday and you want to make it a memorable day for her. The usual traditions of going to dinner and a movie can get quite boring year after year. Instead, treat her to a day of pampering, prepare her meals like a personal chef and think of other creative ways to cater to your wife to make her feel extra special.
Create an Indoor Paradise
Transform your home into a spa center and make your wife feel like a queen on her special day with pampering treatments. Surprise her by creating a calming atmosphere in your living room. Drape sheets on the couches, dim the lights and place scented candles everywhere. Set up a facial bar on the coffee table with a few bowls of homemade scrubs for her to choose from and cucumber slices for her eyes. Let her slip into a robe and relax on the sofa as you use scented oils to give her a massage. End the evening by letting her open her gifts and sip on homemade tropical fruit smoothies and chocolate candies prepared by you. Additionally, place rose petals and scented bubble bath in her nighttime bathtub.
Channel Your Inner Emeril
Allow your wife to skip cooking the meals for the day and be her personal chef throughout her entire birthday. Start her morning by serving her breakfast in bed. Create a sweet edible message for her. Simply use pancake batter to spell out "I Love U" in a frying pan and grill it. Place it on a plate and prepare freshly squeezed orange juice to accompany it. Surprise her by sneaking a heart-shaped sandwich in her lunch bag for work with a birthday note from you. Press a heart cookie cutter on her sandwich to create the heart. For dinner, set up a candlelight dinner in the dining room. Prepare her favorite meal and play soft music in the background. Bake a birthday cake that will evoke a romantic feeling, such as red velvet cake. Finish the evening by serenading the birthday song to her.
Be Mr. Maid for the Day
Taking care of your home can be a draining task for your wife. Tell her to spend her birthday shopping with friends while you get the house in order from top to bottom. Use her cleaning supplies of choice to scrub the bathroom, mop the kitchen floor and vacuum the carpets. Clean out the refrigerator and make it look brand new. Repair any broken objects around the house and replace any old objects with new ones. Consider surprising her with new furniture such as the coffee table that caught her eye in the store. Head outside to mow the lawn and rake up any leaves. Light scented candles and let the aroma hit her nose when she walks in. Don't let the cleaning end on her special day, volunteer to do it for her at other times. Alternatively, you can enlist the help of a professional cleaning service to get your household in shape.
Turn Gifts into Buried Treasures
Let your wife embark on a birthday scavenger hunt as a creative way to find all her birthday presents. Hide the presents through different areas in your home. The bathroom can be the starting destination. Use the bathroom mirror to tape a romantic birthday card with a clue that leads to the first spot in your home where the first gift is hidden. Gifts should coincide with the location. For example, if the location is the kitchen, hide a coffee house gift certificate behind the coffee maker. The final destination should be a big surprise for her, such as tickets to see her favorite band. If it's a landmark birthday for her, the final gift can be a big box of her favorite things that correspond with her age, like 30 pairs of shoes for her 30the birthday
Writer Bio
Wannikki Taylor is a professional writer with a Bachelors of Arts in journalism from Temple University. She serves as a children's columnist and covers family entertainment for several print and online publications. She specializes in games, crafts and party planning ideas for kids and their families.
Photo Credits
Pixland/Pixland/Getty Images