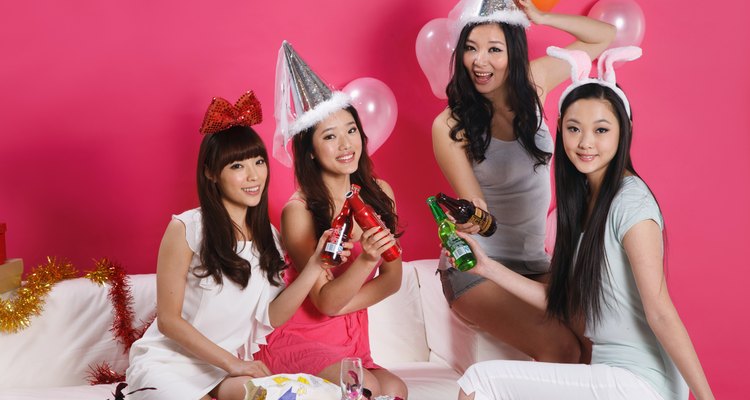 View Stock/View Stock/Getty Images
Choosing the perfect gift for a woman in her mid-20s requires a thoughtful approach. Before deciding what kind of gift is best, think about her personal life, education and career goals. If she is a young mother or newlywed, she will appreciate different presents than a woman who is in graduate school or working.
Experiential Gifts
Giving an experiential gift can be affordable, and a walking tour, art lesson or massage will provide an opportunity for the birthday girl to make lasting memories. A manicure or foot rub makes her feel cared for, and it's rewarding to buy someone a treat she would not splurge on for herself. Try to find beauty salons or spas in her neighborhood or near her office. Look online for local deal sites like Groupon, Amazon Local or Living Social to find deals available in your area. Also think of special local or seasonal experiences, such as ski passes, kayak excursions or tickets to a beer festival.
Personalized Gifts of Food and Wine
A food basket for 25-year-old woman can include fine chocolates, baked goods, luxury teas or locally roasted coffee. Put a personal spin on such gifts by selecting goods that reflect her personal interests, travels and experiences. For example, if she likes wine, visit your neighborhood wine shop and choose one bottle of red and one of white. If the woman you're buying for went on a holiday in a wine-growing region of the world -- like Spain, Italy or Chile -- buy wines from the countries she visited to remind her of her vacation. Include a birthday note that says something like, "Happy 25th birthday. Wishing you many more exciting new journeys."
If you choose to give chocolates, select flavors that reflect special memories. For example, give a wrapped box of sea salt chocolates with a note about a favorite trip to the beach or pair champagne truffles with a message describing your memories of the champagne toast at her 21st birthday. Think of flavors you can pair with special moments that you can describe in the accompanying birthday card.
Tips for Boyfriends
Jewelry typically makes a treasured birthday present. Find out your friend's birthstone or astrological sign for a personalized 25th birthday gift. A bracelet or necklace engraved with her name, an important date or an inside joke lets her know that the jewelry was customized for her. Most women have a preference for silver or gold, and it is usually easy enough to tell her favorite by noticing the jewelry she wears every day.
If she's your girlfriend, you can give her a framed photo of a special place. If you celebrated a first date or a special milestone in a particular location, show her how much she means to you by presenting her with an image of that spot. For example, you can give her a framed photo of the place where you first kissed or a bar or restaurant where you went on your first date.
For a friend's 25th birthday, prepare 25 separate cards, each telling her a different reason why you like her. Put all of the cards in a single box and tie it with a bow. The cards can be sentimental, sweet or funny. As long as your messages are specific and personal, the gift will make an impact.
Big and Small Budgets
Floral bouquets are a good birthday gift that fits all budgets. If you are buying flowers on a small budget, nice blooms are usually available at the supermarket. Visit a store with a dedicated florist counter, and ask the floral clerk to rewrap the blooms. Even the cheapest flowers look gorgeous when they are presented well. If you can buy flowers on a big budget, visit your local upscale floral designer. Tell the staff if the birthday girl has favorite scents or colors, and they will take care of the rest.
You can also surprise the birthday girl with a special meal. Make her favorite meal and dessert, and decorate the table with flowers and candles.
A framed quotation can make a thoughtful and inexpensive birthday gift. Find a quotation that is meaningful to the birthday girl or to your friendship. Write the text in a visually appealing way, using bright colors and bold text. Present the quote in an attractive frame. The recipient will appreciate the time and thoughtfulness put into this gift.
References
Writer Bio
Fern Morris has been writing about the arts, culture, etiquette and society since 2004. She has published her work internationally in various magazines, websites, exhibition catalogues and academic journals.
Photo Credits
View Stock/View Stock/Getty Images