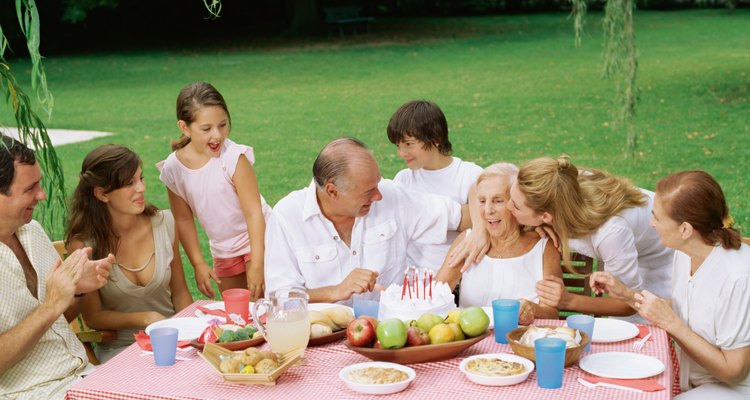 Image Source/Stockbyte/Getty Images
Celebrating a 70th birthday marks a milestone for your mother. As her child, you will want to honor her like a queen on her day. Delight in this special moment with her by doing something different than you did for her previous birthdays. Plan several memorable ways to make her feel excited to embark on a journey into a new decade.
Themed Birthday Bash
Throw your mother a birthday celebration. Each party attendee can give birthday wishes and share memories with the guest of honor. Think of a theme for the celebration based on her personality and interests. Perhaps your mother is an avid travel or a former foreign language teacher. Plan a global-themed bash and display photos of her on her world travels. Incorporate foods for the menu from the places she visited. Alternatively, throw her a party based on the decade she was born in. If she was born in the 1940s, have a classic Hollywood glam party and invite guests to come dressed in costumes.
The Star Treatment
Your mother is already a queen in your eyes. Literally, make her feel like royalty on her special day. Arrange for a limousine service to pick her up and take her to a local spa. Pay the expenses for her to receive a single treatment or a complete deluxe treatment, including everything from a therapeutic massage to a chocolate facial. Or you could arrange for the limo to take her to the mall and foot the bill for anything she decides to purchase. Lastly, let an upscale restaurant be the limo's final destination. Surprise her by awaiting at the dinner table with a few other relatives and close friends. Present her with a bouquet of roses.
Dream Come True
Grant your mother a desired birthday wish and let her mark it off her bucket list. Milestone birthdays are a great time to take part in something new, explains psychologist Art Markman, Ph.D. in the "Psychology Today" article, "Why Is Your Birthday so Motivating?" Perhaps your mother mentioned to you that she always wanted to try a certain hobby, such as bird watching or photography. Pay for her beginner classes. If you have the expenses, treat your mother to a much-desired vacation. Send her on the cruise to the Bahamas or trip to Paris she is always talking about in conversations.
Meaningful Birthday Presents
Shower your mother with presents that will bring back childhood memories for her. Find a rare collectible toy or doll that she may have played with in her childhood to give her. Consider giving her a box of candies she may have eaten as a child. Or give her gift items that commemorate her birthday, such as a coin set minted in her birth year or a framed front page newspaper reprint from her birthday. Alternatively, give her 70 hobby-related items to coincide with her birthday. Perhaps she is a gardener. Different types of inexpensive gardening supplies can be an ideal present.
References
Writer Bio
Wannikki Taylor is a professional writer with a Bachelors of Arts in journalism from Temple University. She serves as a children's columnist and covers family entertainment for several print and online publications. She specializes in games, crafts and party planning ideas for kids and their families.
Photo Credits
Image Source/Stockbyte/Getty Images