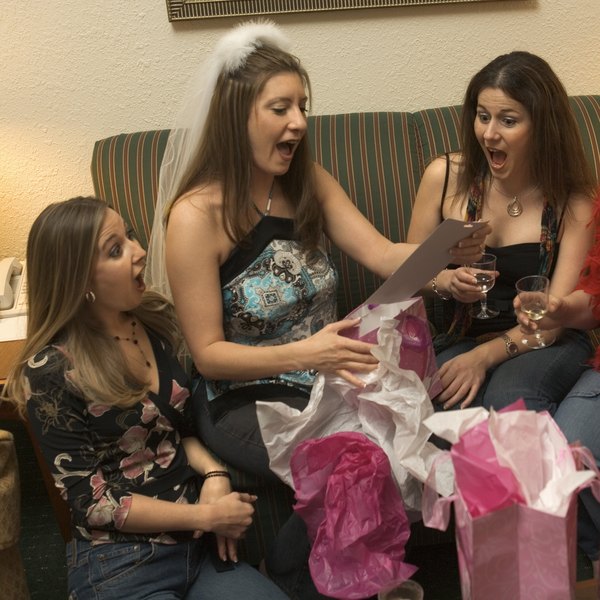 Items you will need
Guest list
Invitations
Food
Cake
Gifts
Decorations
Games
The proposal, the dress and, of course, the man are what so many women imagine their entire lives when they think about their wedding day. Little details change over time and the dress a woman actually wears on her wedding day looks nothing like the Princess Diana puff sleeves and shoulder pads gown she dreamed of when she was five. However, one thing never changes: the knowledge that she will have a bridal shower thrown in her honor by her closest friends and family members where she can spend the day with the women she loves the most while celebrating her own personal love story. Unfortunately, if your bride lives out of state it can prove a tad bit more challenging to plan a shower for her in the weeks leading up to her wedding.
Step 1
Talk to the bride-to-be about throwing her a shower. Since she lives out of state she will have to plan a trip to attend the shower so you need to plan the shower around her schedule, which means the shower could be the week of the wedding when she arrives in town or it could be five months prior to the big day.
Step 2
Obtain a guest list from the bride. The guest list should include first and last names and addresses of all the people the bride wants invited to the shower so you can send out invitations.
Step 3
Pick a venue; you can hold the shower in your home, ask the bride's parents if you can have it at their house or pick a neutral location such as a country club or a restaurant.
Step 4
Order and send out invitations at least one month prior to the shower. Include an RSVP card or contact information so guests can inform you of their attendance.
Step 5
Hire a caterer or order food. Showers are less formal than weddings, which makes it perfectly acceptable to have a buffet of hors d'oeuvres and finger foods.
Step 6
Order a cake. Choose something the bride likes, since it is her shower.
Step 7
Purchase decorations and party favors for guests. Decorations typically include banners, streamers, flowers, balloons and other items that state "Bride-to-be" or "Congratulations."
Step 8
Hire a florist to create centerpieces for each table and use the centerpieces as prizes for game winners. Since the bride lives out of state and cannot take the centerpieces home to enjoy, give them to the winners of each game rather than purchasing other prizes.
Step 9
Pick up a "Bride-to-be" sash, pin or tiara for the bride to wear at her shower. Silly items like this make the bride happy, which is the goal of your shower.
Step 10
Plan shower games such as the toilet paper dress competition where guests pair up in teams and create a bridal gown from rolls of toilet paper. The models put on a fashion show for the bride and the bride picks her favorite gown as the winner. You can also do a word scramble with wedding related words.
Step 11
Buy big plastic storage boxes to place gifts in. Since the bride lives out of state, she cannot realistically take everything home with her after the shower, especially if she flew to town. However, you can have her gifts shipped to her home in large boxes or you can remind guests in the invitation that the bride lives out of town, which means she cannot transport large items. When guests see that on the invitation many will opt to purchase a gift card, lingerie or even just print out a picture of the item purchased to give it to the bride in a card with a note saying she had the gift shipped directly to the bride's home.
Photo Credits
Thinkstock/Comstock/Getty Images