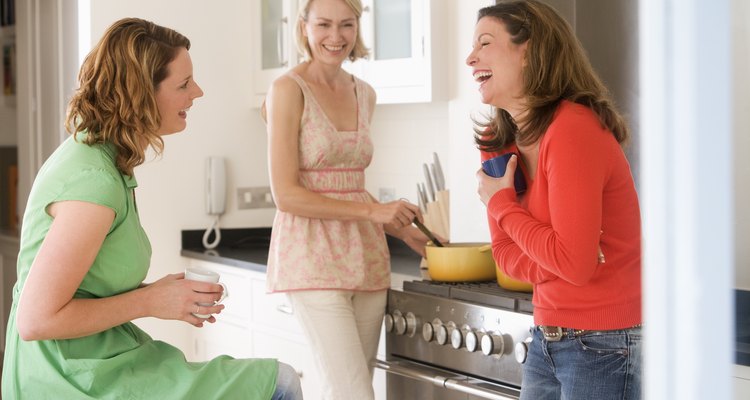 BananaStock/BananaStock/Getty Images
Traditionally, as the maid-of-honor, you will be in charge of planning the wedding shower for the bride-to-be. You may be wondering, however, if a shower is necessary, since this will be your friend or relative's second time down the aisle. A non-traditional shower will be appropriate for a second marriage, since the couple may already have the basic necessities, according to The Emily Post Institute. Plan a wedding shower that will focus more on the bride-to-be socializing with her close loved ones and friends, rather than receiving gifts.
Recipe Exchange Parties
A cuisine-themed shower can be beneficial for a second-time bride to add new recipes to her kitchen cookbook. A potluck-style luncheon can be an ideal celebration for a bride-to-be who is a foodie, according to a Good Housekeeping article on shower gifts. Invite shower guests to prepare their own original dish and bring a recipe card for the meal along with them. Each guest can discuss their recipe and allow others to have a taste of it. The bride-to-be can assemble the recipe cards in her cookbook, as meal ideas for her new husband and possibly stepchildren. Alternatively, have the guests bring all the ingredients for their recipes and then guide the bride-to-be in making them, from beginning to end.
Bridal Garden Showers
Since the second-time bride may already have the basic appliances from her first marriage, guests can focus on the outside of the home. Guests can bring items for the garden including shrubs, flowers, garden tools and home-improvement manuals, according to the Wedding Channel article, "Coed Shower Themes." Invite guests to dress in old clothing and come prepared to assist the bride-to-be with sprucing up the couple's garden. Perhaps guests can plant seeds for a vegetable garden or landscape bushes along a fence. Alternatively, guests can participate in an craft activity to plant flowers in pots for the bride-to-be. Give the guests a personalized seeding packet to plant in their own yard as a shower favor.
"Day at the Spa" Bridal Shower
Planning a second wedding can definitely cause stress on the future bride-to-be. Plan a spa bridal shower for the bride to relax before her big day, according to the article, "Bridal Shower Themes" on the Martha Stewart Weddings website. Invite a few of her closest friends and members of the bridal party to come along. Treat the guests to a single treatment, while everyone can pitch in for the bride-to-be to receive a full spa package, including everything from a massage to a pedicure. Then, everyone can gather around for brunch at the spa to chit chat. For a different approach, plan an at-home shower and have a spa service come to the house to pamper the bride-to-be and her shower guests.
Showers to Entertain
A shower involving some form of entertainment is appropriate for a second wedding shower theme, according to The Emily Post Institute. Consider having a fun outing for the bride-to-be and shower guests. Invite shower guests to come along on a day trip to see a theater play and chit chat afterwards at a fancy restaurant. Consider a bridal-themed or romantic Broadway show, such as "Beauty and the Beast," as a fitting choice. Alternatively, shower guests can go as a group to see the bride-to-be's favorite singer or band live in concert or have a night of laughter at a comedy club.
References
Resources
Writer Bio
Wannikki Taylor is a professional writer with a Bachelors of Arts in journalism from Temple University. She serves as a children's columnist and covers family entertainment for several print and online publications. She specializes in games, crafts and party planning ideas for kids and their families.
Photo Credits
BananaStock/BananaStock/Getty Images