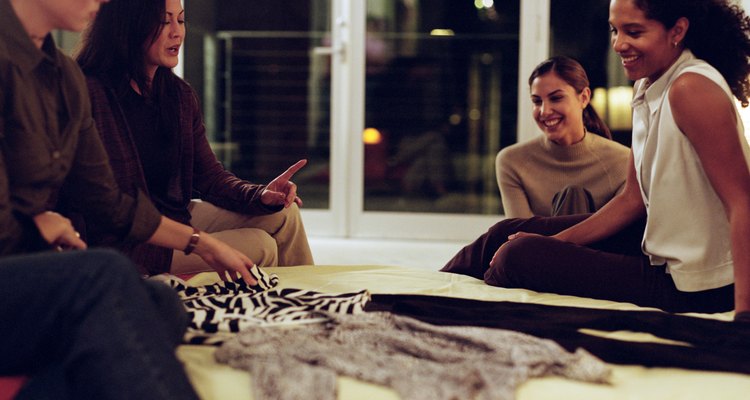 Ryan McVay/Photodisc/Getty Images
While bachelorette parties are a common tradition, many of the customary activities are not supported by the Mormon faith. However, a Mormon bride's friends can plan a variety of options and activities that the bride can enjoy without sacrificing her religious standards. Whether you are planning to take the bride-to-be out or stay in, there are many ways you can ensure she enjoys her bachelorette party.
Dinner and movie
Instead of hosting the bachelorette party at a club or bar, celebrate at a restaurant. Interactive restaurants such as Dave and Buster's have a wide variety of games for guests to enjoy before or after they eat dinner. Take the bride out to a dinner with the bridal party before going to see a movie of her choice.
Craft party
If the bride is planning to use handmade items for the wedding, you can plan and organize a craft party for her and her closest friends. For instance, you can get her friends together to help make bridal wreaths, stuffing and labeling favor bags for each wedding guest or hand lettering placecards.
Serve festive food and top the party off with a favorite DVD -- "Princess Bride" perhaps, or "Father of the Bride."
Spa night
If the party is within a few days of the wedding, you can use it as a chance to get all of the girls ready and looking their best before the wedding. Set up an area for each guest to give themselves a pedicure and another area for facials or hair treatments. Rent a variety of movies and set up a table with snacks for the guests to enjoy while pampering themselves for the big day.
Game night
Help the bride select an assortment of boardgames and card games. Invite everyone over for a fun-filled game night complete with prizes. You can also create a few wedding themed games of your own. Fill a jar with candy and have each guest guess how many are in the jar. Award a prize to the guest who guesses the closest. Take the bride and groom's names and put them together. Have each guest write as many words as they can out of the letters from the names.
Theatre
If the bride-to-be is interested in musicals, see if there are any playing in your area. Take her out for a night at the theatre, followed by a dinner at her favorite restaurant.
References
Photo Credits
Ryan McVay/Photodisc/Getty Images