Many brides-to-be quickly find out that planning a wedding is more difficult and involved than they expected. With all the excitement, it can be easy to lose track of the many items needed for a wedding. While all weddings are different, most contain common elements that engaged couples will want to consider when they plan their big day.
Attire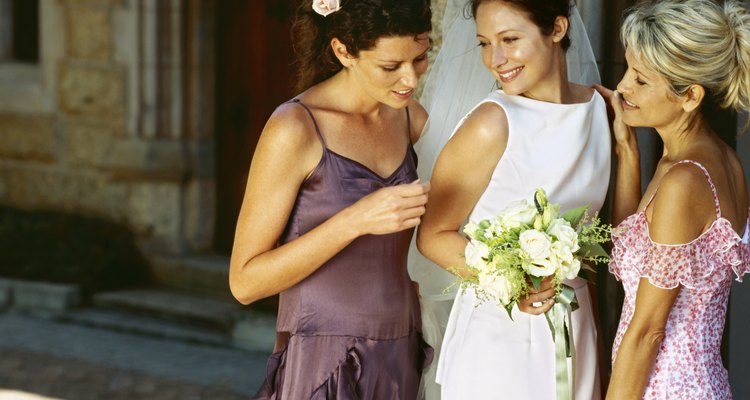 Stockbyte/Stockbyte/Getty Images
One of the most enjoyable parts of planning a wedding for many brides is picking out the wedding attire. The bride's ensemble usually consists of a gown, slip or bustle, tiara or comb, veil, shoes, undergarments and possibly gloves or a hat. Bridesmaid and flower girl dresses generally have to be ordered many weeks in advance to allow time for alterations as necessary. The groom, groomsmen and ring bearer usually rent tuxedos or suits that should also be lined up several weeks before the wedding.
Rehearsal Items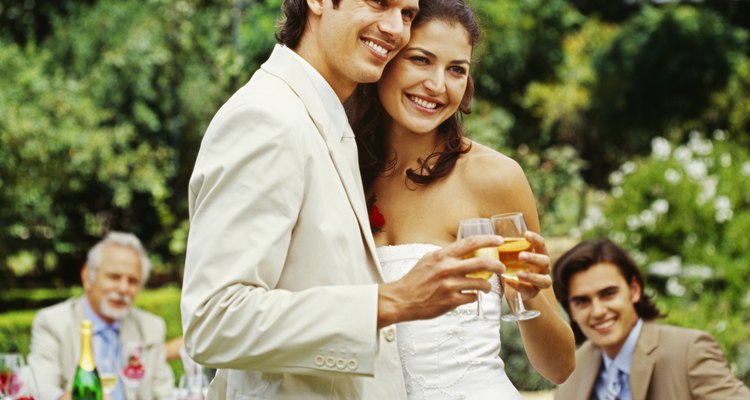 Ciaran Griffin/Valueline/Getty Images
While a wedding rehearsal is optional, many couples who plan structured or elaborate ceremonies prefer to run through at least one rehearsal so that the members of the wedding party know what to expect on the big day. The rehearsal does not have to be fancy, but some couples choose to decorate with flowers and other decorations. The bride and groom usually exchange any gifts they have purchased for each other and members of the wedding party at the rehearsal or the dinner that follows the rehearsal, according to FrugalBride.com.
Ceremony Items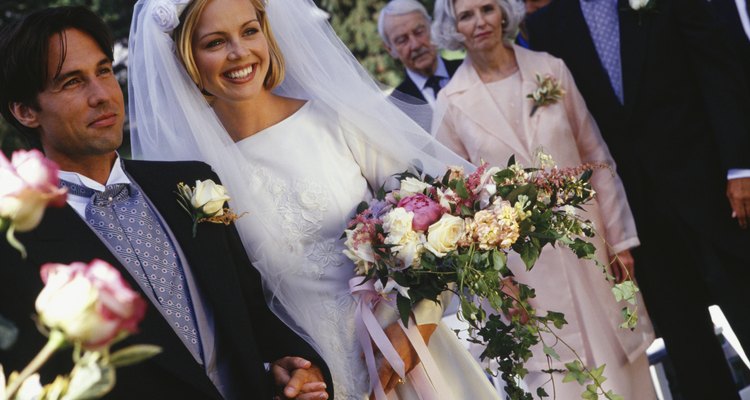 Buccina Studios/Photodisc/Getty Images
Every wedding ceremony is different depending on the venue and the personal preferences of the couple, but most ceremonies have some type of decorations and flowers, a music system or instruments and seating for the guests. Flower girl baskets, petals and a ring bearer's pillow are needed for wedding parties including these roles, and most weddings involve bouquets for the bride and bridesmaids and boutonnieres for the groom and groomsmen.
Couples should always have cash on hand on the day of the ceremony to pay any last minute fees and gratuities. Couples will also want to make sure they have transportation in place, whether by a friend or family member's vehicle, limo or other service. The most important item to the ceremony for legal purposes is the marriage license, which couples should obtain several days to several months before the wedding depending on how far in advance state laws require engaged couples to purchase a marriage license.
Reception Items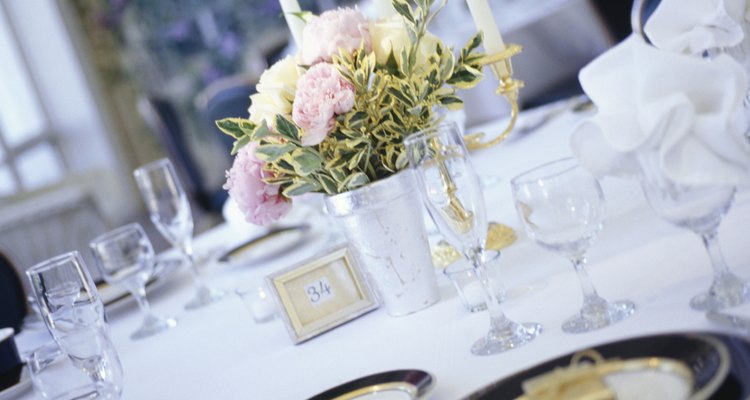 Buccina Studios/Photodisc/Getty Images
Decorations and centerpieces for the reception hall, banquet tables and seating areas should be arranged prior to the ceremony so that the wedding party can move to the reception site without need for further preparations. Most couples purchase a wedding cake and topper along with serving utensils for the cake. Couples who serve food or hors d'oeuvres at their wedding receptions should make sure they have plenty of plates, silverware, napkins and cups available for guests to use. An area set aside for a dance floor with a DJ or live music is needed for most receptions, and most couples include champagne or sparkling cider for a toast. A bar and/or bartender is an optional element that many couples choose to include at their receptions.
References
Writer Bio
Amanda Knaebel is a self-professed gadget geek and loves all things tech, both new and old. Amanda has been working as a freelance writer for over 10 years on topics including technology, health, fitness, nutrition, gardening and many more. She has also worked with Fortune 50 tech and financial companies, both in technical support and content production.
Photo Credits