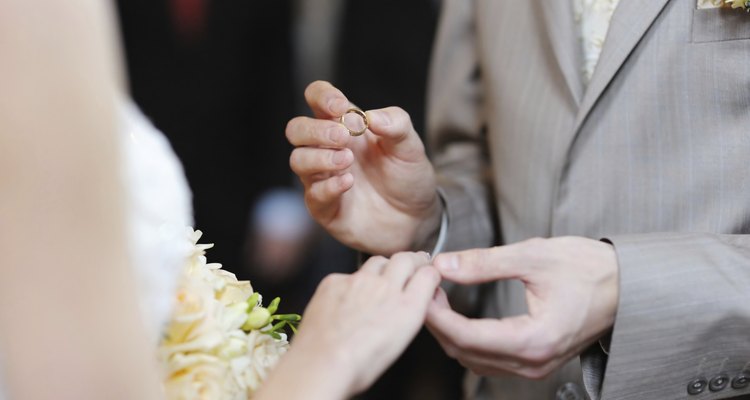 maximkabb/iStock/Getty Images
Methodist weddings are much like other Protestant weddings, with a traditional order of service, music and prayer in addition to vows and the ring ceremony. More than 40 groups descended from John Wesley's Methodist movement but possibly the most widely known organization is the United Methodist Church.
Order of Service
The general order of service for a Methodist wedding begins with the minister's opening remarks followed by his charge to the couple. Next is the declaration of commitment to which the couple usually responds "I do" or "I will." The bride is presented to the groom and the vows begin. After the vows, rings are exchanged and a Scripture selection is read, often from 1 Corinthians 13. The minister may share additional thoughts, then the unity candle is lit and the declaration is made. The ceremony ends with the wedding prayer, the Lord's Prayer, the blessing, the kiss and the introduction of the newly married couple. Other elements that may be included are Communion and special music selections.
Music
Many Methodist churches allow the use of secular music, but ask permission for secular songs. It is common to use an organ for much of the music, including the processional. Soloists or small groups of singers may be used with piano accompaniment. Music often is inserted during the unity candle lighting and/or after the Lord's Prayer.
Photography and Videography
Take pictures before and after the ceremony. The minister might be willing to stage scenes from the ceremony for pictures at that time. Video cameras usually are allowed at Methodist ceremonies as long as they do not impede the flow of traffic in the aisles or attract attention.
Building Use
When using a Methodist church building for the ceremony, it is important the bride and groom follow the guidelines set forth by the leadership of the church. There often are time constraints because of church services or other events. Most church buildings have decorating guidelines to protect church property and avoid extensive cleanup.
Fees
There are fees associated with a Methodist ceremony. There usually is a building-use fee, although some churches waive this fee if you are a church member. Expect to pay the minister a fee, which the church often is predetermines. The couple might have to pay for communion supplies, and there might be fees to a sound-and-lighting technician, wedding coordinator, organist and/or custodian.
References
Writer Bio
Kristie Lorette started writing professionally in 1996. She earned her Bachelor of Science degree in marketing and multinational business from Florida State University and a Master of Business Administration from Nova Southeastern University. Her work has appeared online at Bill Savings, Money Smart Life and Mortgage Loan.
Photo Credits
maximkabb/iStock/Getty Images