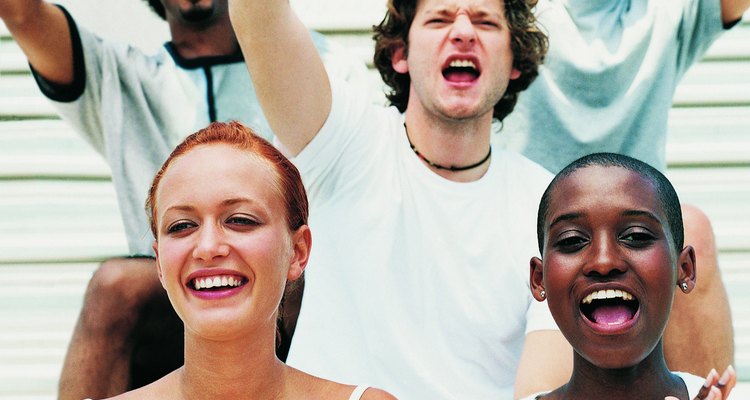 Digital Vision./Digital Vision/Getty Images
One of many school-based assemblies, a pep rally is designed to generate school spirit and spark unity within a school community. Pep rallies are often held prior to big contests, such as homecoming games or playoff games, and provide opportunities for students, faculty, sports teams and other groups to honor and celebrate their team in preparation for the upcoming event. Ideally, a pep rally creates an environment of enthusiasm and will likely lead all in attendance to animated cheering in support of their team.
Pep Rally Announcement
Informing the school community of an upcoming pep rally not only gives participants time to prepare but also builds excitement and expectation prior to attendance. Announcements might include details about a school spirit week leading up to the rally or encourage students and teachers to sign up for competitions that will take place during the pep rally. It's even possible for parents to receive a message or invitation to the rally as a means for them to participate in a spirit-related activity.
Pep Rally Agenda
Pep rallies are meant to showcase exuberant school pride and engage the crowd in enthusiastic displays of school spirit. Generally, pep rallies are held in gymnasiums or multipurpose rooms, locations large enough to accommodate the entire student body. Students are ushered in while listening to familiar pep tunes from the school band or drum line and are seated with their graduating class. From there, the rally follows an agenda of introductions and announcements, celebratory crowd participation, spirited performances from various school organizations, acknowledgement of key members of the community, humorous skits based on a rousing theme and engaging competitions between the classes. Near the end of a rally, the student body may be led in a rendition of the school's fight song or alma mater by the band and cheerleaders.
During a Pep Rally
The atmosphere is loud and enthusiastic during a pep rally and motivates students to actively participate. Throughout the rally, students are entertained by a number of performances such as music from the band and drum line, cheerleader and dance team routines, class and faculty skits and introductions to team members, players and coaches. It's not uncommon for a speaker, such as a team captain or a particularly engaging coach or faculty member, to excite the audience by announcing team records, narrating a slide show of celebrated moments in the team's competitive history or leading the entire school in a spirit cheer.
After a Pep Rally
Once a pep rally has ended, students generally return to class or leave school feeling uplifted and enthusiastic about their school's team and the upcoming contest. Hopefully, they are inspired to make plans to attend the event and become a contributing member in preparing the team to compete.
References
Writer Bio
A graduate of West Virginia University, Kristine Alvarez has a career that spans more than 19 years within the fields of advanced placement English, advanced reading, gifted education and time as an adjunct professor teaching composition and research-based writing at WVU. Currently, she teaches English at Morgantown High School in Monongalia County.
Photo Credits
Digital Vision./Digital Vision/Getty Images