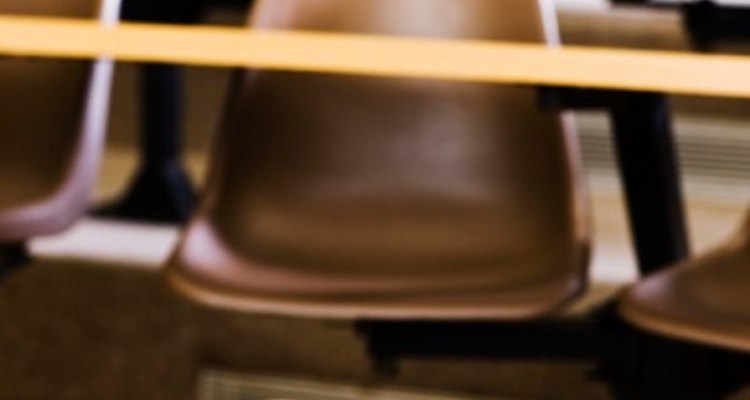 Jupiterimages/BananaStock/Getty Images
College homecomings are when the school's alumni return to the college to reconnect with old classmates and faculty, reminisce about their college days and are updated with what is new at the school. Homecomings often include football games, dances and sometimes even a parade. Choosing a theme for homecoming can help direct in other decisions such as decorations and promotional material.
Sports Themes
Choose a sports theme for a college homecoming and adopt the college team's logo, mascot and colors for homecoming events. If homecoming weekend includes a football game against a rival school, encourage current and former students to cheer on the home team together. Use team colors to decorate a dance venue and host a dance for current students and alumni. Invite the team mascot to homecoming events, along with some team players and cheerleaders.
Nostalgic Themes
The college doesn't have to be celebrating a milestone anniversary to choose a theme of nostalgia for homecoming. Print and frame photos of the college campus when it was founded and hang them on the walls of a designated hall or lounge. Include photos of past faculty members, sport heroes and students in your display, as well. Some typed text panels can give historical facts about the college and can be displayed with the photos. Host a dance that highlights a certain era such as a 1950s-style dance. Encourage guests to wear period clothing. Play music from the era and serve milkshakes to guests.
Progressive Themes
Many schools choose to look back at their histories when inviting students back for homecoming. Choose instead to focus on the future. Showcase architectural designs of buildings, departments and public art that the school is planning to build. Display these items in the lobby of school's newest building. Host seminars about where business and other industries are projected to be in 10 years. Faculty and former students who have become experts in their fields are prime candidates to host the seminars. Host a "Futuristic" dance for homecoming. Create a quirky and innovative look at what the future may look like through dance decor. Aliens, space ships and robots are all fun nods to the future. Use these same images and ideas to decorate a homecoming float. Or ask all parade participants to follow a progressive and futuristic theme.
School Pride Theme
If the college or a department has received a particularly impressive award or achieved an admirable accomplishment, highlight it with a School Pride Homecoming theme. Display newspaper clippings, awards and trophies received by the school in a lobby or hall. Offer tours of the school or of the particular department that has received acclaim. Make a promotional video highlighting the school's national rankings, sports records and other achievements to be played during homecoming events. Decorate a hall in school colors and host a dance. Hand out recruiting information for alumni to give to friends and family who may be considering applying to the school.
References
Writer Bio
Stephanie Kelley has been writing articles and columns online for SGM Radio and SGN Scoops Digital since 2005. She has a Bachelor of Arts in art history/anthropology from Western Washington University in Bellingham, Wash. and writes on a number of topics including art, frugal living, children and travel.
Photo Credits
Jupiterimages/BananaStock/Getty Images