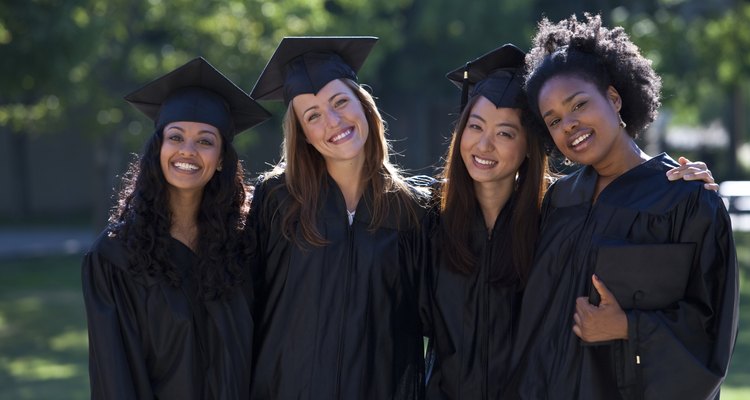 Comstock Images/Comstock/Getty Images
If you are in charge of making the memory book for your next class reunion, you will need to gather some information from guests before making the book. A class reunion memory book will pay homage to the past, but it also will update graduates on what has been happening in everyone's life since graduation.
Summarize the history of the high school or college and write a brief synopsis by consulting old yearbooks or the school's librarian. Memory books are similar to yearbooks in that they should include a short history with photos that help graduates remember how the school started and help them remember their time at the school.
Set up an online form for classmates to fill out information about themselves. Google Drive is one possible platform you could use for this. You can ask classmates to provide their name, their address, their contact information and what they have been doing since graduation. Make sure to include space for details such as awards, career advancements, marriages and births.
Ask all classmates to send in current photos of themselves and their families, if they have started families or gotten married. If you are able, try to give each classmate a personal page with updates and photos.
Use an online memory book template or a memory book company to organize the information. If you are good at graphic design and have a design program such as Adobe Photoshop or InDesign, you can use those programs to design the pages of the book.
Include a list of current contact information on the last pages so that after the reunion, classmates can stay in touch.
References
Resources
Writer Bio
Vera Leigh has worked as a professional freelance writer since 2008. Her work has appeared in "Learn Overseas" and "Grad Source" magazines. In addition, she received an honorable mention in "Newsweek's" My Turn contest. She has written features for nonprofits focused on literacy, education, genomics and health. In her spare time, Leigh puts her English major to use by tutoring in grammar and composition.
Photo Credits
Comstock Images/Comstock/Getty Images