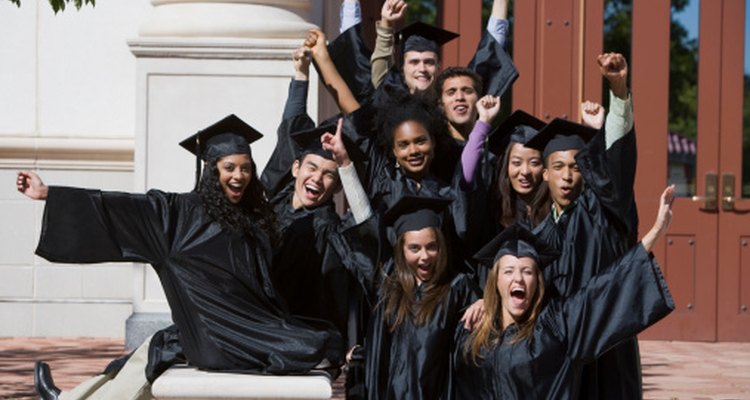 Jupiterimages/Comstock/Getty Images
Earning a role as a speaker at a graduation ceremony is an honor, whether you're the principal, a faculty member, a student or the official commencement speaker. The commencement ceremony is one that graduates and their families will remember, so you want your speech to be inspirational and memorable. You should start your speech by extending a welcome, which you can do in several ways.
Inclusive Welcome
Although the focus of the graduation ceremony is, of course, on the students who are graduating, you can extend a welcome to everyone in attendance, from the graduates and faculty members to other students to family and friends in the audience. Kick off your speech by addressing each of these groups by name and briefly discussing the significance of the event. This welcome idea brings all of the groups in attendance together in celebration of the graduation.
Support Network Welcome
Everyone in attendance knows that the graduates are the focus of the commencement ceremony. What they might forget, however, is the support that family and friends have provided to the graduates to help them earn their diplomas or degrees. Take time in your opening remarks to welcome, in particular, the supportive family and friends of the graduates who played an integral role in shaping the graduates' success. Note the many ways they have offered their support, such as financially or by helping students with class assignments.
Graduate-Focused Welcome
If you're a student speaking at the graduation, you have enough knowledge of your fellow graduates to focus your welcoming remarks on them. Use inclusive first-person language to address your fellow graduates and reflect on how far you have come together since you started school. Reflect on shared experiences that you had. Though you do not directly address the assembled guests in these welcoming comments, they will enjoy hearing about the growth you have experienced as students.
Anecdotal Welcome
An anecdotal welcome works well for a small graduation ceremony in which you can find a common thread among students, faculty and audience members. If you are closely connected to the graduates, you can tell a story about their time as students, their achievements or the strides they have made since enrolling. Your speech can be anything from humorous to sentimental and should be able to engage the audience as well as the graduates.
References
Writer Bio
Barbie Carpenter worked as a technical writer and editor in the defense industry for six years. She also served as a newspaper feature page editor and nationally syndicated columnist for the Hearst Corp. Carpenter holds a Bachelor of Science in journalism from the University of Florida and a graduate certificate in professional writing from the University of Central Florida.
Photo Credits
Jupiterimages/Comstock/Getty Images