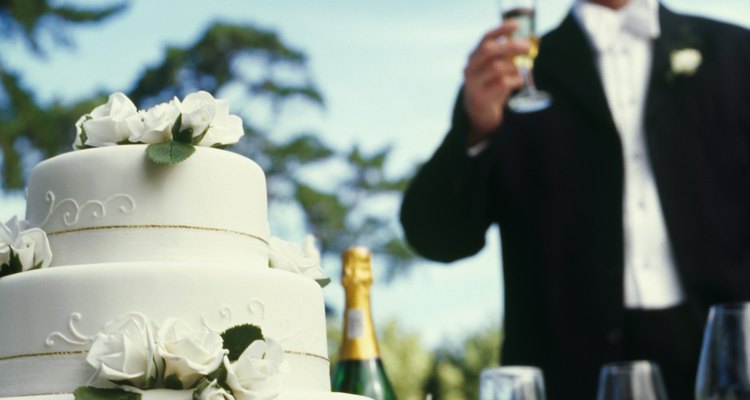 Ciaran Griffin/Valueline/Getty Images
As the master of ceremonies (MC) for a wedding reception, you will have important duties, most of which involve communication. You are responsible for directing the flow of activity in a smooth and orderly fashion, generally as one who will direct attention to the stars of the occasion, the bride, the groom and their families.Though you will not be expected to give a formal speech unless specifically asked, your humor and eloquence will help enhance the festivities and make for memorable occasion for all.
Introductions
Your job as MC primarily involves introducing the bride and groom and their wedding party to the assembled guests. This will begin with the entrance of the bride and groom after all the guests are seated. Introduce yourself as MC and warmly welcome everyone to the event. Sprinkle humor throughout your introductions of the wedding party. Keeping the light and lively will help keep the audience interested. Jokes should be in good humor and not intended to roast any one member of the party.
Speeches
Speeches are delivered after dinner and before dessert, and you will be expected to introduce those who have been chosen to give them. Your job as MC means traditionally you play host as opposed to delivering a longer speech yourself. Ideas for your introductions of speakers can include the same sort of anecdotal humor for each speaker, including the parents of the bride and groom, and the best man and bridal attendants.
Messages
Sometimes there are people who were invited and could not make it to the event, but who have sent along messages to be read to the bride and groom at the reception. It is your job to introduce the best man or other designated speaker to read these messages out loud the audience.
Special Circumstances
If you have been specifically asked by the bride and groom to make a speech, your five minute speech should mostly cover information on the bride and groom themselves and their families. It should be impersonal in tone. Ask any background information to develop this speech, including where they met, and whatever humorous stories they wish to share. Deliver this information with a clear beginning, middle and end, which will likely lead into the introductions of the formal speeches.
References
Writer Bio
Ginger Voight is a published author who has been honing her craft since 1981. She has published genre fiction such as the rubenesque romances "Love Plus One" and "Groupie." In 2008 Voight's six-word memoir was included in the "New York Times" bestselling book "Not Quite What I Was Planning." She studied business at the University of Phoenix.
Photo Credits
Ciaran Griffin/Valueline/Getty Images