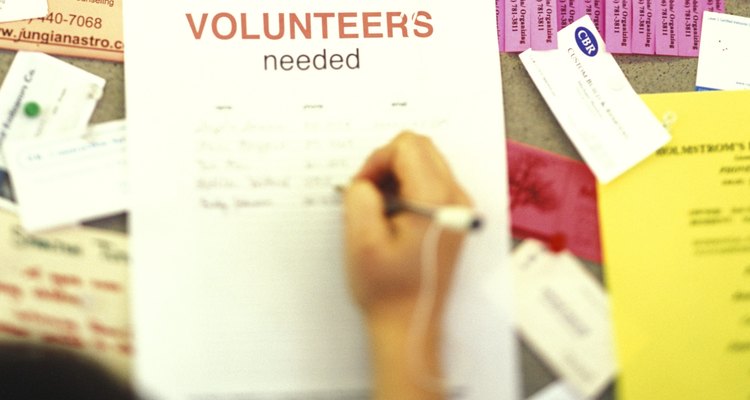 Ingram Publishing/Ingram Publishing/Getty Images
Volunteering involves much more than simply showing up. Organizations have volunteer requirements, especially for positions working with children, handicapped individuals or the elderly. Volunteer positions such as rocking babies at a hospital are competitive and in demand as they are not frequently available. A well-written letter of intent must illustrate the capabilities and skills that make you stand out from other volunteer applicants.
Address the letter to the volunteer director or coordinator. Call the organization for the accurate name and address information.
State the specific area in which you want to volunteer in the opening paragraph.
Expand on any relevant skills that will enable you to be a successful volunteer. For instance, if you have experience volunteering in a special-needs classroom, include this on your application to be a volunteer for the Special Olympics. State why volunteering in a particular field is of interest to you.
List the dates and times you are available to volunteer as well as the specific start date. The volunteer coordinator can determine future scheduling needs as well as adjust the current schedule to accommodate your hours.
Include references or connections you might have within the organization as these might increase your chance of securing a coveted position. Add names and telephone numbers for all references provided so the volunteer coordinator can verify your skills and character. References should be told to expect a call from the coordinator.
Offer to meet with the coordinator and provide your contact information.
Writer Bio
Based in Orlando, Fla., Michaela Davila has been writing poetry, short stories, resumes and advertising materials for years. She has recently been published in the Dollar Stretcher and Devozine. Davila has a bachelor's degree in business administration from Elon University and is a Board Certified Associate Behavior Analyst.
Photo Credits
Ingram Publishing/Ingram Publishing/Getty Images